'Grave Concern' Among Allies Over Barr Declassification Of US Secrets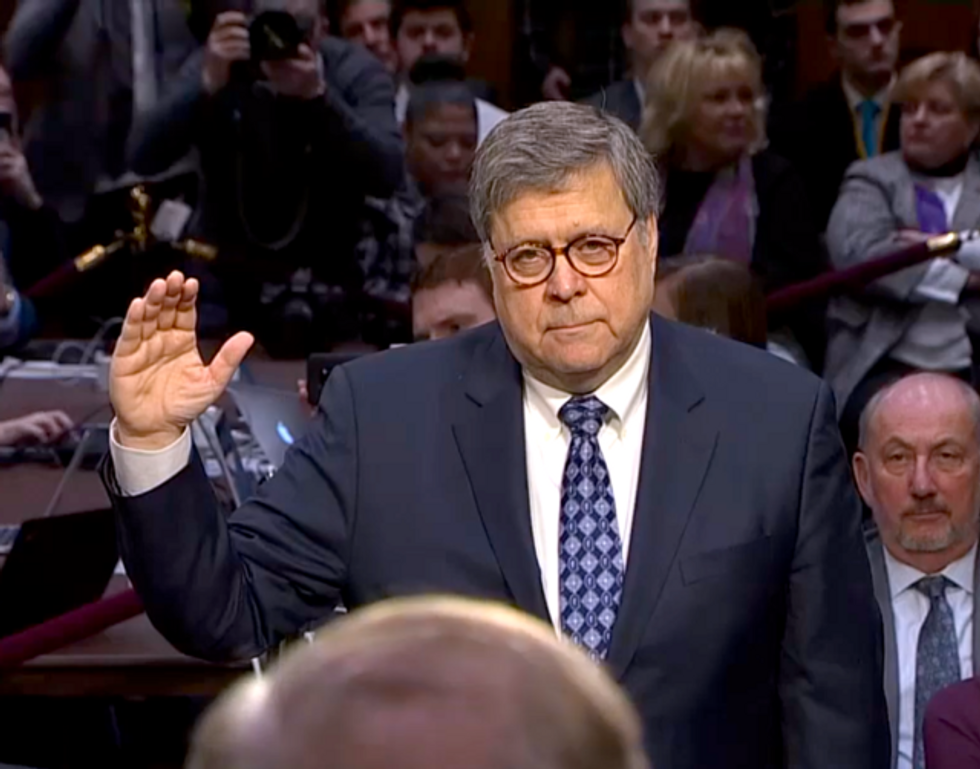 Trump's recent decision to let Attorney General William Barr declassify sensitive intelligence as part of his investigation into baseless claims that the FBI spied on Trump in 2016 could lead to a rift with some of America's closest allies around the globe, according to a Thursday CNN report.
"If the review were to declassify sensitive intelligence — especially if doing so compromised the safety of sources — that would cause very grave concern," a former senior British ambassador said. "It could even affect the readiness of close allies like Britain to continue sharing the most sensitive material with the US."
The concern stems from the broad authority Trump delegated to Barr, giving him carte blanche authority to declassify any intelligence he wants, meaning Barr has the ability to cherry-pick information to share with the public. Barr has already demonstrated his willingness to misrepresent information, in his misleading summary of the Mueller report, all for the sake of trying to help Trump.
Current and former U.S. intelligence officials have warned against taking such actions and the harm it could cause.
David Laufman, former head of the Counterintelligence and Export Control Section at the DOJ, called Trump's order "a grotesque abuse of the intelligence community to further [Trump's] goal of retribution."
Trump is demanding that the Justice Department not only investigate the FBI and other American intelligence agencies, but also to expand the probe by looking into the roles of British, Australian, and Ukrainian intelligence agencies, according to CNN.
The FBI investigation at the center of Trump's ire began after a high-level Trump campaign operative, George Papadopoulos, told an Australian diplomat, in the spring of 2016, that the Trump campaign knew about emails the Russians had stolen that were damaging to Hillary Clinton. Papadopoulos had that information long before it was public.
The investigation led to the appointment of special counsel Robert Mueller after Trump fired FBI Director James Comey in an attempt to shut down the investigation into his campaign's potential collusion with Russia.
After the conclusion of Mueller's investigation — which uncovered a litany of crimes involving Trump campaign officials and Trump's attorney, and implicated Trump himself in multiple felonies— Trump ordered Barr to investigate his conspiracy theory that U.S. intelligence officials unlawfully spied on him and his campaign.
Trump has gone so far as to accuse multiple former FBI agents of treason, a crime punishable by death.
Trump's decision to weaponize U.S. intelligence by selective declassification caused members of Congress to speak out about the harm Trump and Barr could do to U.S. allies.
"Trust and confidentiality are essential aspects of our partnerships with foreign intelligence services — and the President's bizarre decision to allow the Attorney General to selectively and unilaterally declassify information certainly has the potential to jeopardize those relationships," Sen. Mark Warner (D-VA), vice-chair of the Senate Intelligence Committee, said in a May 24 statement.
Trump has already damaged America's image abroad, and reckless actions by his administration could further damage relationships with key allies.
Published with permission of The American Independent.