Grief Is Onstage At The DNC, But It's Not A Weapon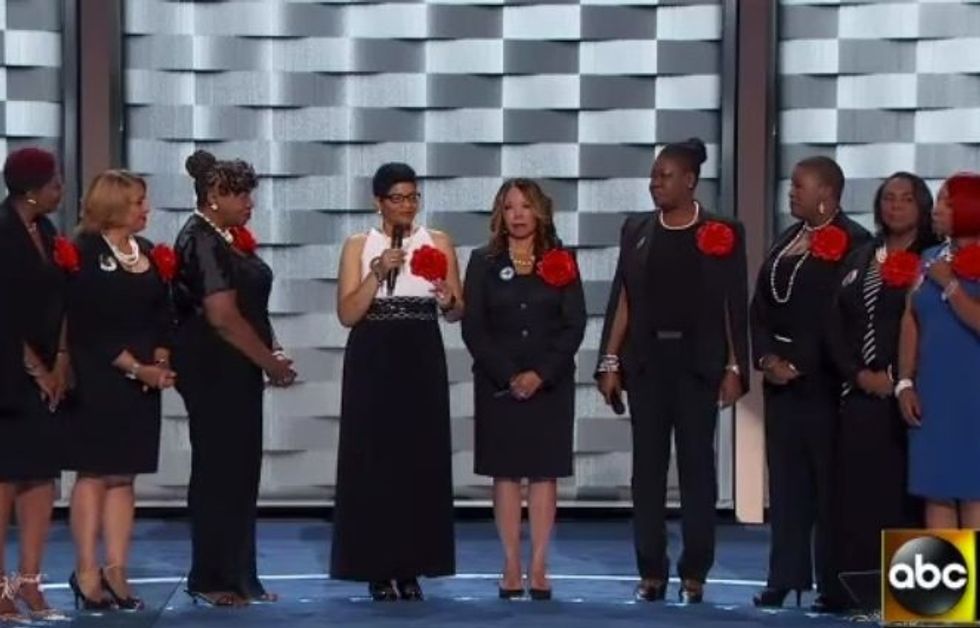 As in Cleveland last week, the convention stage in Philadelphia has seen more than a handful of speakers describe the death of a family member in painful detail, tying their tragic experience to their political beliefs and choice of candidate.
But there's a key difference in terms of how these personal tragedies are being used at either major party convention: Grieving Republican speakers used tragedy as justification to personally attack Hillary Clinton, while Democrats have used it to support her policy measures.
On Wednesday evening, for instance, Christine Leinonen—whose son was killed in the Orlando shooting alongside his boyfriend—took the stage to describe her son and call for common-sense gun laws.
"Please, let's all just get along," she told the audience through tears. "We're on this earth for such a short time. Let's try to get rid of the hatred and the violence, please."
It was a stark contrast from the scene in Cleveland, where speakers took a note from Gov. Chris Christie and used their personal losses to effectively prosecute Clinton. Patricia Smith, whose son was killed in the Benghazi attacks, spent just as much time speaking about her son as she did "blam[ing] Hillary Clinton personally" for his death.
In a sense, then, there was little difference between Cleveland and Philly: Speakers at both conventions spoke brought audiences to tears while discussing the Democratic nominee—just with radically different reasons for doing so.
After Erica Smegielski described losing her mother in the Sandy Hook Elementary school shooting, she drew a parallel between the former principal and Clinton.
"What we need is another mother who's willing to do what's right, whose bravery can live up in equal measure to my mom's," Smegielski said.
Like Leinonen, or former Arizona Rep. Gabby Giffords—the victim of another deadly shooting—she could have used her tragic experience as a pretext to condemn Donald Trump for his staunch defense of gun rights. (Not to mention, his own political manipulation of recent shootings.)
But rather than focusing on hate, they called for healing, change, and love. Felicia Sanders, who lost her son in the Charleston church shooting, put it best: "Hate destroys those who harbor it. I refuse to let hate destroy me."
That's not to say that the DNC has been absent of attacks on Trump—far from it. Major headliners and featured guests alike have targeted Trump for his own lack of policy knowledge, spotty business history, and scapegoating of minorities.
This distinction was arguably most evident during a speech given by the Mothers of the Movement, a group of Black women whose children lost their lives in incidents of police brutality or racially-motivated attacks. The mothers never mentioned Trump (and rarely mentioned Clinton), instead focusing their time onstage to making sure that their children's stories were told.
"So many of our children are gone but not forgotten," said Geneva Reed-Veal, the mother of Sandra Bland. "What a blessing to be standing here so that Sandy can still speak."
Former John McCain advisor Steve Schmidt summarized the Republican convention by calling it the "weaponization of grief." This week in Philadelphia has certainly featured grief, but none of it has been so weaponized as in Ohio.
Photo: Screenshot via YouTube