Grisham Gives First TV Interview To Sinclair's Eric Bolling, A 'Birther'
@pamela_vogel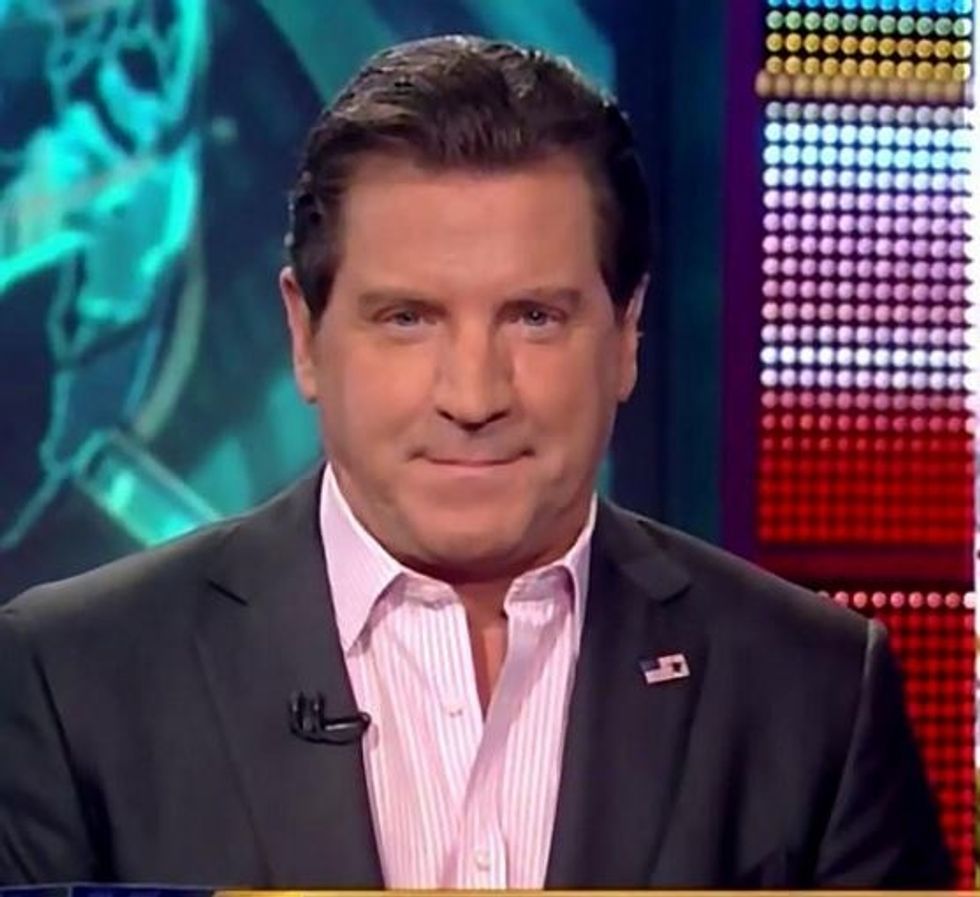 New White House press secretary Stephanie Grisham gave her first TV interview in the role to Sinclair's Eric Bolling. Bolling, a former Fox News host who was fired amid sexual harassment reports, hosts a weekly online show for Sinclair. Despite Bolling's history of pushing conspiracy theories and toxic rhetoric — and the circumstances surrounding his Fox News exit — his Sinclair program has become a regular stop for administration officials and Republican members of Congress.
Grisham was appointed White House press secretary on June 25. Since then, she has largely followed in her predecessor's footsteps by continuing to avoid press briefings and offering weak, lie-filled defenses of the president's actions. And she has now joined her predecessor in giving an exclusive interview to Bolling.
On the August 14 edition of Sinclair's America This Week, Grisham sat down for an eight-minute interview with Bolling. They discussed at length a feud between President Donald Trump and former White House communications director Anthony Scaramucci (who appeared earlier in the program), and Grisham also took the opportunity to deny that the president is racist. Bolling asked Grisham if she would consider bringing back regular press briefings and Grisham demurred, saying, "We're going to talk about it. … The president, also, he's so accessible so right now I think that that's good enough." She concluded, "It's not all about a press briefing, and honestly the president is his best spokesperson."
America This Week streams on the websites of Sinclair-controlled local TV news stations across the country, and airs (in part or in full) on some of those stations after it's released online on Wednesdays. So far, a handful of Sinclair stations have aired the same clip from the interview — Grisham discussing Scaramucci and denying the president's racism — and directed viewers to view the full show on their websites or watch it when it airs on Sunday night.
Bolling began hosting his own show for Sinclair in April, and he had been making appearances on its national programming for months beforehand. He also hosts a streaming show on the website of right-wing outlet BlazeTV.
He was previously a host and co-host at Fox News, where he regularly trafficked in conspiracy theories, misogyny, and race-baiting; he was a central figure in pushing the racist conspiracy theory about President Barack Obama's birth certificate. He left the network in 2017 amid reports that he sent multiple colleagues unsolicited images of genitalia.
In the months since his Sinclair show premiered, Bolling has used the platform to give embarrassingly easy interviews to President Donald Trump, numerous other Trump administration and Trump campaign officials, Republican lawmakers, and a host of right-wing media mainstays and extremist figures.
Additionally, Bolling has used the platform to elevate a variety of right-wing extremists, conspiracy theorists, and media hacks including former Breitbart chief and former Trump strategist Steve Bannon; longtime Trump adviser and racist, sexist conspiracy theorist Roger Stone (twice); Turning Point USA's diaper enthusiast Charlie Kirk; conservative darling and MyPillow founder Mike Lindell; video huckster James O'Keefe; fellow disgraced former Fox host Bill O'Reilly; discredited right-wing author Peter Schweizer; guns misinformer John Lott (twice); and the right-wing Judicial Crisis Network's Carrie Severino.
And Sinclair contributor Sebastian Gorka, a former Trump administration official with neo-Nazi ties, regularly sits on the show's panels.