Gun-Control Activists Stage Nationwide Rallies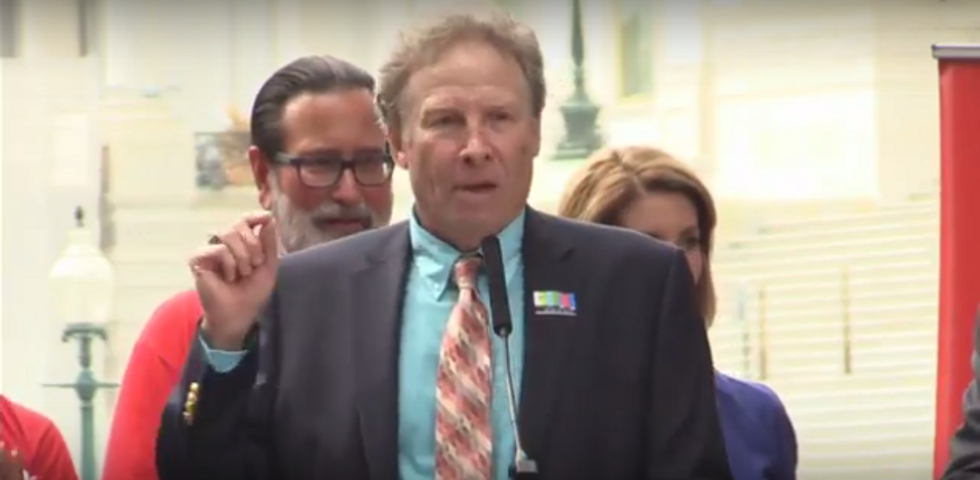 Every few weeks this summer, there was another shooting in the news. There was the massacre in a Charleston, South Carolina church in June; in July, theatergoers watching an Amy Schumer comedy were assaulted by gunfire in Lafayette, Louisiana; and in August, two journalists were gunned down near Moneta, Virginia.
Under the banner of #WhateverItTakes, activists descended upon the Capitol for a rally on Thursday – scheduled to coincide with Congress' recent return – to protest legislators' inaction on gun reforms. The hashtag, which trended on Twitter, was part of a coordinated effort by Everytown for Gun Safety and the Everytown Survivor Network, a coalition of gun-control advocates, including Mayors Against Illegal Guns (MAIG) and Moms Demand Action for Gun Sense in America, that formed last year. The nonprofit—originally backed by former New York City mayor Michael Bloomberg, who along with former Boston mayor Thomas Menino formed MAIG in 2006—was created specifically to combat the political force of the NRA.
.@SenTedCruz Will you heed Andy Parker's call and pass sensible reforms that will save lives? #WhateverItTakes

— Charlene E. Lee (@sunshinetwin) September 10, 2015
@NRA keeping it real classy–co-opting #whateverittakes from a grieving father to stoke the already-overblown fears of its own supporters.

— Bradley Girard (@BradleySGirard) September 10, 2015
The more the @NRA and its supporters speak, the more passionate I become about gun control. #WhateverItTakes — Jayelle (@GreenEyedLilo) September 10, 2015
One of the featured speakers at the Capitol rally was Andy Parker—the father of journalist Alison Parker, who was murdered two weeks ago in Virginia. Parker, who renounced his own run for office in order to devote himself to what he calls his "life's work," assailed certain Virginia politicians for failing to bring up gun legislation while in office.
"Too many members of Congress remain in the pocket of the gun lobby, and that has got to change," Parker said. "If you won't support background checks, we'll find someone else who will."
The rally at the Capitol was only one of about 50 coordinated rallies across the country, from Louisville, Kentucky to Hilton Head Island, South Carolina. Some of the rallies, like the two in North Carolina, took place at their respective senators' home offices.
U.S. senator from Virginia Tim Kaine, Congressman Mike Quigley, and Virginia governor Terry McAuliffe, who was the first politician to mention gun control after the August shooting in his state, were among the politicians in attendance.
Despite all the media coverage of continuous gun violence and statistics that show that the majority of Americans support increased background checks, among other reforms, national changes to gun policy have long been out of reach.
While none of the Republican candidates for president have spoken out in favor of reforms, Louisiana governor Bobby Jindal criticized politicians for being opportunistic in the wake of the Lafayette shooting.
The only Democratic candidate for president who has repeatedly addressed the gun issue in any substantive way is Martin O'Malley. Hillary Clinton spoke out only after the shooting in Charleston, and Bernie Sanders has a mixed record; he has said that it is not a major issue for him.
O'Malley, who is running partly on his record of strict gun control and reducing crime as mayor of Baltimore and governor of Maryland, has a long history in dealing with both criminal justice reform – a cornerstone of his platform – and gun control.
O'Malley isn't shy about his opinion on the matter, either.
After the Charleston shooting in June, O'Malley sent out an angry email to supporters, using the word "pissed" in both the subject line and four times in the body of the email. Calling the epidemic "a national crisis," he pleaded with supporters that it was time to act.
He is calling for Congress to enact reforms similar to what he championed in Maryland, including banning assault weapons, instituting a strict licencing system that requires prospective gun buyers to undergo training and enter their fingerprints into a database, and tightening restrictions on who can be banned from purchasing a gun.
In an op-ed to the Boston Globe in July, O'Malley called for comprehensive gun safety laws, starting with the gun sales and gun shows so that only regulated licensed dealers can sell firearms.
"We should also impose greater restrictions on what, to whom, and where dealers can sell guns," the email said. "That means banning the sale of assault weapons, increasing inspections, and establishing a national gun registry to help law enforcement track down dangerous criminals. It also means requiring gun owners to secure and safely store all firearms in their homes."
President Obama has said that losing the battle on gun control legislation is among his biggest failures. He was visibly resigned, yet angry and as speechless as a president can be in the aftermath of the Charleston shootings, shaking his head in disbelief and calling on fellow lawmakers to stop the madness.
In a special broadcast by CNN where many Everytown activists – a broad coalition of survivors and family members of those affected by gun violence, among them, yet far from limited to, the parents of victims from the high-profile shootings at Isla Vista, California in May 2014; Sandy Hook, Connecticut in December 2012; Aurora, Colorado in July 2012; Tucson, Arizona in January 2011; and Virginia Tech in April 2007 – spoke to Brooke Baldwin on the eve of the Capitol march. Parker was one of 40 in attendance; most of those who spoke did so with tears streaming down their faces, hands clenched, in impassioned and angry tones.
"It is a world of difference now than it was on December 13," said Colin Goddard, who was shot at the Virginia Tech shooting, referring to the massacre in Sandy Hook, Connecticut, in which a gunman killed 26 people, including 20 children, before turning the gun on himself. Goddard, who has been involved in the movement for years, said that the coordinated efforts of Everytown has made a difference in political pressure.
"There has been no coordinated effort to bring people of similar experiences together …to tell each other 'You're not alone in this,'" he said.
"The NRA cannot defeat us on background checks, straight up. They have to associate with an extreme endpoint in order to muddy the waters and make people confused. Because when you do have a genuine background check conversation, the average American thinks 'this makes sense, this ought to be done everywhere.'"
Photo: Andy Parker, the father of murdered journalist Alison Parker, speaks at the rally on Capitol Hill sponsored by Everytown for Gun Safety, a coalition of politicians, activists, and victims of gun violence. Everytown for Gun Safety/YouTube