Gun Lobby Defends Not The Constitution But A Cynical Business Model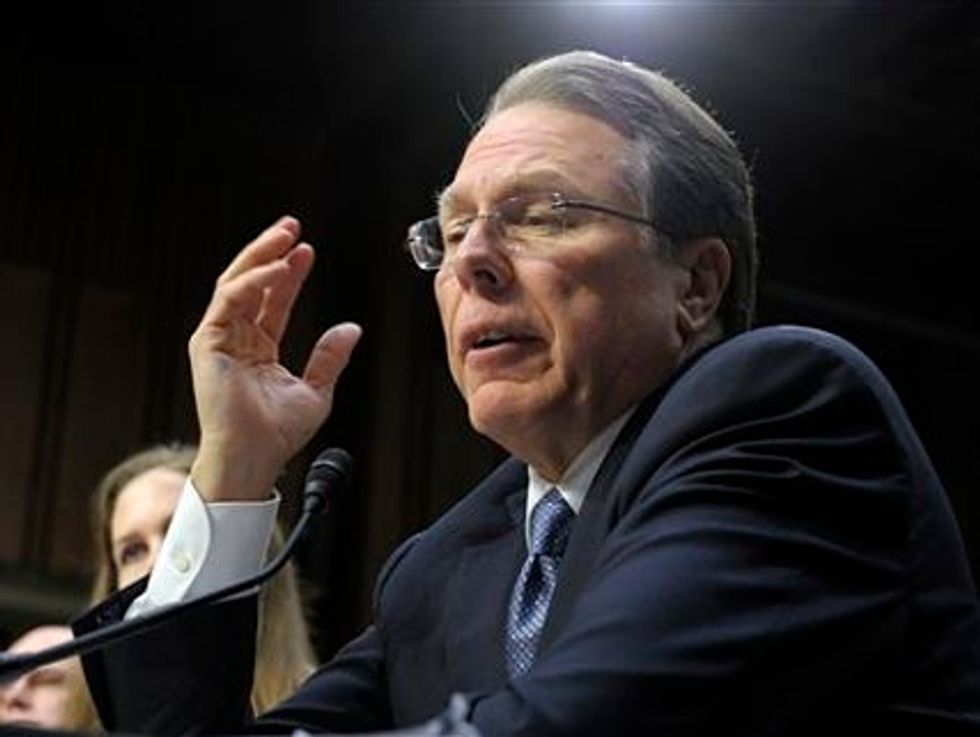 There's a little known fact about guns in America, and it's one that the firearms industry and its political allies don't like to dwell on: The rate of gun ownership in America is declining.
This has been the case for decades. Rates peaked way back in the 1970s, the era of disco balls and bell bottoms. In 1977, 54 percent of American households reported owning guns. In 2010, the last time the General Social Survey data was compiled, the percentage had shrunk to 32.
The Violence Policy Center follows such data, as analyzed by the National Opinion Research Center. The center's last report was "A Shrinking Minority: The Continuing Decline of Gun Ownership in America."
The trend is expected to continue. It seems counter-intuitive, given all the recent headlines about people lining up at gun stores and given the stranglehold the gun lobby has on American politics. It raises all sorts of questions. Who owns guns, who doesn't, and why? For the nation to handle its problems with gun violence effectively, we need to grasp the nitty-gritty realities of gun ownership.
First of all, whatever upticks have been observed in the purchases of guns and ammunition seems to reflect stockpiling by those who were already gun owners. Gun manufacturing increased dramatically between 2007 and 2011, from 3.7 million weapons to 6.1 million being produced. You have to wonder if owning guns, for those who still do, is a bit like buying cell phones. Once you're hooked, only the newest killer version will do, prompting more frequent purchases.
Meanwhile, the declining overall trend in ownership rates is largely explained by the changing demographic composition of America.
Older white men, many of whom grew up with hunting as a part of their lifestyle, are in decline relative to other demographic groups. Younger people are more likely to play soccer than sit in a duck blind or deer stand.
More and more households are headed by single women, and they are far less likely to have guns than families with a father in the household. So the swelling ranks of single mothers, a topic of much hand-wringing in other regards, may actually help to reduce suicides and accidental gunshot injuries.
But what about all of those news stories of women flocking to shooting ranges, eagerly buying up pink-handled pistols and bedazzled accessories to hold extra clips? The rate of gun ownership among women peaked back in 1982 at about 14 percent. It fluctuates more for women than for other categories of people, but it was just under 10 percent in 2010.
What those news stories about female gun fascination reveal is not so much reality as a gun industry fairytale. It's marketing. Gun manufacturers, the National Rifle Association, hunting organizations and shooting ranges want to drum up interest in guns that has been slipping away for decades.
It's of a piece with the events known as "zombie shoots," staged target practice encounters designed to lure in younger people who aren't being taken hunting by their parents.
A declining proportion of the American public is getting involved in gun culture — that is, the gun industry's customer base is not growing — and yet business is booming. This should lead us to an alarming conclusion. The marketing of more lethal forms of weaponry and ammunition is how the gun industry has decided to shore up profits. The fierce resistance to bans on assault weapons and large ammo clips, as well as to background checks and any other hurdle put in the way of those who want to arm themselves, is not about defending the Second Amendment. It is about defending a business model — a sick, cynical business model.
If this weren't the case, the gun industry would be engaging with the general public in a more benign and constructive manner, committing itself to protecting us from the harm its products inflict. Instead, Americans have become fed up with its paranoia and its rank influence peddling. It has lost its credibility.
This much is clear. Gun ownership's place in American culture is withering on its own. Industry and political efforts to resuscitate it need to be understood and, when appropriate, challenged in that context.
(Mary Sanchez is an opinion-page columnist for The Kansas City Star. Readers may write to her at: Kansas City Star, 1729 Grand Blvd., Kansas City, Mo. 64108-1413, or via email at msanchez@kcstar.com.)
Photo credit: AP/Susan Walsh