Gun Rights Vs. Public Discomfort In Georgia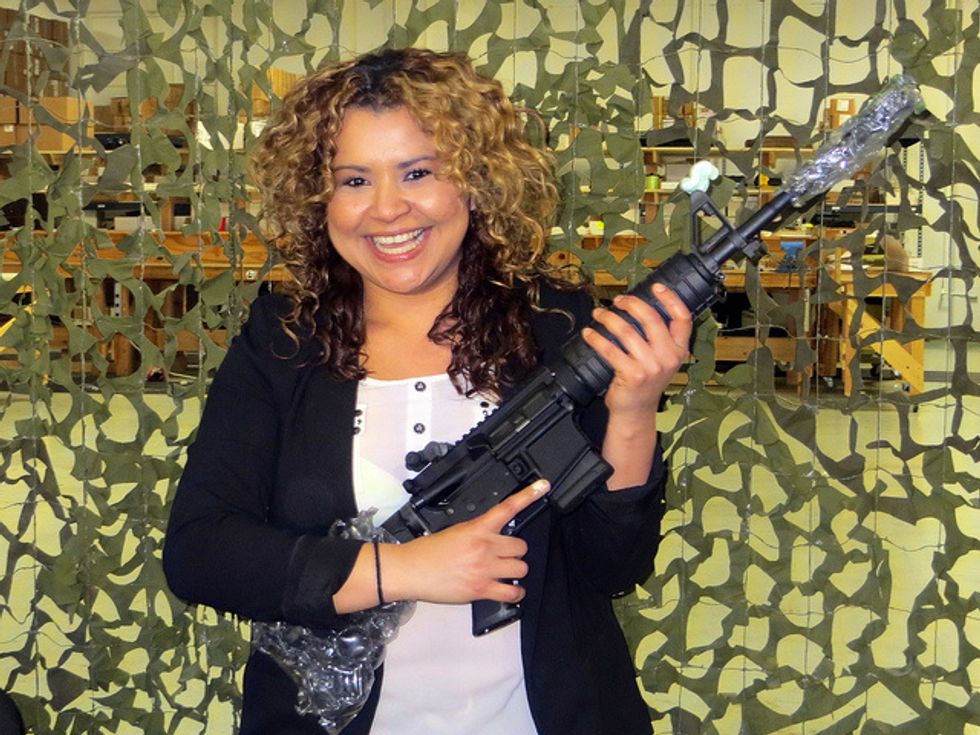 By Ernie Suggs and Rhonda Cook, The Atlanta Journal-Constitution (TNS)
ATLANTA — Barbara Cheng saw the news last week about a man walking through Atlanta's airport with an assault rifle and 100 rounds of ammunition. Instantly, she flashed on the time two years ago when she and her kids strolled into a McDonald's to find an armed man eating a Big Mac.
"The place was eerily quiet," Cheng said of the restaurant along I-75 in North Georgia. "Obviously we weren't the only ones disturbed."
Her children couldn't stop staring at the gun.
"I was incredibly angry because he obviously thought his so-called 'rights' trumped everyone else's in that restaurant," she said. "I hated that man and I still hate him. These are bullies."
If people are nervous, Jim Cooley said, that's their problem.
"It's not a protest. We have rights, and the government thinks they can convert your right into a privilege," said Cooley, a retired truck driver who was disabled by a heart attack.
Cooley was questioned, but not arrested. He reminded an officer outside the airport that under Georgia law, police may not detain anyone to find out whether they have a permit to carry a firearm (which is required for handguns only and not long guns like the AR-15).
"I was doing everything I was allowed to do within the law and all of a sudden I start getting approached because the police got phone calls," Cooley said. "Instead of the police approaching me, they need to start educating the public. Put up signs in the airport saying firearms can be legally carried in the airport."
He filmed and posted the incident, adding his experience to dozens of others in which gun rights activists have boldly armed themselves to make their points.
Cooley has been called crazy, a hero, confused, a patriot.
Gov. Nathan Deal, a Republican, joined those who said Cooley was technically correct and within his rights.
"In the unrestricted areas of the airport, the right to carry does exist," the governor said. "I think that there again, that's one of those balancing acts between individual freedom and general welfare of the public."
Kathryn Grant, co-founder of GunSense Georgia Coalition, thinks the balance is off.
"There is not an airport official in the world who would say that carrying an AR-15 makes sense," Grant said. "So the question is why would that be allowed to happen?"
In 2014, the Georgia General Assembly passed House Bill 60, known as the "Guns Everywhere Bill," which for the first time expanded where Georgians could legally carry firearms, including into public schools, bars, churches, and some government buildings. Local school boards still have the authority to decide which school staffers may carry guns on campus.
Higher education is stricter. The University System bans guns from campus buildings, including dormitories. The only exception to the school and university restrictions is for gun owners, with a carry permit, who are picking up or dropping off someone.
Under the "Guns Everywhere Bill," law enforcement officers may not detain an armed person for the sole purpose of asking whether the person has a license to carry a weapon.
Sheriff Howard Sills, the former president of the Georgia Sheriffs' Association, said after the law changed, several calls came into the Putnam County sheriff's office from people promising to test the new provisions.
"We were inundated with damn crazy people," Sills said. "This airport thing is just an idjit who's doing some crazy (stuff) to draw attention to himself. Or he's looking for a lawsuit."
Sills said the fatal shooting in Carrollton last week is an example of problems with the law. An officer responded to a report of an armed man at a gas station. According to a recording of the encounter, the officer first asked 40-year-old Kenneth Joel Dothard whether he had a carry permit and then whether he was a convicted felon, which would prohibit him from having a gun.
Dothard said he was a felon.
Cpl. Chad Cook repeatedly told Dothard not to pull his holstered gun. Cook shot and killed Dothard as he argued that he had the right to have the gun.
Noting that he can question and arrest a fisherman for not having a license, Sills said the gun law is absurd. "If I see you walking down the street with a handgun on your person, I can't stop you. I can ask … but they don't have to answer. … There's nothing I can do."
In rural areas, especially during hunting season, Sills said it would not be unheard of to see a person walking down the road with a gun. The perception, however, is different in an urban setting or a busy public one like the airport.
"It's not against the law to walk down Peachtree Street with a hog on a leash, but you're sure going to draw some unnecessary attention to yourself," Sills said. "My analysis of this man who took a rifle and walked around the airport (is) he's a damn fool. He's causing unnecessary public alarm. I'm for the Second Amendment, but what's the point of that other than to upset everybody in the world? Why would you do such a stupid thing?"
Grant, of GunSense Georgia Coalition, said Cooley's behavior represents a radicalized interpretation of what the Second Amendment is and "crosses the line from reasonable understanding to one who myopically focuses on self, with no consideration to the public itself."
Like Cooley, other gun advocates say they carry to prevent crimes.
"I am not afraid of anything, because I have a gun," said Jerry Henry, executive director of Georgia Carry. "It is getting dangerous out there. Two kinds of people carry. People who refuse to be a victim and people looking for victims."
Opponents argue that it is often hard to tell who is good or bad. They just see the gun and it only takes one time to come to the wrong conclusion.
Grant said even the psychological impact of seeing someone with a gun can be devastating.
"With all due respect, what does your walking around with an AR-15 firearm in the world's busiest airport have to do with protecting yourself or the Second Amendment?" she said. "What makes you think that any of us, and the thousands of other national and international travelers in that same airport every day, shouldn't take you for a crazed killer or terrorist? How are we supposed to tell if you are a bad guy or a good guy?
"What about our right as citizens to be in a public place without being scared to death or having to explain to our kids why that man, who is not in uniform, has a very big gun?"
Reaction to Cooley's airport stunt has been mixed.
"There's nothing illegal about it," said Dave Workman, a spokesman for the Second Amendment Foundation in Bellevue, Wash. "It certainly brings attention to the right to keep and bear arms in Georgia. Whatever his motives, I'm going to leap to the conclusion that he was in the right and just went about his business."
While Second Amendment advocates have supported the exercise of his rights, some still question his choice of weapon.
"If somebody wants to do that in a lawful manner, I don't have an issue with it," said John Monroe, an attorney for GeorgiaCarry.org. "It's not something I would choose to do or recommend because I'm not sure what the point is. It's probably not the best public relations scenario, but people are out there doing all sorts of things."
An AR-15 is designed to hold dozens of rounds and can shoot up to 200 yards. Hardly the weapon you would use if personally attacked at an airport.
"I do have an AR-15, but I don't carry it to the airport," said Henry, who said he met Cooley at a tea party meeting. "To take an AR-15 in that area is not conducive to protecting yourself. I would not deem that as an appropriate tool, unless it was the only tool that I had."
J.T. Summer, a retired Atlanta police officer, said it was obvious that people were trying to exercise their Second Amendment rights, but the reason anyone would "carry something like that into an airport is to make a statement." Summer, who spent 20 years with APD, said most officers enjoy seeing citizens willing to defend themselves. But he said the downside of that is the fear that someone walking around with a gun instills in the public.
"I would join them in their fears if I saw a person walking around an airport with an AR-15 or any gun," Summer said. "It's out of the norm to see a citizen armed at the airport or in a grocery store, though it's a right. I support that right. I can see why a citizen would be uncomfortable, not knowing what their intentions are."
Cooley said his trip to the airport with his gun was not his first and won't be his last. He vowed to keep exercising his rights.
"The government has made people so afraid of guns, the moment they see them they automatically get scared and that's wrong," Cooley said. "It's an eye-opener. You don't have to be afraid of someone carrying a firearm. It may save your life one day."
(c)2015 The Atlanta Journal-Constitution (Atlanta, GA). Distributed by Tribune Content Agency, LLC.
Photo: Woman holding an AR-15 (Mesa Tactical via Flickr)