Gunman In Oregon College Massacre Committed Suicide
@reuters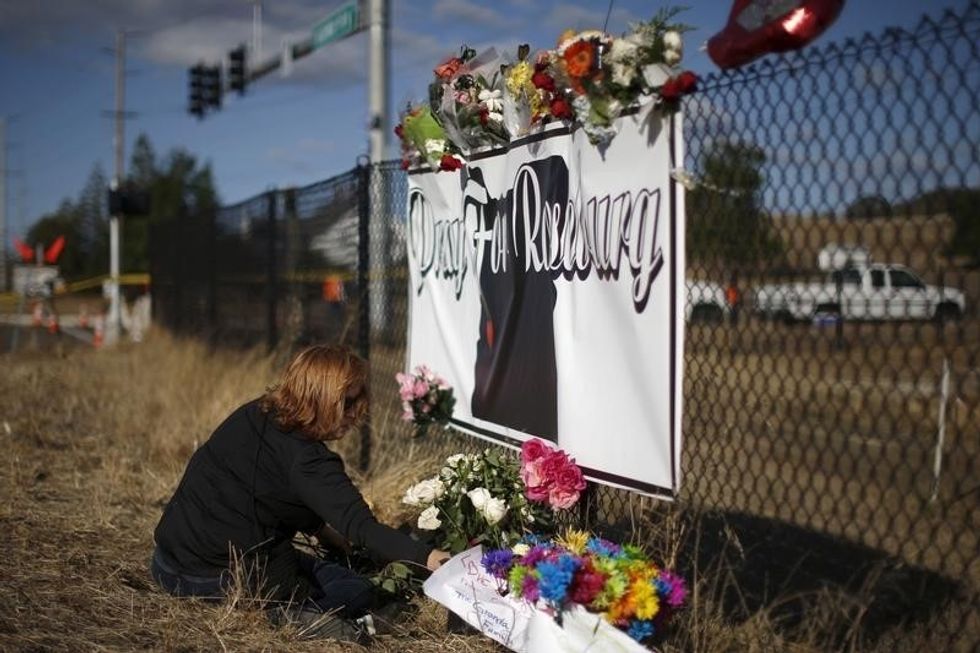 By Courtney Sherwood and Emily Flitter
ROSEBURG, Ore. (Reuters) – The gunman who killed his English professor and eight others at an Oregon community college committed suicide after a shootout with police who arrived within five minutes and exchanged fire with him almost immediately, authorities said.
Investigators had previously said the 26-year-old shooter was killed by the officers who raced to the rampage at Umpqua Community College in Roseburg, which ranks as the deadliest among dozens of U.S. mass shootings in the past two years.
Douglas County Sheriff John Hanlin told a news conference on Saturday the state medical examiner had determined that the gunman, Christopher Harper-Mercer, took his own life.
Releasing a timeline of the massacre's first hour, Hanlin said two Roseburg police officers were on the scene within five minutes, and reported to dispatch that they engaged the gunman just two minutes later. Hanlin said they "neutralized" him.
"Officers responded immediately … there was an exchange of gunfire, (and) the shooter was neutralized," the sheriff said. "As far as the very specific information regarding whether it was an officer's bullet or his own bullet, we aren't prepared at this time to discuss."
Hanlin said an additional handgun was also recovered from the shooter's apartment, making a total of 14 weapons seized: eight from his home, and six he took to the college.
Harper-Mercer was officially identified on Friday as the assailant who survivors said stormed into the classroom of his introductory writing class on Thursday and shot the professor at point-blank range, before picking off other victims one at a time as he questioned each about their religion and whether they were Christians.
Authorities have disclosed little of what they may know about the gunman's motives.
Citing unnamed sources, CNN said he left a statement that showed animosity toward blacks. An FBI spokeswoman declined to comment on the investigation.
Bonnie Schaan, mother of 16-year-old Cheyeanne Fitzgerald who was shot in the attack, said her daughter told her the shooter chose a male student and handed him an envelope.
"He told everybody else to go to the middle of the room and lay down," Schaan said, outside the hospital where her daughter remains in critical condition after having a kidney was removed.
"She was right there," Schaan told reporters. "He (the gunman) called the one guy, gave him the envelope and told him to go to the corner of the classroom because obviously he was going to be the one that was going to be telling the story."
Asked if the shooter had given anything to anyone at the scene, Sheriff Hanlin said he did not know.
'SOME KIND OF ISSUE'
In a brief statement on Saturday, the gunman's family said they were "shocked and deeply saddened by the horrific events."
Harper-Mercer's father, Ian Mercer, told CNN that his son must have had "some kind of issue" with his mental health, and wondered "how on earth" he had been able to amass his weapons cache.
"They talk about gun control. Every time something like this happens, they talk about it, and nothing is done … It has to change," Mercer said, adding that he had "no idea" his son owned any guns.
The New York Daily News reported that the gunman's mother, Laurel Harper, had stockpiled firearms, fearing stricter gun laws and had sought out a shooting range that would let her and her son shoot without supervision.
Shelly Steele, who hired Harper, a nurse, to care for her own son, told the newspaper Harper "said she had multiple guns and believed wholeheartedly in the Second Amendment and wanted to get all the guns she could before someone outlawed them."
Harper also told her Harper-Mercer was "sickly" as a child, had "mental problems" growing up and suffered from Asperger's Syndrome.
Hanlin said investigators have to run down hundreds of leads and have seized evidence from multiple locations, including the weapons and ammunition, documents and digital media.
Late on Friday, it emerged Harper-Mercer was once turned away from a Los Angeles-area firearms academy by an instructor who told Reuters he found him "weird" and "a little bit too anxious" for high-level weapons training.
He had a month-long stint in the Army in 2008 and a preoccupation with weaponry that dated back at least two years.
At some point, Harper-Mercer, who identified himself as "mixed race" on a social networking site, appeared to have been sympathetic to the Irish Republican Army, a militant group that waged a violent campaign to drive the British from Northern Ireland. On an undated Myspace page, he posted photos of masked IRA gunmen carrying assault rifles.
His victims were named on Friday, and aged from 18 to 67. Five wounded remain hospitalized, three in critical condition.
One of those wounded, Chris Mintz, 30, a U.S. Army veteran who served in Iraq, was credited with probably saving lives when he stopped the gunman from entering another classroom before police arrived. Mintz drew fire that left him with seven bullet wounds and two broken legs, according to his former girlfriend.
By mid-afternoon on Saturday, a GoFundMe site set up by Mintz's cousin to help pay for his treatment and recovery had received more than $660,000 in donations.
(Additional reporting by Eric M. Johnson and Jane Ross in Roseburg, Alex Dobuzinskis in Los Angeles, Barbara Goldberg and Katie Reilly, Doina Chiacu in Washington, Suzannah Gonzalez in Chicago, Shelby Sebens in Portland; Writing by Steve Gorman and Daniel Wallis; Editing by Bernard Orr and Clarence Fernandez)
Melody Siewell leaves flowers at a memorial outside Umpqua Community College in Roseburg, Oregon, United States, October 3, 2015. REUTERS/Lucy Nicholson