White Gunman Sought In Killing Of 9 At Black Church In South Carolina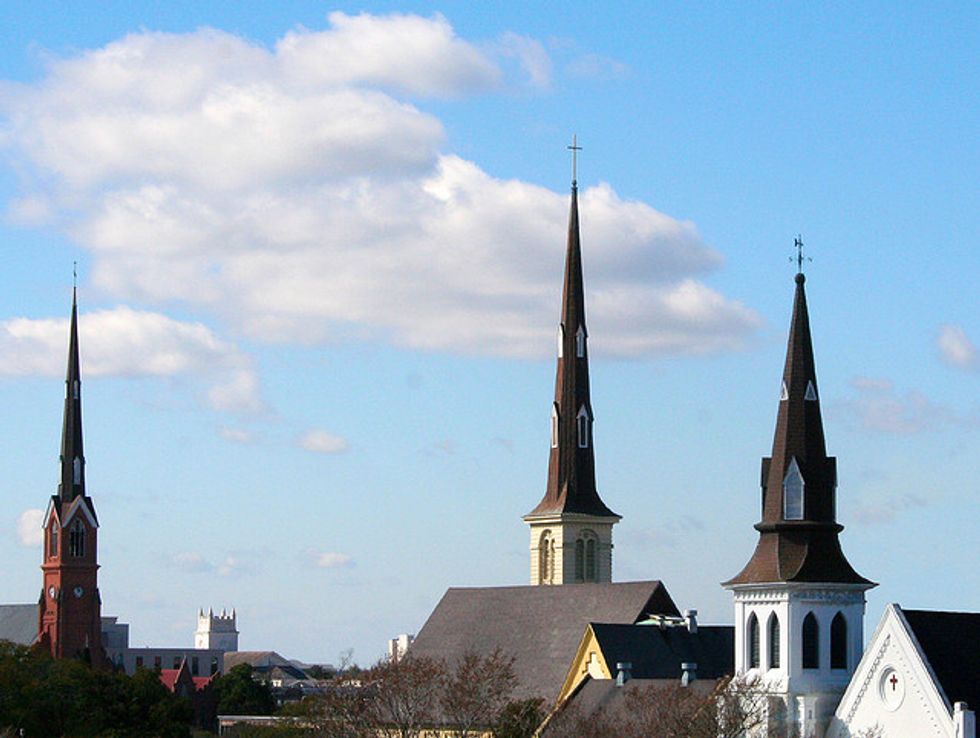 By Michael Muskal, Los Angeles Times (TNS)
Authorities hunted through Charleston, S.C., early Thursday searching for a white gunman who opened fire at a prayer meeting in a historic black African American church, killing nine people in what officials called a hate crime.
The gunman attended a church meeting for nearly an hour before he began shooting Wednesday evening, Police Chief Greg Mullen told reporters at a televised news briefing Thursday morning.
"We are committed, we are determined, we are definitely working with a number of agents and officers to identify the individual," said Mullen, who described the attack as a hate crime. "This is a situation that is unacceptable in any society, especially in our city."
"This is an unfathomable and unspeakable act by somebody filled with hate and a deranged mind," Mayor Joseph P. Riley Jr. told reporters. "We will make sure he pays the price for this act."
The mayor also pledged to reach out to the Emanuel AME Church, a major black congregation with a long and distinguished existence that is rooted in the era before the Civil War.
"We will put our arms around that church and that church family," Riley pledged.
Police released photographs from a surveillance video showing a suspect and the vehicle used to escape. Mullen said he had no reason to think the man had fled the Charleston area, but sent all information to agencies around the country.
The gunman was described as a white man thought to be in his early 20s. Mullen repeatedly called the attacker a "very dangerous individual," urging people to call police and not pursue him or his vehicle on their own.
Mullen said he was unable to give a make and model on the suspect's dark sedan because investigators were uncertain from the images.
The church holds a Bible study class every Wednesday evening.
The gunman was in the church about 8 p.m. and apparently sat down, Mullen told reporters, based on information from a witness who was there and was unharmed. The witness told authorities that the gunman let her live so she could tell her story.
"He was in the church about an hour before the actual deaths," Mullen said.
About 9 p.m., the gunman opened fire.
Little has been announced about the dead to allow time for families to be notified, but Mullen said there were six females and three males. Eight died at the church and one died after being rushed to a hospital.
Earlier reports said another person was injured and being treated, but Mullen said that was wrong.
One of the dead was identified as pastor and state Sen. Clementa Pinckney. Pinckney, 41, was a married father of two who was first elected when he was 23 years old.
Emmanuel AME church traces its roots to 1816, when several churches split from Charleston's Methodist Episcopal church. One of its founders, Denmark Vesey, tried to organize a slave revolt in 1822. He was caught, and white landowners had his church burned in revenge.
Parishioners worshipped underground until after the Civil War.
"Of all cities, in Charleston, to have a horrible hateful person go into the church and kill people there to pray and worship with each other is something that is beyond any comprehension and is not explained," Riley said.
The attack came two months after the fatal shooting of Walter Scott, an unarmed black man, by a white police officer in neighboring North Charleston, which sparked protests and highlighted racial tensions in the area. The officer has been charged with murder, and the shooting prompted South Carolina lawmakers to push through a bill helping all police agencies in the state get body cameras.
Pinckney, the slain pastor, was a sponsor of that bill.
(c)2015 Los Angeles Times. Distributed by Tribune Content Agency, LLC.
Photo: From foreground to back: Emmanuel A.M.E., Citadel Square Baptist and St. Matthew's Lutheran. (Micha A. Ponce/Flickr)
This story is developing.