Trump Weighs 'Half-Blind Trust' Option For His Businesses
@reuters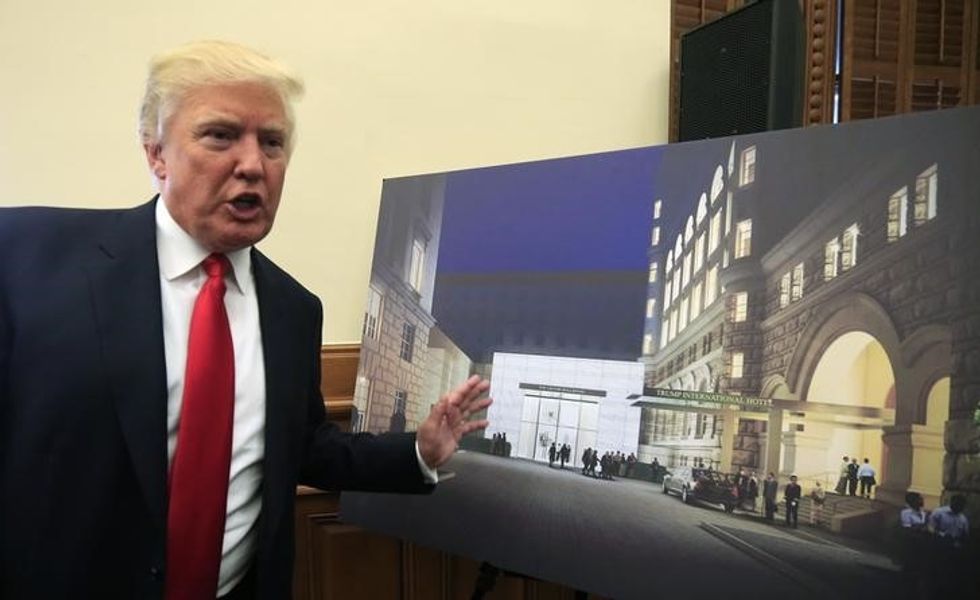 WASHINGTON (Reuters) – U.S. President-elect Donald Trump's transition team is considering the use of discretionary trusts to avoid conflicts of interest for Trump family members or administration officials, Politico reported on Wednesday.
Such an arrangement would provide individuals with an alternative to selling off assets or placing wealth in blind trusts, which president-elects traditionally do.
Trump aides have discussed the idea of discretionary trusts with the Office of Government Ethics (OGE), but it was unclear whether the set-up would be for Trump, his family or any of the wealthy individuals nominated to his Cabinet, according to Politico, which cited two unidentified sources briefed on the talks.
Reuters could not immediately confirm the report.
Among Trump's many holdings are hotels and golf resorts from Panama to Scotland, besides a winery and modeling agency
Federal law does not prohibit the president's involvement in private business while in office but most presidents in recent decades have placed their personal assets in blind trusts so they do not know how their decisions influence their personal fortunes.
Trump spokeswoman Hope Hicks told Politico no decisions have been made and that his team would release more details next month. Representatives for OGE declined to comment to Politico on the discussions.
Discretionary trusts "could allow Trump or his family members to reap some of the legal benefits of a blind trust, but could also give them some insight into how the Trump businesses are faring while also allowing Trump and his family to continue to make money from those investments," Politico said.
Trump's team has said he will address his business arrangements in January after canceling a planned Dec. 15 news conference on the issue, which looms over the New York businessman as he prepares to assume office on Jan. 20.
Executive branch officials and U.S. lawmakers, however, are subject to conflict-of-interest rules, and Democrats in Congress have called on Trump to divest himself of his vast business interests.
Trump has said he would avoid the conflict issue by transferring control of his businesses to his oldest three children, but has given no details.
Critics have said the "half-blind" discretionary trusts would allow Trump to sidestep conflict-of-interest rules and would be inappropriate, according to Politico.
(Editing by Alistair Bell)
IMAGE: U.S. real-estate mogul Donald Trump gestures next to an architectural rendering of The Trump Organization's $200 million redevelopment of the iconic Old Post Office building into a luxury hotel, in Washington September 10, 2013. REUTERS/Kevin Lamarque