Hannity Laid Groundwork For Trump's Lawless Response To Russia Probe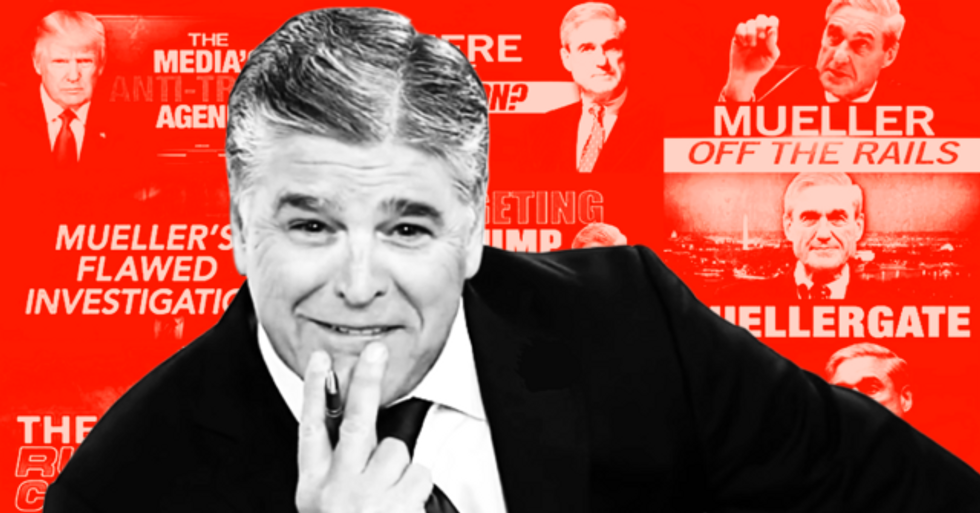 Reprinted with permission from MediaMatters.
There's nothing President Donald Trump hates more than the media, but that's hardly because he's indifferent to what the press says about him. Instead, the first 15 months of his administration have been defined by his tirades against outlets that have covered him critically and his fondness for live-tweeting Fox & Friends.
But Trump's most consequential media relationship is with Fox News host Sean Hannity. While guests on Fox & Friends speak to the president through the cameras, Hannity and Trump are so close that White House staffers refer to the Fox host as Trump's "unofficial chief of staff." In personal meetings and late-night phone calls, the Fox host frequently encourages the president to act on his worst and most destructive impulses. Trump, in turn, serves as an unofficial producer to Hannity's show, regularly watching the program, encouraging his supporters to tune in, and reportedly floating segment ideas during their frequent conversations.
That relationship has been very good for Hannity, whose show became the most-watched cable news program last year. And Hannity's rise has aided Trump by providing an enormous platform to advance a dangerous idea to the Republican base: that special counsel Robert Mueller's investigation into Russian interference in the 2016 presidential election is a sprawling conspiracy that justifies the president using any means — including trials of the law enforcement officials who initiated the probe — to stop it.
Hannity's success has spawned a legion of right-wing imitators who use similarly dire language to hype the menace they say Mueller poses and to prime their audience to support the frightening actions they are encouraging Trump to take in response. Some, like Fox hosts Lou Dobbs and Jeanine Pirro, have also developed personal relationships with the president, advising him both privately and through their programs (for more on Hannity's collaborators, click here).
Understanding the president's increasingly hyperaggressive response to the Mueller investigation requires a familiarity with the paranoid conspiracy theory that Hannity and his compatriots have constructed over the past year.
Over the past few weeks, my colleague Shelby Jamerson and I reviewed more than 2,700 pages of Hannity transcripts from the 254 episodes that aired between Mueller's appointment on May 17, 2017, and May 16, 2018. Those episodes included 487 segments substantially devoted to the probe — nearly two segments per episode. Hannity featured the story in his program's opening segment 152 times, roughly three times each week.
How Hannity actively discredits the Mueller probe
Our study, building on our earlier reviews of the program's coverage of the Trump-Russia saga, found that of the 487 Hannity segments about the Mueller probe:
The "soft coup" against Trump, and the horrific acts Hannity says it justifies
To watch Hannity's broadcast over the last year is to plunge into a strikingly paranoid vision of America today.
"A soft coup is underway right here in the United States of America," Hannity said last June, "in an attempt to overturn November's election results and forcibly remove a duly elected president from office, sinister forces quickly aligning in what is becoming now, in my mind, a clear and present danger."
Specifically, Hannity claims that the leadership of the FBI, aided by Democrats and the media, conspired during the 2016 election to exonerate Democratic nominee Hillary Clinton of the crimes they knew she had committed. At the same time, Hannity alleges that this cabal fabricated the narrative that Trump had colluded with Russia in order to prevent him from becoming president — and that once Trump won the election despite these efforts to manipulate voters, his enemies continued to try to drive him from office. This narrative bears little relationship to reality: In the months leading up to the election, the FBI kept its investigation into whether the Trump campaign collaborated with the Kremlin's effort to support his candidacy a secret while repeatedly calling attention to the Clinton probe, likely costing the Democrat the presidency.
Nonetheless, the sinister cabal of Democrats, journalists, and the "deep state" are the villains of this story. And in Hannity's telling, the host and his rotating cast of guests are the only thing standing between Trump and his annihilation.
Hannity presents his show as the only venue willing to tell the truth about the story, casting reporting about Trump, Russia, and the 2016 election not as the result of serious journalism, but as part of a plot against the president.
The Fox host is adamant that any suggestion of collusion between Trump associates and Russian officials is the stuff of "black-helicopter, tinfoil-hat conspiracy." Instead, Hannity claims that the "real collusion" happened between Russia and the Democrats, in the form of various broadly discredited pseudoscandals.
Hannity's attempts to exonerate Trump are disturbing enough. But it's his attempts to turn his audience against a set of new enemies that are truly dangerous.
In Hannity's telling, Mueller, a Republican who served as a Marine officer during the Vietnam War and was first appointed to run the FBI by George W. Bush, is running a duplicitous "witch hunt." His team is composed of vicious Democratic partisans, and his personal relationship with former FBI Director James Comey is both suspect and actually illegal.
This counternarrative of Hannity's, repeated ad nauseum over the months, is designed to lead his audience inexorably to a simple conclusion: "Mueller's probe is tainted. Hillary is a criminal." And Trump is justified in taking drastic action, including shutting down the investigation into his activities and then prosecuting and jailing his opponents, to protect himself.
Hannity's story is in step with the president's own crude preferences and biases. Trump prefers an authoritarian model for law enforcement, in which the job of the Justice Department is to protect him and punish his enemies. Hannity's show is providing Trump with both constant encouragement to act on those impulses, and is a powerful propaganda tool urging his base to support him if he does. Hannity benefits in turn from his private access to the president and Trump's public displays of support for his program.
This joint strategy is working. Hannity's ratings have never been higher. And while polls show broad support for Mueller's probe, among Fox viewers and Republican voters, the Fox host and his colleagues, in collaboration with the president, have successfully poisoned the well.
The result is a very dangerous moment, in which the president could act on Hannity's entreaties for authoritarian action — and escape unscathed thanks to the supine congressional Republicans and the unyielding support the host and his allies have inculcated for the last year in Fox's legions of viewers.
Hannity is the chief author of the sprawling conspiracy theory, but he could not weave this vast fictional drama alone. The motley team he's assembled to help him would hardly inspire confidence in other circumstances.
Frequent guests for Hannity's Mueller segments
This study reveals the four prongs of the overarching strategy Hannity has followed over the past year: delegitimizing the press, defending Trump from collusion claims, and creating a counternarrative that targets the investigators. All of those build to the authoritarian endgame Hannity's conspiracy theory is courting — which is supported by the series of guests who help sell his tale to the Fox audience.
I. Delegitimizing the press: "The media has been corrupt and lying to you, the America people."
Fox News has always branded itself as the only "fair and balanced" antidote to the rest of the supposedly biased press, aiming to peel off viewers from other outlets. Hannity has played a key role in that effort, regularly declaring that journalism is "dead" and that Fox is the source for "real news."
This attack on other outlets is at the heart of his coverage of the Mueller probe. Hannity has criticized the press coverage of Mueller's investigation in 256 segments over the year of the study, 53 percent of all segments in which he discussed it. Building on decades of conservative animus for journalists, Hannity tells his audience that the media are working hand in hand with other Trump enemies; that their reporting is hostile and should not be believed; and that only Hannity provides an accurate take on the investigation.
At times, Hannity seizes on instances in which journalists have made legitimate errors in their pursuit of the story, arguing that inaccurate reporting that is later corrected is evidence of bad faith, rather than proof that outlets are acting responsibly.
But far more frequently, he simply accuses journalists of deliberately lying to the public to hurt Trump. This rant from February 2, after congressional Republicans released a drastically overhyped memo Hannity had spent weeks promoting, is characteristic of his general argument:
Everything that we have been talking about and uncovering for a year on this program is now being shown to be true and exposed. In the meantime, all this while, the liberal mainstream media, they have wasted an entire year holding this country hostage on a false narrative based on a conspiracy theory that President Trump colluded with the Russians.
They have and have had no evidence whatsoever because it doesn't exist. The media has been corrupt and lying to you, the America people. At the end of the day they are nothing but propagandist, an extension of the Democratic Party and tin foil hat conspiracy theorists that are so pathologically locked in their hate of President Trump they don't know any better at this point.
All the information we have been reporting now on this has been out there. But you have overpaid journalists just too lazy, to rigidly ideological to do their jobs. They have been sitting on the sidelines while the biggest scandal in their lifetimes has been unfolding right before their very faces.
That's an absurd conspiracy theory on its face, but it's one that fits comfortably with the narrative Trump has woven about the "Fake News Media" and its coverage of the Russia probe.
II. The defense: "Tinfoil hat conspiracy theories about so-called Trump Russia collusion" (which isn't a crime)
Russian President Vladimir Putin personally ordered a multifaceted influence effort — including hacking Democratic email accounts and releasing their contents — in order to help Trump win the 2016 presidential campaign, the U.S. intelligence community and the Republican-led Senate intelligence committee have concluded. In the summer of 2016, after learning that a Trump adviser had known about Russian meddling in advance, the FBI opened an investigation into whether the Trump campaign had been collaborating with the Kremlin effort. The FBI largely kept its effort secret through the election, but in March, amid a flurry of news stories pointing to possible collusion between Trump and Russia, FBI Director James Comey publicly confirmed the existence of the investigation. Six weeks later, Trump fired Comey, then admitted on national television that he had done so because he was unhappy with Comey's handling of the Russia probe. A few days after that, on May 17, 2017, Rosenstein appointed Mueller as special counsel to take over the FBI probe.
A year is not a long time as investigations go, but Mueller's investigation has already reaped a substantial harvest and made its way to the center of Trump's circle. Mueller has issued more than 100 criminal charges against 19 people and three companies, with five pleading guilty. Paul Manafort, Trump's campaign chair, faces dozens of charges related to money laundering and bank fraud. Rick Gates, who played central roles in the Trump campaign, presidential transition team, and the White House, as well as Michael Flynn, Trump's first White House national security advisor, are cooperating with the probe. Given how close-mouthed Mueller's team has been, there's no telling what he knows, or what his next move might be. Meanwhile, every day seems to bring a new news story demonstrating that the Trump campaign cooperated with a Kremlin influence campaign whose aim was to help Trump win the 2016 presidential election, while the president's team members keep moving the goalposts on what exactly they deny happened.
But through it all, Hannity — like Trump himself — has made "NO COLLUSION" his mantra, regularly denouncing what he terms "black helicopter, tinfoil hat conspiracy theories about so-called Trump-Russia collusion." He and his guests argued that point in 191 of the broadcast's segments on the Mueller probe, 39 percent of the total. When Mueller indicts close aides to the president, Hannity's takeaway is that the charges have "nothing to do" with collusion. When Mueller indicts Russians for their efforts to impact the election, Hannity celebrates the indictment for not demonstrating a connection to the Trump axis. Other times he uses nonsequiturs to remind viewers that Trump did nothing wrong and everything's going to be fine.
Hannity has yet to be convinced that any Trump associates might have colluded with Russia, no matter what new events unfold. But if that position ever becomes untenable, he's already advancing an argument for Trump supporters to fall back on.
In 25 segments discussing the Mueller probe, Hannity and his guests have suggested that "collusion" is not a crime. The argument rests on the fact that there is no statute literally called "collusion" that might be relevant. But legal scholars have pointed to a host of laws that Trump associates might have broken by working with a foreign government to swing an election. And even if "collusion" is illegal, it's still morally repugnant.
And Hannity does seem to hold strong objections to what he describes as "collusion" between Democrats and Russians. He's alluded to such alleged wrongdoing in 82 segments over the first year of Mueller's probe.
Hannity has two main arguments in favor of this theory of "real collusion." His first is that the 2010 Uranium One deal to sell a U.S. uranium company to Russia, which was approved by Hillary Clinton's State Department and a host of other government agencies, was made because of donations given to the Clinton Foundation. Hannity featured discussion of Uranium One in 184 segments about the Mueller probe, 38 percent of the total. Conservatives have struggled to get traction on this charge for a reason: No evidence has ever shown that Clinton played a role in the deal's approval, and numerous other agencies all approved it as well. Yet it comes up in nearly two out of every five Hannity segments about the Mueller investigation.
Hannity's second charge makes even less sense. He has repeatedly invoked the dossier assembled by a former British intelligence officer and funded by the Clinton campaign and the Democratic National Committee as evidence that Clinton and other Democrats were "spreading propaganda, Russian propaganda, misinformation and outright lies to the American people." The dossier cited troubling links between the Trump team and the Kremlin, and FBI investigators analyzed it in the stages of the probe alongside a host of other sources pointing to the same conclusion. Under Hannity's warped argument, because the dossier cited interviews with Russian sources, it is itself the product of "real" collusion.
Trump doesn't need to watch Hannity's show to constantly bellow that there was "no collusion." But in recent months, he's adopted the Fox host's talking points that Democrats were the ones who actually colluded with Russia and that collusion is a "phony" crime.
III. The counter-attack: Trump as victim of "the biggest abuse of power corruption case in American history"
Having told his audience that, unlike the Democrats, the president and his associates did nothing wrong, Hannity needs to provide his viewers with an explanation for why the investigation is continuing. His explanation is that "deep state" forces — first at the FBI and Justice Department during the 2016 election and the first months of the Trump administration, and later on Mueller's team — have engaged in a broad conspiracy to destroy Trump. Hannity describes this plot as "the biggest abuse of power corruption case in American history" and "a direct threat to this American republic."
In at least 81 segments, Hannity and his compatriots described the president as a victim of Mueller's "witch hunt." Making this task harder: Mueller, whose appointment as special counsel drew bipartisan praise, is a lifelong Republican. The Fox host has settled for invective, saying the special counsel is "as corrupt as they come, he doesn't seem to care about truth, doesn't care about facts, doesn't care about evidence. He doesn't care about being fair. He doesn't care that he's biased." Hannity's basis for these claims? Bogus claims about "conflicts of interest" he says Mueller and his team have, an attack Hannity and his guests have levied in 140 segments, 29 percent of the total.
Among the alleged conflicts Hannity has said call for the special counsel's removal: Mueller's purportedly close relationship with fired FBI Director James Comey, and the fact that some of the lawyers working for the Republican special counsel are registered Democrats, have donated to Democratic politicians, or have worked for progressive organizations. All of these supposedly sinister connections have been debunked by actual reporters or ethics experts with greater knowledge of the law and civil service rules, and more genuine interest in seeing them enforced, than Hannity can claim to possess.
Hannity's arguments are in step with the president's talking point that Mueller's probe is a "witch hunt," and Trump has regularly assailed the purported conflicts of members of Mueller's team in recent months.
IV. The authoritarian endgame: "Mueller's probe is tainted. Hillary is a criminal."
Having painted Trump as the innocent victim of a corrupt investigation, Hannity's argument almost inevitably concludes with demands to shutter it — and more. In 67 segments over the first year, Hannity and his guests called for Mueller's firing, resignation, recusal, or the termination of the investigation. In 41 segments, they sought similar action regarding Rosenstein. The "legal war" on the president needs to end, Hannity claims apocalyptically, because "the country is hanging by a thread."
Hannity has primed his audience to reject any conclusions from the Mueller investigation and to support Trump if he fires the special counsel or demands the Justice Department take action against his political foes. If Trump decides to undermine the rule of law by taking such steps, he will have the fervent support of the Fox host and his viewers.
But it's not enough to simply ensure that the president and his allies cannot be punished if they committed crimes. Hannity is paving the way for another chilling action: the prosecution of Trump's political enemies. Because the president has been the target of crimes that were "worse than Watergate, on a million levels here," Hannity argues, many of the people involved in the Russia investigation will need to go to jail. Hannity and his guests have accused senior Justice Department or FBI officials involved with the investigation of crimes in 186 segments, 38 percent of the total. In 28 segments, they accuse Mueller himself.
And of course, night after night, Hannity rants that Trump has been treated unfairly compared to Clinton, whom he paints as a dangerous criminal still at large. Over the course of the study, Hannity and his guests accused Clinton of crimes in 218 segments, an incredible 45 percent of all segments on the investigation. While the FBI investigated Clinton's use of a private email server and recommended no charges against her, Hannity's cohort is convinced that she is guilty of numerous crimes. "I want Hillary prosecuted because she committed felonies," Hannity said in June. "That's just a fact. And if we deny that, then there's not equal justice under the law." Eleven months later, he declared: "Mueller's probe is tainted. Hillary is a criminal. It all begins with Hillary Clinton."
To investigate these various purported crimes — from Clinton's use of a private email server and the supposed efforts to "fix" the investigation into it, to the early stages of the federal investigation into Trump's ties to Russia, to financing the Trump research dossier — Hannity and his guests have called for the appointment of a second special counsel in 77 segments.
"People need to be exposed," he explained in March. "Crimes were committed at the highest levels, and people in the end need to go to jail. The full story needs to come out. You deserve that and so much more from the people that are supposed to serve you in government." Only a second special counsel, Hannity claims, can get to the bottom of all these crimes and ensure "justice and the rule of law in this country."
Hannity's minion Jarrett has even floated a candidate for the job — Joseph diGenova, a Republican attorney and activist who briefly served on Trump's legal team and has claimed the existence of "a brazen plot" by federal law enforcement "to illegally exonerate Hillary Clinton and, if she didn't win the election, to then frame Donald Trump with a falsely created crime."
Trump is listening. The rule of law rests on the political independence of the FBI and the Justice Department — the assumption that the president will not interfere with investigations for political purposes. But Trump views the job of federal law enforcement agencies not as protecting the country, but as protecting his interests. Egged on by Hannity, he reportedly threatened to fire Mueller and Rosenstein in order to curtail the probe into his activities and those of his allies, and he regularly suggests his perceived enemies have broken the law and publicly pressures the Justice Department to respond.
If Trump ever takes such dire steps as firing Mueller and Rosenstein — or forcing investigations of his enemies — he has every reason to believe that Hannity's propaganda effort will keep the Republican base on his side, forestalling any real accountability.
Appendix: The cast of characters
Here are the 10 Hannity guests who appeared most frequently during segments about the Mueller probe:
Sara Carter, Fox contributor, 121 appearances
Gregg Jarrett, Fox legal analyst, 121 appearances
Sebastian Gorka, Fox contributor, 50 appearances
Jay Sekulow, Trump lawyer, 50 appearances
Newt Gingrich, Fox contributor, 37 appearances
John Solomon,The Hill executive vice president, 33 appearances
Dan Bongino, NRATV contributor, 30 appearances
Jeanine Pirro, Fox host, 27 appearances
Geraldo Rivera, Fox contributor, 22 appearances
Tom Fitton, Judicial Watch president, 19 appearances
Methodology
Media Matters identified segments based on a search of Nexis transcripts for Fox News' Hannity between May 17, 2017, and May 16, 2018, for instances of the word "Trump" within 20 words of "Russia," "Mueller," or "special counsel."
We included each segment where the special counsel probe was the stated topic of discussion. We also included segments that were not limited solely to the special counsel probe but that featured significant discussion of the topic. We defined significant discussion as at least two speakers in the segment talking about the special counsel probe to one another (e.g. the host asking a guest a question about the special counsel probe during a multitopic interview).
We identified all guests hosted during each segment and coded for whether each segment contained the following criteria, counting instances in which the host or guests made such comments as well as instances in which the host or guests positively affirmed such comments made in video clips:
Media criticism
A1: any criticism of media coverage of the investigation/the Trump-Russia story
Firings
B1: suggestions that Robert Mueller should be fired/resign/recuse himself/end the investigation
B2: suggestions that Rod Rosenstein should be fired/resign/recuse himself/end the investigation
Conflict of interest
C1: suggestions that those involved in the investigation — including but not limited to Mueller, Rosenstein, and the FBI — have conflicts of interest, including because they are or have donated to Democrats
Witch hunt
D1: suggestions that the investigation is a "witch hunt" (using that exact phrase)
Collusion
E1: suggestions that there was no "collusion" (using any variation of that word) between Trump or his associates and Russia
E2: suggestions that there was "collusion" between Democrats or Obama-era law enforcement agencies and Russia
E3: suggestions that "collusion" is not a crime
Crimes
F1: suggestions that Mueller may have committed crimes or may be guilty of crimes
F2: suggestions that other senior current or former DOJ/FBI officials involved with the investigation may have committed crimes or may be guilty of crimes
F3: suggestions that Hillary Clinton may have committed crimes or may be guilty of crimes
F4: suggestions that a second special counsel should be appointed to investigate Trump's political enemies, including but not limited to Hillary Clinton and senior current or former DOJ/FBI officials
Uranium One
G1: references to the Uranium One pseudoscandal
Teasers for upcoming segments were not included. We did not include repeats of the same episode. We also identified whether a segment was the opening segment of the program and identified any guests who appeared during a segment.
Shelby Jamerson and Rob Savillo contributed research to this report.
Header image by Sarah Wasko/ Media Matters