Harry Reid Threatens To Go 'Nuclear' On The GOP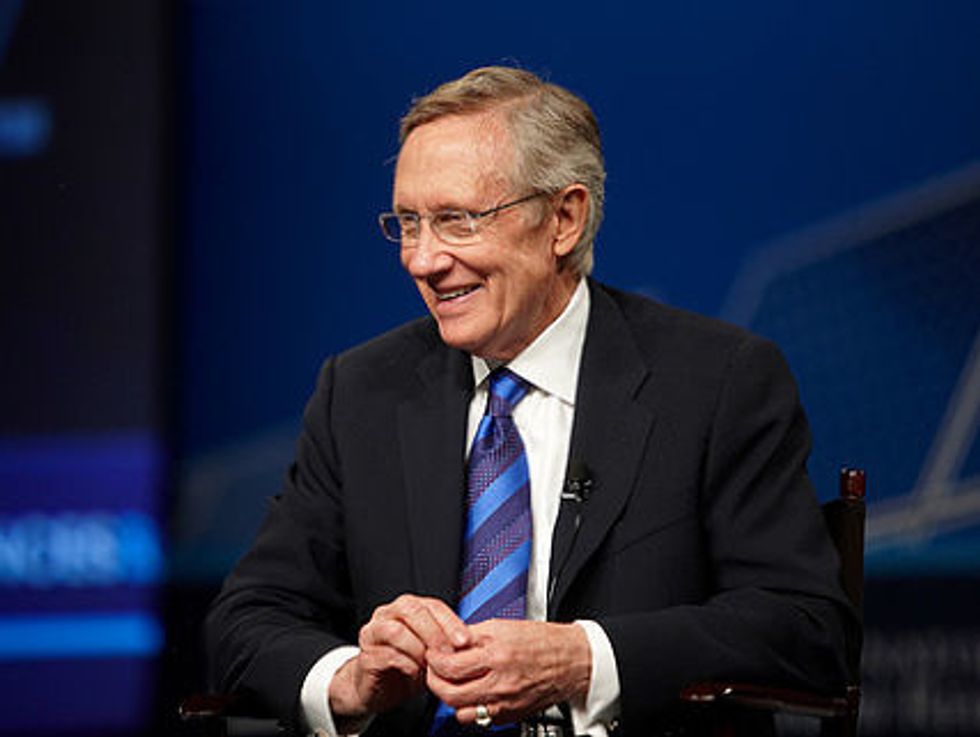 After four years of the Republicans in the Senate waging an unprecedented campaign of obstruction by demanding that Democrats have at least 60 votes to pass any major bill, Senate Majority Leader Harry Reid seems prepared to do something about reforming the filibuster. And he says that he's willing to do it using the so-called "nuclear option" that allows him to pass rule changes with a simple majority.
Republicans claim that 67 votes are necessary to change Senate rules, though both Republicans and Democrats have expressed the belief that 51 votes can effect rule changes. An aide to former Republican Majority Leader Bill Frist labeled this interpretation the "Constitutional option."
Some question whether would Reid would ever really go "nuclear,", knowing that the ill will it would create could seriously complicate Senate functioning while resulting in no dramatic reforms.
Reid said he hoped to have a compromise within 24 to 26 hours or he would proceed without Republican support.
"If not, we're going to move forward on what I think needs to be done. The caucus will support me on that," he said.
Democrats currently hold a 53-seat majority in the upper house of Congress. Two independents — Angus King (I-ME) and Bernie Sanders (I-VT) caucus with the majority.
Democrats — including Iowa's Tom Harkin — who have been calling for filibuster reform were dismayed that Reid had backed off from demanding a "talking filibuster," which would require senators to actually stand on the floor and speak, Mr. Smith Goes To Washington-style. But they appear pleased with the compromise Reid is seeking that would put the burden of gathering 41 votes to the side attempting to block the bill — a slight but potentially significant change in how the body would operate
"To me that's key that 41 would be required to maintain the filibuster," Harkin said.
The Nation's John Nichols believes that gun-safety reforms being pushed by the Obama adminstration have no hope of passing unless reforms force senators to actually to take a stand on the issue. "And there is unlikely to be a vote on any major piece of gun-safety legislation without reform of the filibuster," he wrote.
Nichols believes that the so-called "talking filibuster" is the only way to return actual deliberation to the Senate.
Republican obstruction in the Senate isn't only limiting the president's agenda, it's preventing the judiciary from functioning properly. There are currently  82 federal judicial vacancies — 25 of which are considered judicial emergencies. President Obama has already renominated 33 candidates who received no vote at all last session.
Negotiations between Reid and Senate Minority Leader Mitch McConnell are continuing but as of yet no Democrat has spoken out against invoking the "nuclear option."
"Sen. Reid has the full backing of our caucus for whatever option he chooses," Senator Debbie Stabenow (R-MI) said.
Photo credit: Geri Kodey