Has Eric Holder Found Wall Street's Nightmare?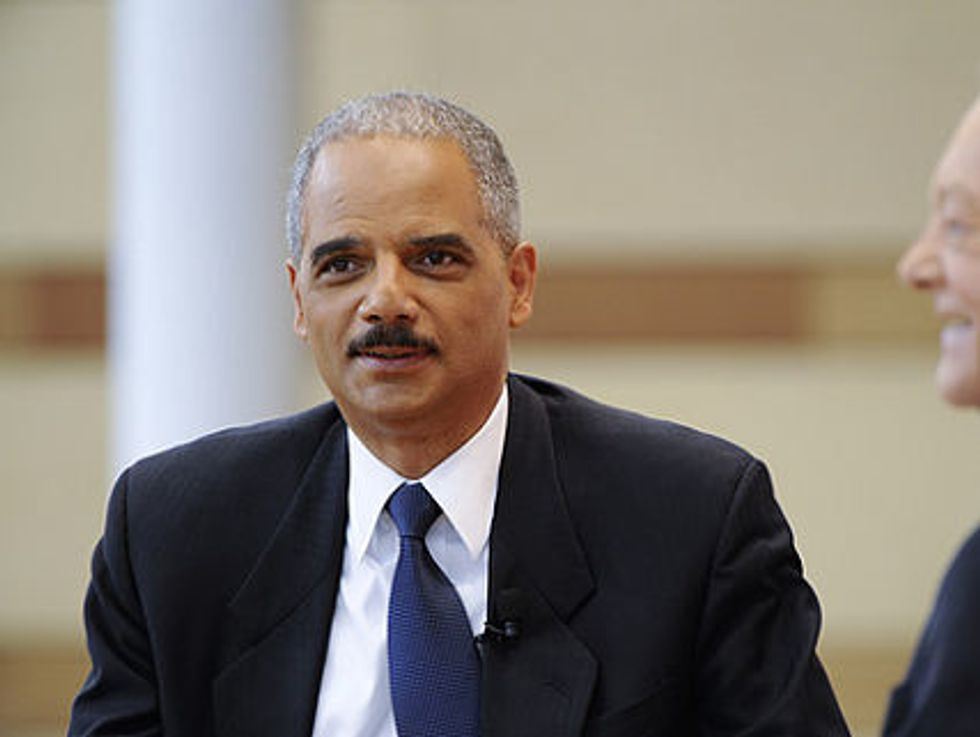 Aug. 23 (Bloomberg) — Why didn't the U.S. Justice Department get someone like Leslie Caldwell years ago when it needed her?
Caldwell, a partner at the New York law firm Morgan Lewis & Bockius LLP, is the former prosecutor who led the Justice Department's Enron Task Force from 2002 to 2004, which resulted in criminal prosecutions of 36 defendants after the Houston energy-trading company collapsed. She is now the lead candidate to become chief of the department's criminal division, succeeding the rather passive Lanny Breuer, who left in March to return to the white-shoe law firm Covington & Burling LLP. Caldwell, 55, is in the final stages of the vetting process, Bloomberg News reported this week.
The Enron team's record under Caldwell wasn't perfect, of course. Yet when the country needed a seasoned prosecutor to bring tough cases and help restore investor confidence after a wave of accounting scandals, she and her squad performed admirably. Enron's former chief financial officer, Andrew Fastow, pleaded guilty to fraud charges shortly before Caldwell stepped down as the task force's director in March 2004. His testimony later helped prosecutors win guilty verdicts against former Enron Chief Executive Officers Jeffrey Skilling and Ken Lay.
In July 2002, after the telecommunications giant WorldCom Inc. imploded, President George W. Bush created a new corporate-fraud task force that went far beyond Enron. It resulted in almost 1,300 convictions, which included about 200 CEOs and corporate presidents and more than 50 CFOs.
That's the type of response the U.S. needed to the 2007-2009 financial crisis. The country never got it. One of the central features of the crisis was how obvious it was that lots of big financial companies' balance sheets were a farce. This helped cause the collapse in confidence that could only be restored with taxpayer backing. Yet no senior executive of a major financial institution was prosecuted.
Gretchen Morgenson and Louise Story of the New York Times nailed one of the crucial reasons in a landmark April 2011 article. In 1995, bank regulators made 1,837 criminal referrals to the Justice Department, according to data the Times reporters obtained from the Transactional Records Access Clearinghouse at Syracuse University. From 2007 to 2010, the average number of referrals for criminal prosecution was 72.
The plunge makes it seem like this must have been the result of a policy choice, perhaps motivated in part by a desire to promote financial stability. It's as if the Justice Department simply forgot how to pursue serious financial-fraud cases — with the exception of Manhattan U.S. Attorney Preet Bharara's campaign against insider trading at hedge funds. U.S. Attorney General Eric Holder told the Wall Street Journal this week that more cases spawned by the crisis may be unveiled in coming months. Yet some of the best opportunities may have been lost to time. The statute of limitations for many crisis-era fraud cases has passed or soon will.
Lehman Brothers Holdings Inc. wasn't even under investigation when it filed for bankruptcy in September 2008. Recall that the night before it filed for Chapter 11, television reports showed Lehman employees streaming out of the building carrying boxes of documents — walking proof that the company hadn't received subpoenas or been told by the government to preserve evidence. It's no wonder nobody from Lehman was ever charged. The scene was cold by the time investigators arrived.
No senior executives were charged at American International Group Inc., Bear Stearns Cos., Citigroup Inc. or Merrill Lynch, to name a few. The Securities and Exchange Commission's civil-trial win this month against former Goldman Sachs small fry Fabrice Tourre doesn't count for much. Nor do all those SEC settlements where the defendants neither admitted nor denied anything.
Sure, corporate-fraud cases are complex and often hard to prove. In crises past, the government found a way to bring them and win. Caldwell certainly knows how, notwithstanding that the conviction of Enron's accounting firm, Arthur Andersen LLP, was overturned on appeal.
That Holder is tapping her is a signal, if nothing else, that he is concerned about the relentless criticism the Justice Department has endured for its lack of criminal charges against Wall Street executives, as well as its habit of letting off corporate defendants with non-prosecution or deferred-prosecution deals. Those were the criminal division's white-collar hallmark during Breuer's four-year tenure.
Assuming Caldwell gets the post, we will have to see if she still has the same prosecutorial chops she did in 2002, when she took over the Enron investigation in Houston. (Before that, she served in the U.S. Attorney's office in San Francisco, where she was chief of the criminal division and the securities-fraud section.) Sometimes white-collar defense work, like the kind she has done at Morgan Lewis, softens veteran prosecutors. For others, representing the other side only makes them better when they go back to government service.
So much time has passed since the financial crisis that the best we can hope for now is that the government regains its footing when it comes to prosecuting financial crimes. It clearly lost its way. If Leslie Caldwell has the same stuff she did when she led the charge against Enron's bad boys, there is hope for things at the Justice Department to get better.
(Jonathan Weil is a Bloomberg View columnist.)
Photo: The Aspen Institute via Flickr.com