Hate Crimes Are All Around U.S.: Where Is Trump?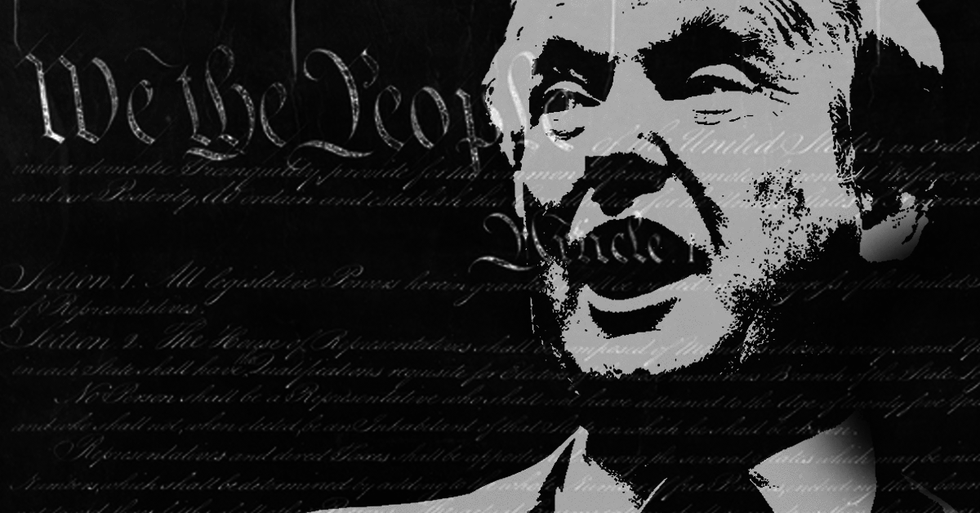 Reprinted with permission from Alternet.
On Wednesday, a noose was found at an exhibit at the National Museum of African American History and Culture. Visitors to the museum alerted staffers and park police shut down the exhibit, which focused on segregation, for three hours while the noose was removed and the event investigated. Linda St. Thomas, a spokesperson for the Smithsonian, told the Huffington Post that museum officials weren't sure how long the noose had been there, but that the specificity of its placement was unmistakable. "It was in a public space outside," St. Thomas told the outlet, "but this was obviously intended to be in the segregation exhibition."
This is the second noose found on museum grounds in less than a week. Last Friday, a Smithsonian police officer discovered a noose hanging from a tree on the grounds of the Hirshhorn Museum. The noose was removed, a criminal investigation launched and members of the public asked to provide any leads to police. An article on the Smithsonian website stressed that "the museum is safe" to both visitors and museum staff.
Lonnie Bunch, the Smithsonian's director, sent a letter to staff on the heels of the latest incident. "The noose has long represented a deplorable act of cowardice and depravity—a symbol of extreme violence for African Americans," it read. "Today's incident is a painful reminder of the challenges that African Americans continue to face."
This was followed by an email from Smithsonian secretary David Skorton. "The Smithsonian family stands together in condemning this act of hatred and intolerance, especially repugnant in a museum that affirms and celebrates the American values of inclusion and diversity," Skorton wrote. "We will not be intimidated. Cowardly acts like these will not, for one moment, prevent us from the vital work we do."
Nooses are potent symbols of anti-black racial hatred and violence. They reference the years of American history—that is, the majority of this country's existence—when African Americans were regularly lynched by white mobs, who often made a day of it, picnicking nearby and then posing with the bodies in photos that became postcards. The infractions for which black folks were lynched included "bumping into a white person, or wearing their military uniforms after World War I, or not using the appropriate title when addressing a white person," according to the Equal Justice Initiative. This was terrorism against African Americans, sanctioned and not infrequently carried out by the state.
The perpetrators of these recent hate crimes at the museum intended to conjure up fear and pain by leaving those nooses, which in black Americans' consciousness and collective memory, are imbued with both. This is not an isolated incident. Racist aggression has been a part of America's character since its founding, but Donald Trump's candidacy and presidency have emboldened racial terrorists like few things in recent memory. The Smithsonian points out that the Southern Poverty Law Center documented more than 1,300 hate crimes "between the 2016 election and February 2017." The Smithsonian catalogs some of these ugly displays:
These ominous reminders of America's dark history with lynching have appeared around the country, from a school in Missouri to a series of four nooses hung around a construction site in Maryland. Other nooses have been found on the Duke University campus, the Port of Oakland in California, a fraternity house at the University of Maryland, a middle school in Maryland, and at a high school in Lakewood, California.
There are more, of course. In early May, bananas hanging by nooses were left around the campus of American University the same day the college's first African-American student government president took office. More recently, three people were killed by white supremacists in a week's span: black college student and Army officer Richard W. Collins III in Maryland, and two men who were attempting to defend teen girls from a racist attacker in Portland.
Just as with the terrorist murders of six Muslims in a Quebec mosque and the shooting of two men in Kansas, the president's response was silence, although he did find time to tweet more than 20 times about fake news and the election win of a Montana GOP politician who had physically attacked a reporter. When a presidential tweet finally did appear about the Portland murders—a generic, mild condemnation of the attacks—it came from the @POTUS account, which is managed by staffers, not the president himself.
It's a myth that things have calmed down since the days following Trump's inauguration, when hate crimes spiked around the country. The news is so crammed with stories about the myriad issues within the administration—its possibly treasonous ties to Russia, its unconstitutional profiteering, its general kleptocratic practices— that they drown out nearly everything else. But the racism Trump exploited and exacerbated hasn't gone away. Far from it.
The dizzying pace of the Trump scandal cycle means less coverage, but with a president whose silence speaks volumes, his followers receive the message loud and clear. Andrew Anglin, a white supremacist who supported Trump for president (they all did, actually) once wrote that Trump had given the "full-wink-wink-wink to his most aggressive supporters." Those angry Trump supporters are not shutting up or backing down, and this president is certainly not pretending he's asked them to. They are still making violent threats and carrying them out.
In a courtroom Tuesday, Jeremy Joseph Christian, the suspect in the Portland stabbing, called the murders an act of "patriotism." We have a president who will not contradict that idea.
Kali Holloway is a senior writer and the associate editor of media and culture at AlterNet.
This article was made possible by the readers and supporters of AlterNet.