He Won't Bend Knee To Trump, But Dolan Is Surging In Ohio Senate Primary
@next2godwin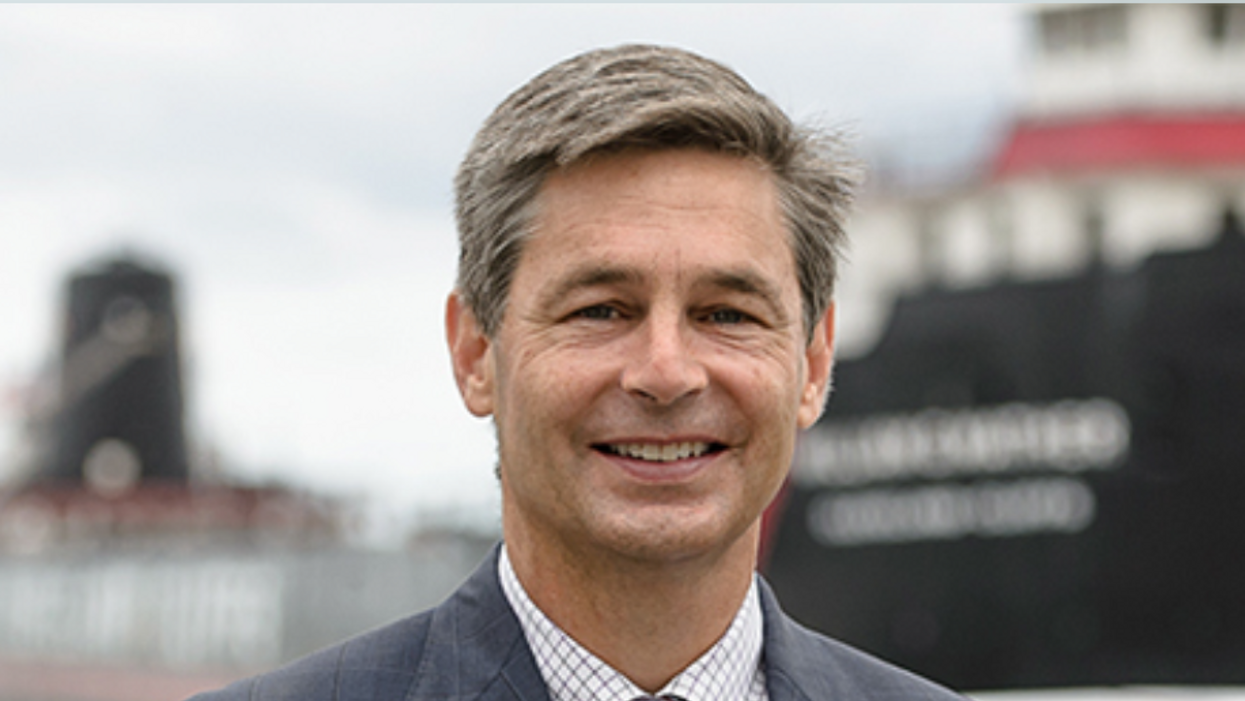 As the race for Ohio's GOP Senate nomination heats up, all but one candidate has pledged allegiance to former President Trump in a bid to win his coveted endorsement and win over his followers.
That candidate is Matt Dolan, who has poured $10.6 million of his own money into his campaign and plans to run as a typical conservative, and he got Trump's attention within hours of his campaign launch.
"I know of at least one person in the race who I won't be endorsing," Trump declared in September. The former president has attacked Dolan for his family's ownership of Cleveland's Major League Baseball franchise — the Cleveland Guardians.
Dolan's campaign is unique for a Republican in 2022. His message to primary voters is rooted in traditional conservative ideas, not voter fraud falsehoods and the far-right cultural grievances that Trump uses and expects those vying for his endorsement to peddle.
Dolan's strategy — which considers the reality that a majority is not required to win — is to catch the eyes of either anti-Trump or Trump-ambivalent Republicans, group them with a single and unite them with a rallying message while the opponents fight for scraps.
For the first time since launching his campaign, Dolan's strategy is showing signs of paying off.
"I think the Republican Party, the Republican voter, wants to move on," Dolan said in an interview this week with NBC News. "And I am the only one moving on," Dolan told NBC News in February.
As tricky a strategy as Dolan's is, internal and public surveys have seen the state senator rise in polling, making him a disruptive enough force to demand the full attention of Trump and the other candidates.
The Trump-endorsed candidate in this race, J.D. Vance, emerged in first place in a recent Fox News poll. Dolan, who is experiencing a late burst of momentum, bagged an endorsement from the Franklin County GOP in Columbus, signaling a connection to the forces who helped John Kasich defeat Trump in the 2016 Ohio presidential primary.
A Blueprint Polling survery released Tuesday actually put Dolan in first place with 18 percent of the vote, while Vance placed second with 17 percent.
"Can it work? He's moved up in the polling," noted an undecided Ohio Republican strategist, who is torn between Dolan and Jane Timken, a former state party chair, according to NBC News. "He's increased his vote share, and there's still a sizable chunk that's undecided."
"He's actually able to talk intelligently on issues as opposed to just emotional dog whistles," the strategist added, referring to Dolan's pitch to voters. "I think that will have appeal."
Dolan spoke about his rising momentum in an interview, according to Politico. "When I made my decision to get into the race, I knew that it was going to be a tough slog, at least publicly, for a while. I knew that I would not be doing well in the polls until much, much later in the campaign. I think it's playing out as I thought it was going to play out."
Noticing how well Dolan's strategy is playing out, Trump released a statement on Tuesday in which he opined that the state senator was "not fit" to serve in the Senate. The former president could also bombard Dolan with attack ads funded by his super PAC, suggests NBC News.
A Trump spokesperson, Taylor Budowich, has dismissed Dolan's chances of winning the primary without caving into the former president. "Dolan can't win it without President Trump's endorsement, and you have a better chance of getting the endorsement than he does," Budowich told NBC News.