Trump Doubles Down On Ousting Liz Cheney After Primary Defeats
@alexvhenderson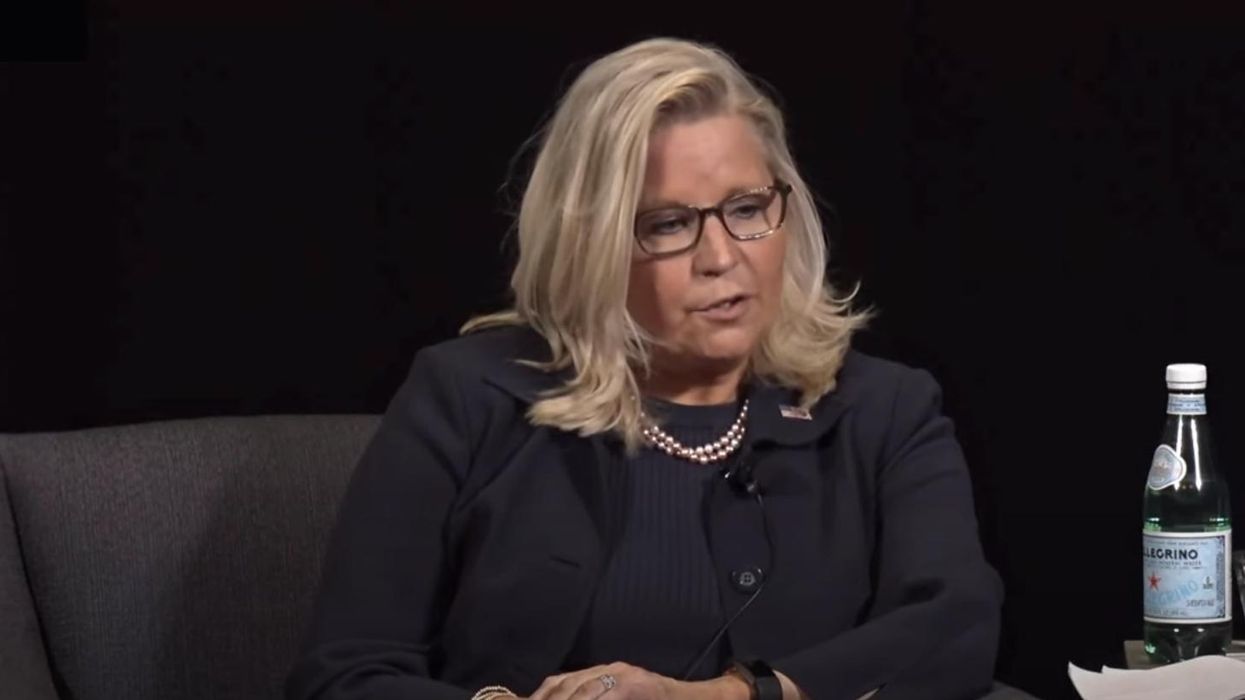 YouTube Screenshot
On Tuesday, May 24, former President Donald Trump suffered humiliating defeats when two Republicans he was backing in Georgia lost GOP primary races by double digits. After that embarrassment, journalists David Weigel and Josh Dawsey emphasize in an article published by the Washington Post, Trump is focusing on his campaign to oust Rep. Liz Cheney via a GOP congressional primary in Wyoming.
Former Sen. David Perdue, campaigning on the Big Lie and falsely claiming that the 2020 presidential election was stolen from Trump, lost to conservative incumbent Gov. Brian Kemp by a brutal 52 percent. Rep. Jody Hice's loss to incumbent Georgia Secretary of State Brad Raffensperger wasn't that harsh, but it was bad enough: Hice lost by 19 percent.
On Memorial Day Weekend, Trump headed to Wyoming to campaign for attorney Harriet Hageman — one of Cheney's primary challengers. That election will be held on August 16.
"His crusade was dealt a major blow last week in Georgia, where Republican primary voters overwhelmingly renominated Gov. Brian Kemp and Secretary of State Brad Raffensperger over candidates the former president vigorously supported," Weigel and Josh Dawsey explain. "Those losses followed a spotty record in earlier races that included high-profile defeats of his preferred candidates in Idaho, Nebraska and North Carolina. In Pennsylvania, the candidate Trump endorsed for U.S. Senate is in a recount. Taken together, the results have raised questions in the party about his influence."
The Trump-backed Pennsylvania candidate that Weigel and Dawsey are referring to is Dr. Mehmet Oz, who appears to have defeated hedge fund executive Dave McCormick in the Keystone State's 2022 U.S. Senate primary — but just barely. After all of the state's counties reported their unofficial results, Oz led McCormick by only 902 votes, according to CNN. And Pennsylvania Secretary of State Leigh Chapman has ordered a recount.
Weigel and Dawsey describe a Saturday, May 28 rally in Caspar, Wyoming as "a moment the former president and his movement used to regroup." Trump angrily railed against Cheney at that event, associating the arch-conservative congresswoman and daughter of former Vice President Dick Cheney with the "failed foreign policy of the Clintons, Bushes, the Obamas and the Bidens" and telling the crowd, "Liz Cheney is about America last."
The Post reporters observe, "The August 16 primary in Wyoming is shaping up as the next big test of Trump's effort to unseat Republican elected officials who have been critical of him and who fought his falsehood-ridden attempts to overturn the results of the 2020 election…. After failing to oust Republicans in Georgia who had rebuffed his attempts to subvert the election, Trump was pivoting to a campaign with better odds of success, due to a strong anti-Cheney sentiment in the Republican ranks in Wyoming."
Cheney, as Weigel and Dawsey point out, has been campaigning on "the rule of law."
"Unlike in Georgia, where Kemp and Raffensperger ran more nuanced campaigns when it came to addressing Trump, Cheney — a three-term congresswoman who has raised more than $10 million for her reelection campaign — has been unapologetic about opposing the 45th president, even as local Republicans have condemned her," the reporters note.
Conservative pundit Rich Lowry, in an op-ed published by the New York Post on May 27, stresses that there is no getting around just how embarrassing Kemp and Raffensperger's victories in Georgia are for Trump. Lowry's op-ed is headlined "Trump's Humiliation in Georgia Was Even Worse Than You Know."
"If Trump had been rationally calculating his interests," Lowry argues, "he would have thought twice about making his signature project in the 2022 primary season a challenge to an entrenched, politically shrewd governor. Instead, he pulled the strings to create a statewide vengeance slate challenging everyone from Kemp on down…. Republican primary voters in Georgia clearly favored moving beyond an all-consuming focus on 2020 and opposed Trump continuing to make the state his political plaything."
Lowry uses a Wyatt Earp analogy to mock Trump in his op-ed.
"Like Wyatt Earp after the gunfight at the OK Corral," Lowry writes, "Donald Trump and his allies mounted up for a vendetta ride in Georgia. Unlike Earp and his posse, though, Trump didn't get his man or any of his confederates, and Gov. Brian Kemp and Co. didn't even have to leave the territory."
Reprinted with permission from Alternet.