Heading To Ohio, Trump Attacks Favorite Son Lebron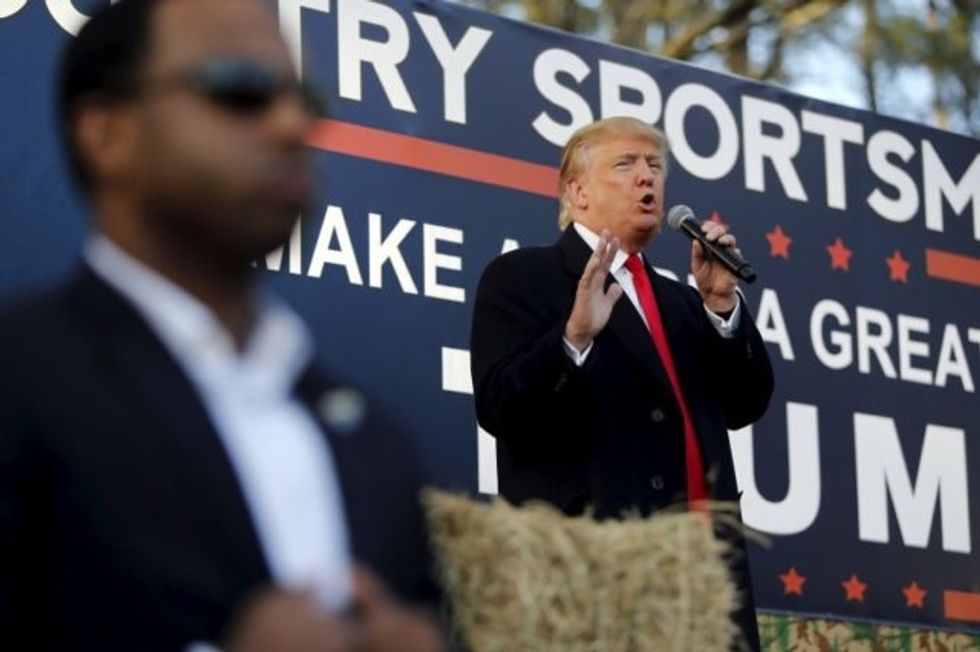 Reprinted with permission from Shareblue.
Hours before headlining a campaign rally for Ohio congressional candidate Troy Balderson, Trump launched into a racist attack on NBA superstar LeBron James, a product of Ohio who is beloved in the state.
In 2016, James led the Cleveland Cavaliers to their first NBA championship. Trump, on the other hand, is already proving to be a drag on Balderson's campaign in Ohio's 12th Congressional District.
The district is Trump territory, and in 2016 he carried the area by 11 points. But now the race between Balderson and his Democratic opponent Danny O'Connor is close.
Trump's full-throated embrace of racism and bigotry in the presidency has led most Americans to describe him as a racist. It has helped to keep his approval rating low and contributed to Democratic victories that have often been a repudiation of Trump's racism in states like Virginia and Alabama.
Ohio could be the next.
Referencing an interview James did with CNN anchor Don Lemon, Trump wrote, "Lebron James was just interviewed by the dumbest man on television, Don Lemon. He made Lebron look smart, which isn't easy to do."
A few hours after attacking James, Trump noted, "Will be going to Ohio tonight to campaign for Troy Balderson for the big Congressional Special Election on Tuesday."
Both James and Lemon are black. Trump has often denigrated blacks by insulting their intelligence. He called Rep. Maxine Waters (D-CA) a "low-IQ individual" and said she had a "very low IQ." He also called President Barack Obama "so stupid."
Political scientist Brian Klass noted that by his count, since Trump became president, "70% of his tweets calling people 'dumb' or 'low IQ' or 'fools' are attacking women or black people."
Trump is a racist.
The reason James was being interviewed on CNN is that he recently opened an "I Promise School" in Akron, Ohio. The school is focused on supporting at-risk children in his hometown.
He told CNN, "We want every kid that walks through this school to be inspired, to come … away with something, something where they can give back."
Trump's record on school creation by comparison is largely confined to Trump University, a scam school he operated for 5 years before it went defunct. Soon after winning the election, Trump settled three lawsuits alleging fraud at the school for $25 million dollars.
His education secretary, Betsy DeVos, is notable for her ignorance of major education issues, combined with her drive to downplay sexual assault in schools, ignore bigotry, and push to make school costs a burden for students.
The specter of Trump looms over Balderson's campaign, as it does so many other congressional races that Republicans need to hold on to their current majorities.
A racist attack on LeBron James isn't something Balderson probably wanted to deal with. But he chose to associate with Trump, and is relying on Trump to help him at the ballot box.
There may soon be a price to pay for that fateful decision.
Published with permission of The American Independent.