Hearing The President Speak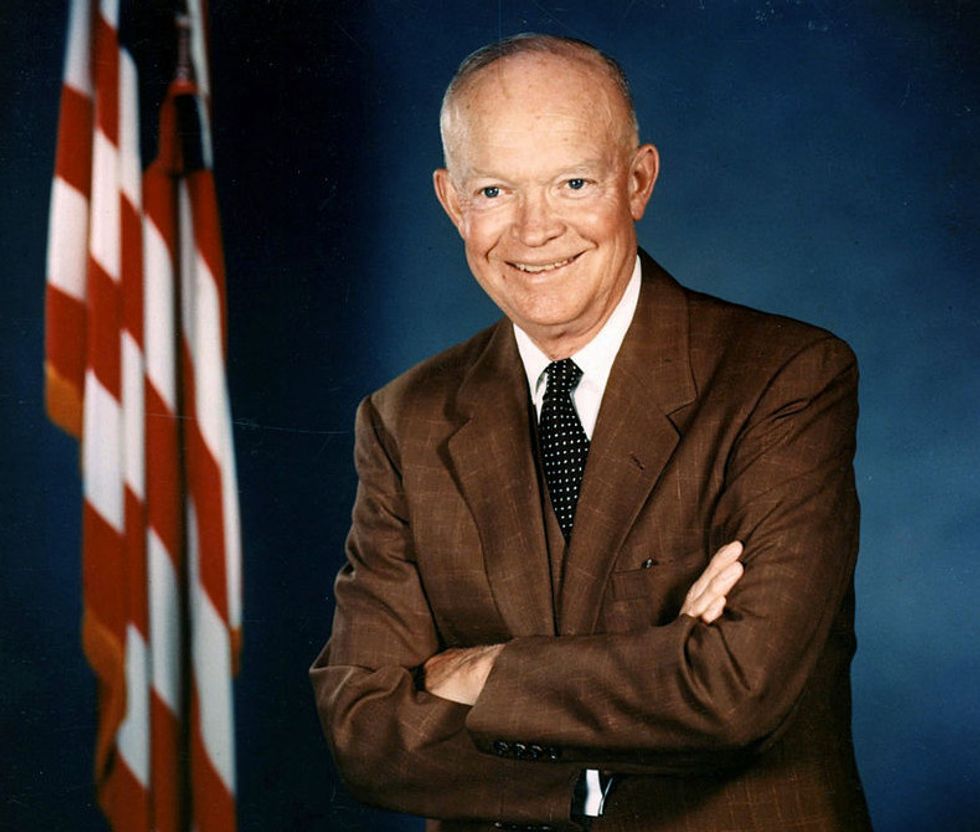 In Marine Corps boot camp at Parris Island, as a humble private, I was taught that at the very top of the chain of command stood the president of the United States, who was then Dwight D. Eisenhower. As supreme commander of the Allied forces in Europe, Gen. Eisenhower had made the fateful decision on June 6, 1944, to send 159,000 Allied troops onto the beaches of Normandy to liberate Western Europe from the Nazis' iron grip.
In anticipation of personally accepting the responsibility for the very possible failure of that historic invasion, Eisenhower, in his own hand, wrote this speech he never had to give: "Our landings in the Cherbourg-Havre area have failed to gain a satisfactory foothold and I have withdrawn the troops. My decision to attack at this time and place was based upon the best information available. The troops, the air and the Navy did all that bravery and devotion to duty could do. If any blame or fault attaches to the attempt it is mine alone.
A president takes responsibility.
The second commander in chief under whom I served was John F. Kennedy, who, as a Navy lieutenant, had his patrol torpedo boat (PT-109) sliced in two when rammed by a Japanese destroyer. The incident left 11 U.S. crewmen floundering in the Pacific. For his exhausting efforts to save his crew, Kennedy was awarded the Navy and Marine Corps Medal. Much later, as a presidential candidate, Kennedy was asked by a youngster how he became a war hero, to which he responded: "It was involuntary. They sank my boat." After the failed U.S.-organized Bay of Pigs invasion by Cuban exiles of Fidel Castro's Cuba, then-President Kennedy accepted that the buck stopped with him. "Victory has 100 fathers, and defeat is an orphan," he said, adding, "I'm the responsible officer of the government."
Acknowledging that he had been less than completely candid with Americans in the Iran-Contra scandal, President Ronald Reagan corrected the record: "A few months ago, I told the American people I did not trade arms for hostages. My heart and my best intentions still tell me that's true, but the facts and the evidence tell me it is not." The Gipper won public admiration for shouldering the blame.
Contrast this with the conduct and words of the incumbent commander in chief, who said of a Republican colleague who suffered two broken arms and one broken leg and then a beating by his "rescuers" after his U.S. Navy plane was shot down over Hanoi in 1967 and endured 5 1/2 years of torture as a prisoner of war there before being freed: "He's not a war hero. He's a war hero because he was captured. I like people that weren't captured."
The polar opposite of Ike, JFK and Reagan, Donald Trump blames the wounded and now departed American hero John McCain. Let me tell you as a childhood survivor of both scarlet fever and rheumatic fever, which left me with a heart murmur, that the pre-induction military physical for those of us facing the draft call was not sophisticated medicine. Basically, if you could see lightning and hear thunder, you passed your U.S. military physical. Of course, there was the rare prep-school type who showed up in his camel hair jacket with a stack of affidavits from his allergist, his psychologist or even occasionally his foot doctor explaining why military life would not work out for Trip or Chip or Donnie. I prefer my presidents and leaders to take responsibility and not be the rare misfit who instead takes a powder.
To find out more about Mark Shields and read his past columns, visit the Creators Syndicate webpage at www.creators.com.
IMAGE: Dwight D. Eisenhower, 34th president of the United States and former supreme commander of Allied Expeditionary Forces in Europe during World War II.