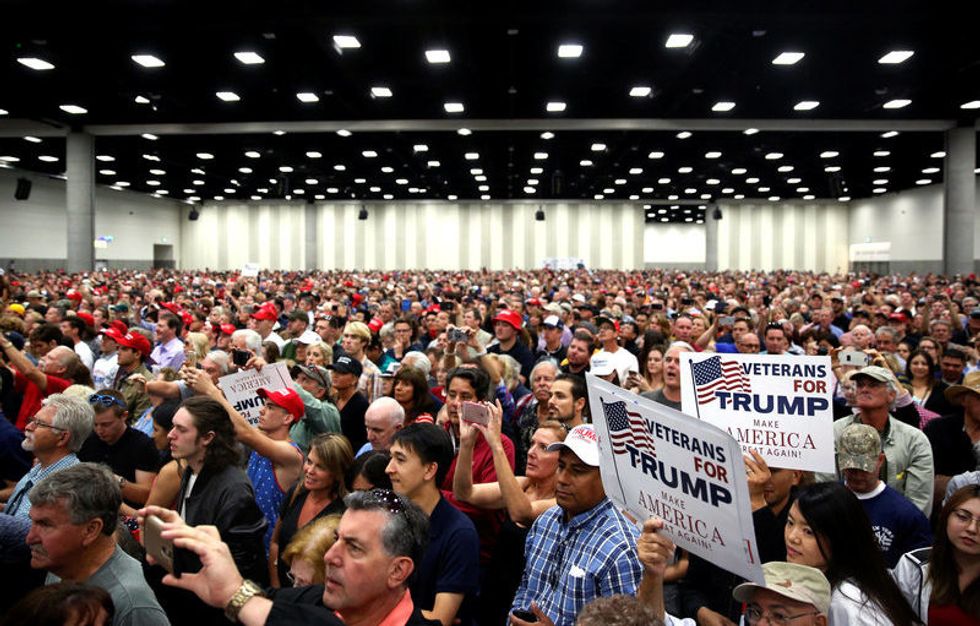 For weeks now, many of us who live in Cleveland have been fielding questions about how safe we feel about the Republican National Convention's coming to our city next week.
What most of them are really asking is whether we're worried about Donald Trump and the trouble his brand of campaigning may bring with him.
A reasonable question — and one that I've been answering with an increasingly measured tone. Trump won his party's primary by preaching racism, xenophobia and misogyny. Only a fool believes that it begins and ends with his rhetoric. I don't think all of Trump's supporters are awful people, but as The New York Times' Nick Confessore reported just this week, the worst among them now feel they've got permission to hate out loud whomever they want.
This was the news alert for Confessore's story that popped up in my email feed Wednesday, five days before the convening of the Republican National Convention: "Donald Trump is shattering taboos around race, causing alarm among those who track racial tension and galvanizing white supremacists."
The spine-chilling introduction to that story:
"The chant erupts in a college auditorium in Washington, as admirers of a conservative internet personality shout down a black protester. It echoes around the gym of a central Iowa high school, as white students taunt the Hispanic fans and players of a rival team. It is hollered by a lone motorcyclist, as he tears out of a Kansas gas station after an argument with a Hispanic man and his Muslim friend.

"Trump

"Trump

"Trump

"In countless collisions of color and creed, Donald J. Trump's name evokes an easily understood message of racial hostility. Defying modern conventions of political civility and language, Mr. Trump has breached the boundaries that have long constrained Americans' public discussion of race."
And he's on his way here.
So, yeah, I'm worried about my city.
Not because we don't know how to behave or how to host a party. Just last month, we proved we're really good at both, after an estimated 1.3 million people jammed just about every inch of downtown Cleveland to celebrate the homecoming of our NBA champions, the Cavaliers.
It was sunny and increasingly hot as most of us stood shoulder to shoulder with sweaty strangers for hours that day. We had our moments.
I was standing with my friends Sue and Bill, when a group of men in their late 20s and early 30s began taunting a couple of mothers who stood with young children on a public bench around the staging area, blocking our view. At first, the men just yelled for them to step down, but when the women refused, the attacks grew more personal.
"You're unfit mothers!" they yelled — but not for long. When one of the men hurled the B-word, several of us asked all of them to dial it back. The men bristled at the reprimand, but they soon left, and everyone else managed to keep things light, even as our feet ached and our faces burned.
I've thought of that moment a lot in the days since. We were mostly sports fans, I understand, but we were a lot more than that, too. We were a cityful of people who knew the country's eyes were on us, and we knew how to behave. The headlines told the story of an entire city of people happy to spend countless hours crammed together in the heat.
That's who we were because that is who we are.
About three months ago, Ohio Republican Chairman Matt Borges, a close confidant to Gov. John Kasich, shared his misgivings about Trump. This was right before Ohio's primary, and I was interviewing him for a story that ended up not running.
"We've been dying on the Republican side for this transformational figure like Obama at the 2004 convention," he said. "In some ways, Trump is that transformational character. If he had just used his powers for good, he'd be unstoppable. Instead, he uses his power for these divisive messages.
"He's smart. He knows who he's appealing to. People are invested in Trump, and they don't care anymore what he says or does."
Borges likened Trump's followers to a sports team's avid fans. They develop "an emotional connection" and are unwilling to give it up, no matter how badly he behaves. At the time, I found his sports analogy helpful in understanding Trump supporters. Now it feels eerily foreboding.
I don't know what's going to happen in our city when Trump gets here for the Republican convention. What I do know is the collective heart of the people who are welcoming more than 50,000 visitors to our city.
Our goal is always the same: You arrive as strangers, but you leave as friends. That's who we are, and there's nothing about Donald Trump that could ever change us.
Connie Schultz is a Pulitzer Prize-winning columnist and professional in residence at Kent State University's school of journalism. She is the author of two books, including "…and His Lovely Wife," which chronicled the successful race of her husband, Sherrod Brown, for the U.S. Senate. Her email is con.schultz@yahoo.com.
Photo: Supporters attend a rally with Republican U.S. presidential candidate Donald Trump in San Diego, California, U.S. May 27, 2016. REUTERS/Jonathan Ernst