Here We Go Again, Trash-Talking The Working Class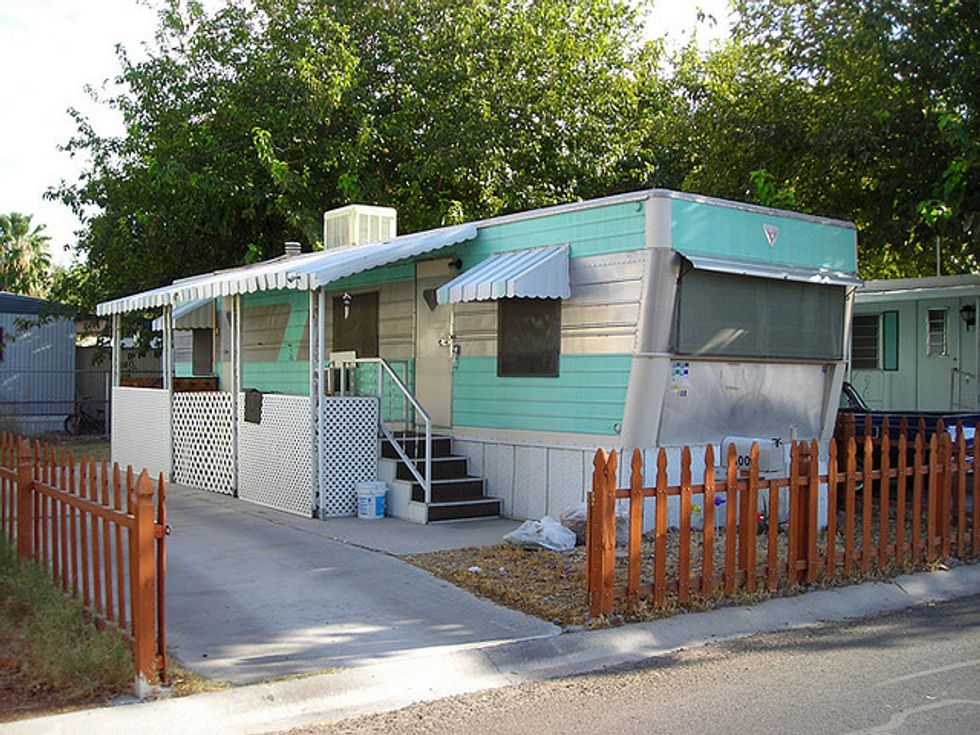 Bear with me, please, as I start this column with a brief story about my two grandmothers who lived in trailer homes.
They lived in Ashtabula County, which is tucked into the northeast corner of Ohio, an hour east of Cleveland. If ever you've travelled a good distance along U.S. 90, you likely passed our county's handful of exits on your way to somewhere else.
For all of my childhood, this was home, and I was seldom happier than when I had time alone with my maternal great-grandmother, Ada, who raised my mother from the age of 8. In the late '60s, after her husband died, Ada sold her house and 20 acres to move into a trailer home a couple of miles down the road. It was closer to her church, her second home.
I spent weeks at a time in the summers with her, freed from the responsibilities of the oldest child always on duty. She taught me how to cook, garden and quilt. Every Sunday after church, rain or shine, we walked to the cemetery to tend my great-grandfather's grave and say a prayer of gratitude for the time we'd had with him. We had our evening rituals, too. She believed a steaming cup of tea at sunset was a great way to settle the mind for the big thoughts that show up only under the night sky.
My maternal grandmother, Vivian, lost custody of my mother when she was 8 and spent the rest of her life trying to make it up to her and taking care of my uncle, who had a mental disability. His name was Francis, and she never spent a day away from him until he died from complications of diabetes in his late 50s.
Grandma Vivian was the first person I knew to buy an aluminum Christmas tree. What a sight for my siblings and me. My mother stood behind us and whispered orders to close our mouths and stop acting like we'd just seen a ghost.
This was the grandma with the trunk full of antique dresses and hats for us to play with whenever we visited. When my mother wasn't around, Grandma often served me a cup of coffee loaded with milk and sugar — a grown-up reward for "being so responsible." When her house in Ashtabula County became too run down to be safe, my grandmother closed it up and lived in a trailer on the back lot until Alzheimer's robbed her of the ability to take care of herself.
I wanted you to know a little bit about my grandmothers so that you might better understand my outrage over a Cleveland Plain Dealer writer's reaction to Sarah Palin's endorsement of Donald Trump for president:
"Thanks to Trump, the entire Palin clan is now back in the spotlight they so crave. Come July, Republican National Convention organizers should house the whole dysfunctional family at a trailer park in Ashtabula."
This is surely not the first time a pundit has cast the Palins as "trailer park folks" — which is code, of course, for "white trash." We are hearing these phrases more frequently as pundits try to make sense of Donald Trump's soaring poll numbers.
In her book "Framing Class: Media Representations of Wealth and Poverty in America," sociologist Diana Kendall describes how in 2008 then-"Late Show" host David Letterman "maintained a night-after-night monologue about Sarah Palin and why she is white trash." He was joined, she writes, by "print media, television and Web blogs … full of descriptions of Sarah Palin's trailer park lifestyle."
Much closer to home, since Donald Trump's charade of a candidacy caught fire, I have heard many fellow liberals freely toss around the terms "white trash" and "trailer trash." These are people who would never dream of telling a racist joke, but they think nothing of ridiculing those of lesser economic means.
Every group has its "other." For too many white intellectuals, it's the working class.
Neither of my grandmothers had much money, ever, but they contributed so much to the lives of the people they loved. They were both storytellers who helped me understand the long-ago sacrifices of people I would never know but who live on in the blue of my eyes and the ambitions of my heart. They are why I've devoted a number of columns and stories over the years to people who live in trailer parks.
Just this week, I was remembering Marjie Scuvotti, a 24-year-old mother of four. I interviewed her in 2002, on the first anniversary of the Sept. 11 terrorist attacks. She talked to me in her home in a trailer park as she painted her 6-year-old son Issac's face red, white and blue for a parade celebrating first responders.
"You're my American-flag boy," Marjie whispered in his ear. She couldn't have been a prouder mother.
This campaign year has barely begun, and it promises to be a long one. Regardless of which partisan lens we look through, we will see some voters who confound us.
Mocking them will never bring us closer to understanding them, but it will surely reveal us, and we will not benefit from the exposure.
Connie Schultz is a Pulitzer Prize-winning columnist and professional-in-residence at Kent State University's school of journalism. She is the author of two books, including "…and His Lovely Wife," which chronicled the successful race of her husband, Sherrod Brown, for the U.S. Senate.
Photo: Living in a trailer home isn't a sign of class, no matter how much people want to stereotype. Roadsidepictures/Flickr