Here's Why Bernie Is Courting Superdelegates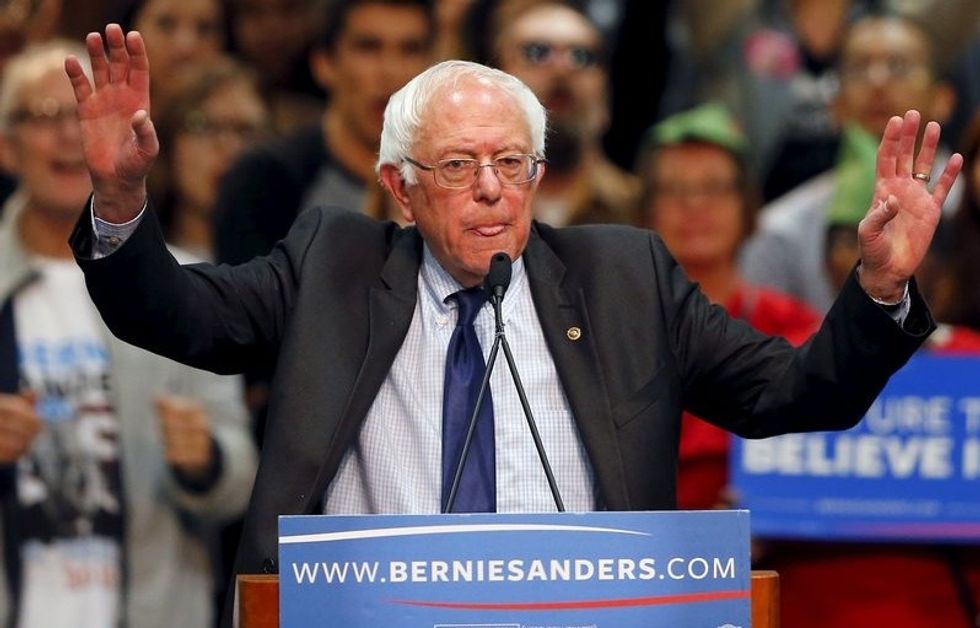 The delegate math does not look good for Bernie Sanders — but it may not matter.
Nearly a dozen states have yet to hold their presidential primaries and caucuses, but even between them, Sanders would have to perform exceptionally well to go into the Democratic National Convention this summer with enough pledged delegates to claim the nomination.
In a news conference Sunday, Sanders said that he expected Hillary Clinton would be in the same boat; that Democrats would end up with a "contested contest," and that it would be up to superdelegates to decide the party's nominee. Superdelegates supportive of Clinton, Sanders said, should consider switching to supporting him in those states where he won by a landslide.
Which is, frankly, a confusing strategy: the vast majority of superdelegates who have announced their support for either candidate are in the Clinton camp, and still more uncommitted superdelegates are Clinton supporters. While Clinton may not reach the nomination threshold with pledged delegates alone, her existing advantage among superdelegates will likely carry her to the nomination easily.
Sanders's superdelegate campaign, meanwhile, is an awkward fit for the reform-minded former independent, and for the various progressive organizations that support his campaign. Superdelegates usually have experience in elected office, or as leaders within the Democratic Party, and this cycle has seen quite a bit of drama unfold between energetic (mostly younger) Sanders supporters and superdelegates committed to supporting Clinton. Now Sanders wants their votes?
"MoveOn members believe that superdelegates are fundamentally undemocratic and should be abolished," MoveOn.com Washington Director Ben Wikler said in an email, when asked about that tension. "That's why hundreds of thousands of us have signed petitions urging them to not override the will of the voters. For now, though, superdelegates are part of the system, so of course both candidates are going to court them for endorsements."
Another prominent progressive coalition to endorse Sanders, Democracy for America, has multiple online petitions urging voters to pressure superdelegates into supporting him.
"Join Robert Reich and Democracy for America in calling on all Democratic Party superdelegates to pledge to support the popularly-elected winner of the nomination," one reads, with boxes for an email address and zipcode below.
Hypocrisies aside, it's hard to fault Sanders for trying to maintain his campaign's momentum in these final three months: seemingly every week he stays in the race, the Democratic establishment is nudged further to the left, lest they risk acenlienating his supporters.
"One of the incredible things in Sanders's candidacy has been watching the Democratic Party become more progressive before our eyes," said Ari Kamen, New York state political director of the Working Families Party (and the author's second cousin). "We're seeing things that were once totally anathema or not part of mainstream conversation now becoming the centerpiece, whether it's expanding voting rights laws, a $15 minimum wage… these things are suddenly now mainstream Democratic tenets."
"Our hope is that you see the culmination of that in a Democratic platform that embraces single-payer healthcare, that embraces tuition-free college, that embraces a $15 minimum wage."
Hillary Clinton has responded unenthusiastically to such demands — "I didn't say, 'You know what, if Senator Obama does x, y and z, maybe I'll support him'" in 2008, she reminded Rachel Maddow last week — but her campaign would be ill-advised to ignore the growing number of Democrats who see the convention as an opportunity to air party grievances: most Democrats polled say they want Sanders to continue his campaign until the convention.
"One of the things that we will be fighting for on the platform, whether he's the candidate or not, is electoral reform," Jane Sanders said in an interview recently with CNN. "The process needs to change. We need an open electoral system, same-day registration and open primaries."
Her husband had a similar message at a rally last week in Indiana: "We are in this campaign to win, but if we do not win, we intend to win every delegate that we can so that when we go to Philadelphia in July, we are going to have the votes to put together the strongest progressive agenda that any political party has ever seen."
In other words: we're playing by the party's rules, so that we get a chance to change them.
Photo: Democratic U.S. presidential candidate Bernie Sanders holds a campaign rally in San Diego, California, in this file photo taken March 22, 2016.     REUTERS/Mike Blake/Files