He's For Sale: How A Nazi-Linked Former Trump Adviser Does Politics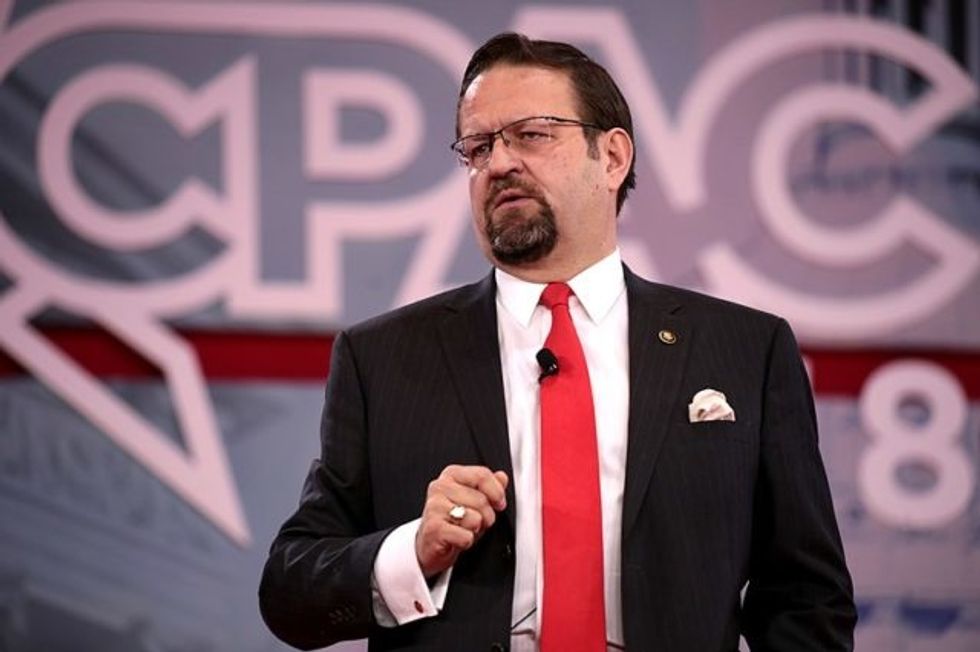 Reprinted with permission from Shareblue.com
Having failed to secure an endorsement from Trump, Republican Senate candidate Kelli Ward of Arizona decided to go after a more attainable target, setting her sights on fired Trump adviser and Nazi sympathizer Sebastian Gorka.
Ward got the endorsement, which she proceeded to tout on social media, Fox News, and pretty much anywhere else she got the opportunity.
Interestingly, on the very same day that Gorka endorsed her, Ward paid him $5,240 for a "speaking fee."
So what kind of speeches does Gorka deliver?
A look at his speaker bio shows that he advertises his availability to give paid speeches under the category "Endorsement/Spokesperson Campaign" — in other words, his endorsement is for sale.
While there's no law prohibiting candidates from buying endorsements, one would think the public shame of doing so would be enough to stop anyone in their tracks.
But apparently, this is not a first for Gorka.
The Washington Examiner reported on April 9 that John McCann, a Republican candidate for New Jersey's 5th District Congressional District, paid a familiar sum of money — $5,000 — to Gorka right around the same time that Gorka endorsed McCann and threw his weight behind his fundraising efforts.
Two months before that, the Washington Examiner reported on a similar payment made to Gorka by Nevada Republican Senate candidate Danny Tarkanian, who is running to unseat incumbent GOP Sen. Dean Heller. According to FEC filings, Tarkanian paid Gorka $5,000 for a one-time "speaking fee," in December. Gorka endorsed Tarkanian on December 20, 2017 — one day after the date on the FEC filing.
As the Examiner noted, the payment is highly unusual, both in substance and in cost.
"A search of FEC records for 'honorarium' or 'speaking' left the Washington Examiner mostly empty-handed. In the last two election cycles, only three House candidates paid speaking fees (averaging less than $2,000) and not a single Senate candidate paid a speaking fee or honorarium according to this search," the Examiner reported after looking for records of similar speaking fees paid by House and Senate candidates.
Gorka, the former Trump adviser and Breitbart columnist who's been accused of having ties to a Hungarian Nazi group, is just the latest far-right figure to endorse Ward's Senate campaign. Other notable far-right endorsements include outspoken racist Steve King of Iowa, as well as Sean Hannity, Steve Bannon, and a host of fringe conspiracy theorists.
But Ward didn't have to fork over any money to win their endorsements — at least, as far as we know. Stay tuned.