Hey, America… All Of You, C'mon Down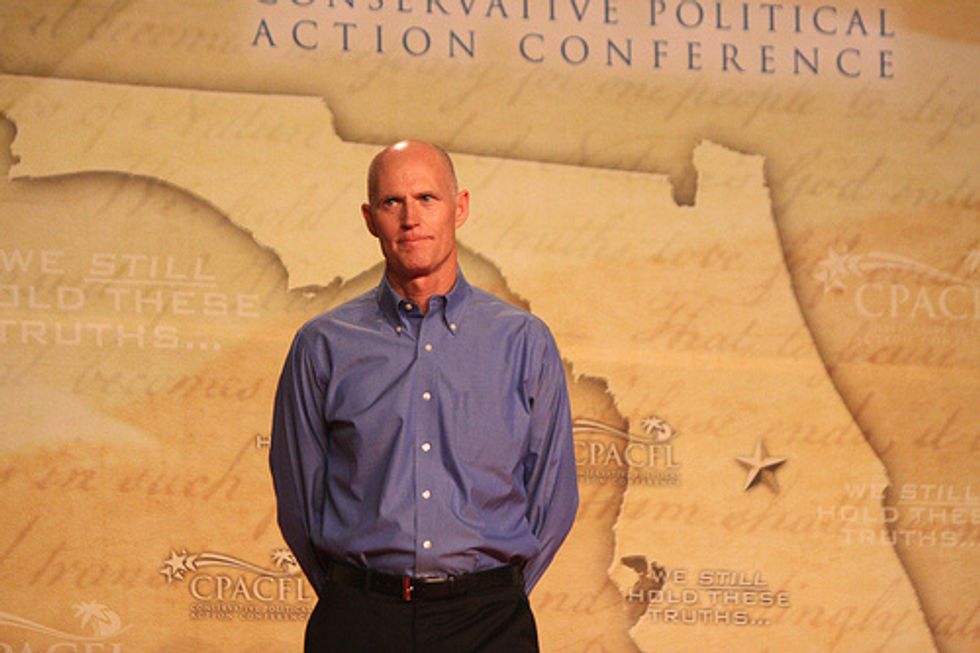 "I have a message today to the people of New York, Illinois, California, Pennsylvania and others: Move to Florida!"
Such was the sunny welcome put forth by Gov. Rick Scott at his second inaugural last week in Tallahassee, FL.
Quit your jobs, pack up your families and get down here as fast as you can. Twenty million people aren't enough — Florida needs more!
I was thinking the same thing the other day on I-95, when I glanced in the rearview mirror and actually saw about eight feet of air between my bumper and the tanker truck behind me.
The first thing that sprang to mind was: Hey, another car could fit in there!
Not a regular-sized car, true, but maybe one of those adorable little Smart cars that you sometimes see on the streets of Manhattan or Chicago. It was a revelation.
Probably 99 out of 100 drivers in Florida would say our traffic already sucks, with a little imagination and no concern for the quality of life, there's always room for more.
So you go, Gov. Scott! Keep on spreading the word.
The thought again popped into my head as I passed a middle school where every classroom has about 30 students, which most teachers will tell you are too many.
Know what? That school didn't seem so crowded, at least from the outside.
The county had trucked in rows of windowless portable classrooms and painted them the same earthtone color as the main school building, so they looked hardly anything like warehouse storage.
Also, there was plenty of space for more portables at the east end of the soccer field.
So, everybody, listen to Gov. Scott! Bring your kids down to Florida and, by God, we'll find a way to shoehorn the little imps into one of our schools.
And don't be spooked by the fact that we spend less per pupil on education than 47 other states, because we make up for it in so many other ways.
Low taxes, for example. The governor loves to brag about Florida's low taxes.
You might think it's a sore subject among Floridians, this being the time of year when many of us are staring at our property-tax bills and wondering why they keep going up, up, up.
It's because irresponsibly jamming so many humans together requires somebody (and it's never the developers!) to pay for the roads, bridges, sewers, fire stations, extra police officers and so on. That somebody who pays is us.
So what's Gov. Scott really talking about when he says our state has low taxes?
Get ready, future Floridans! Here's the big celebrated tax break that the governor and the Legislature gave to all residents last year:
They cut the cost of our vehicle license tags by an average of $25. That's not a typo, folks. Twenty-five whole buckeroos.
I still haven't figured out what to do with all of it. Treasury bonds? High-cap stocks?
If a double-digit cut in auto-tag fees isn't enough to bring caravans of U-Hauls streaming into the Sunshine State, then I don't know what will.
The other morning I was driving through the Everglades thinking: Isn't this swamp water finally clean enough? Really, how much urban runoff could a few million more people possibly dump?
We've probably got enough fish, wildlife and wading birds to last one more generation. What we really need are more subdivisions full of humans flushing toilets.
Aside from water shortages, saltwater intrusion, sink holes, red tides and the ludicrous cost of windstorm insurance, one thing that might keep newcomers away is fear.
Please don't judge by what you read in the papers or see on TV, or by the latest FBI stats, which show Florida has more violent crimes per capita than New York, Illinois, California or Pennsylvania — all the places Gov. Scott is urging people to flee.
True, all types of criminals love it down here because of the climate. But while our prisons have been wretchedly overcrowded, additional cell space has become available under Scott's administration due to a surge of untimely (and unexplained) inmate deaths.
So don't be scared of Florida. Hurry on down before South Beach is underwater. We're desperate for more people. We love sitting in traffic. We love standing in line.
Promised the governor: "Over the next four years, I will be traveling to your states personally, to recruit you here."
Go get 'em, you crazy Martian goofball!
Lie all you want about low taxes, and don't say a word about the pythons.
Carl Hiaasen is a columnist for The Miami Herald. Readers may write to him at: 1 Herald Plaza, Miami, FL, 33132.
Photo: Gage Skidmore via Flickr