Hillary Clinton Calls For Protecting Voter Rights, Automatic Registration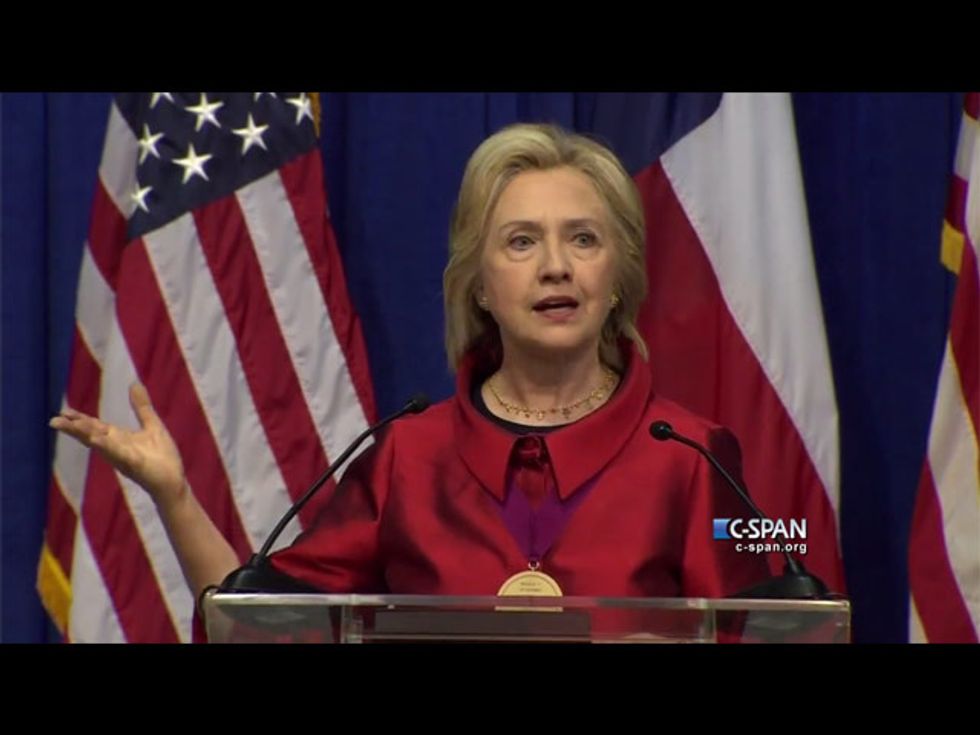 Hillary Clinton made a major campaign push Thursday on the subject of voting rights in a speech delivered at Texas Southern University, a historically black college in Houston, Texas.
She also took a direct shot at the state's former governor, Rick Perry — as well as other Republican presidential candidates — on the same day Perry declared his own candidacy for president.
Clinton called for a national requirement of universal, automatic voter registration in every state, plus a 20-day early voting period. She also called for repairing the Voting Rights Act of 1965, which was heavily damaged by a Supreme Court decision in 2013 that struck down the law's automatic oversight over many Southern states that had historically passed laws to make it harder for minority citizens to vote.
Clinton castigated Republicans for having opposed such reforms, while supporting burdensome and unnecessary voter ID laws and other restrictive regulations.
Clinton said:
Here in Texas, former governor Rick Perry signed a law that a federal court said was actually written with the purpose of discriminating against minority voters. He applauded when the Voting Rights Act was gutted, and said the lost protections were outdated and unnecessary.

But Governor Perry is hardly alone in his crusade against voting rights. In Wisconsin, Governor Scott Walker cut back early voting and signed legislation that would make it harder for college students to vote. In New Jersey, Governor Chris Christie vetoed legislation to extend early voting.

And in Florida, when Jeb Bush was governor, state authorities conducted a deeply flawed purge of voters before the presidential election in 2000. (Applause) Thankfully, in 2004 a plan to purge even more voters was headed off.

So today, Republicans are systematically and deliberately trying to stop millions of American citizens from voting. What part of democracy are they afraid of? I believe every citizen has the right to vote — and I believe we should do everything we can to make it easier for every citizen to vote.
Screenshot: C-SPAN