Hillary Clinton Takes Responsibility For Libyan Tragedy, Republicans Explode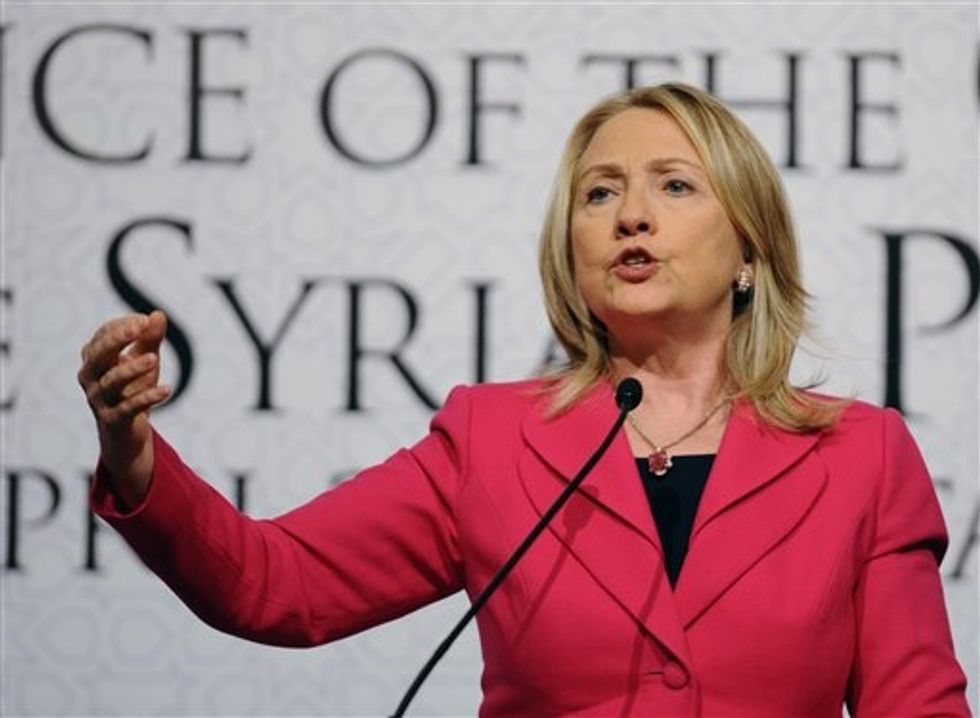 For weeks, Republicans have been trying to turn the 9/11 attack on the American embassy in Benghazi into a scandal. They've claimed the president refused to acknowledge that the attack that killed Ambassador Chris Stevens and three others was terrorism, though he called it an "act of terror" the day after the tragedy. They've accused the White House of rejecting calls for more security that came from the embassy in Tripoli.
Secretary of State Hillary Clinton has stepped into the fray to clarify the situation.
"I take responsibility," she told CNN. "I'm in charge of the State Department's 60,000-plus people all over the world (at) 275 posts. The president and the vice president wouldn't be knowledgeable about specific decisions that are made by security professionals. They're the ones who weigh all of the threats and the risks and the needs and make a considered decision."
This clear statement of chain of command has activated Republicans' Clinton hysteria to a level that hasn't been seen in years. They've said she was falling on her sword and taking a grenade for the president, who defeated her in the 2008 Democratic presidential primary.
The Washington Post's Jennifer Rubin, who often blurs the line between blogger and campaign spokesperson, responded offensively. She tweeted, "First Bill humiliates her and now Obama does.. Hillary no feminist, more like doormat."
When Obama advisor David Axelrod tweeted, "Sick. Mitt mouthpiece jumps shark," Rubin responded: "So is Obama going to hide behind her skirt Tuesday night? Why would the president let Hillary end her career in disgrace?"
Apparently taking responsibility for something that is actually your responsibility is a "disgrace" to Republicans.
Evidence suggests that the Bush administration ignored several warnings leading up the 9/11 attacks and the only administration official who ever took responsibility and apologized for not preventing them was Richard Clarke, a holdover from the Clinton administration.
Rudy Giuliani said that Republicans "should be exploiting" this tragedy to make a case against President Obama. Now that this plan is failing, they've returned to the same old sexist attacks on Hillary Clinton.