Hillary Clinton Wasn't Alone In Getting Iraq Wrong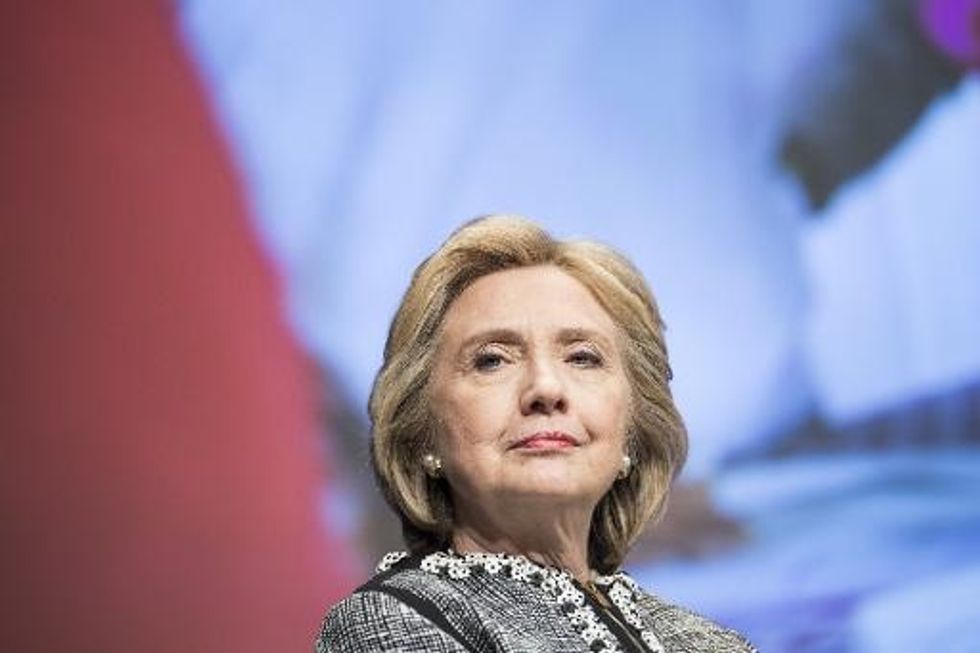 By Lesley Clark, McClatchy Washington Bureau
WASHINGTON — It was arguably one of the most important decisions she's made in public life. Now Hillary Clinton says in the most emphatic terms ever that her vote to authorize war in Iraq was flat-out wrong.
"I thought I had acted in good faith and made the best decision I could with the information I had," Clinton wrote in her new book, Hard Choices
, released this week. "And I wasn't alone in getting it wrong. But I still got it wrong. Plain and simple."
Indeed, while it's hard to tell in the clarity of hindsight about a war gone bad, Hillary Clinton was squarely in the mainstream of her Democratic Party in voting to authorize war when she was a senator from New York.
A solid majority of Democrats in the Senate — 29 out of 50 — voted in October 2002 to authorize military force against Iraq and dictator Saddam Hussein. Among them were some of the party's top voices on foreign policy, including Joe Biden, then a senator who was the chairman of the Foreign Relations Committee and now the vice president; John Kerry, also a senator who later chaired the same committee and now the secretary of state; and Dianne Feinstein of California, now the chairwoman of the Senate Intelligence Committee.
There were voices of dissent, most notably then-Illinois state Senator Barack Obama and former Senator Bob Graham of Florida, who was then the chairman of the Senate Intelligence Committee.
Also, Knight Ridder, later purchased by McClatchy, reported that there was no support among the CIA's professional class for the claim that Iraq had weapons of mass destruction.
But those who dissented or raised questions were drowned out.
Democrats such as Clinton believed that Saddam Hussein had weapons of mass destruction and posed a threat, a belief they said was fed by their own research beyond the word of the Bush White House, all of which later proved to be wrong.
Clinton said in the book that she'd voted to authorize war "after weighing the evidence and seeking as many opinions as I could inside and outside our government, Democrats and Republicans alike."
Biden said in March 2002 that there was "overwhelming support for the proposition that Saddam Hussein should be removed from power." But he noted "incredible division" about how it would be accomplished.
Two months before the vote, Biden said during an interview that "Saddam either has to be separated from his weapons or taken out of power."
As the war vote approached, Biden teamed up with then-Senator Richard Lugar (R-IN) to propose an alternative that would have given President George W. Bush the authority to use force only after securing a United Nations resolution.
But the effort died when Democratic leaders in the House of Representatives and the Democratic-led Senate accepted the White House's proposal.
Biden voted in favor of the war authorization, saying, "I find myself supporting this resolution but worried that the rationale for supporting this resolution will get us in some real trouble." He's since said he regrets his vote.
In early 2002, Kerry told The Boston Herald that "there's no question in my mind that Saddam Hussein has to be toppled one way or another."
He voted for the resolution, but he called on Bush either to seek a diplomatic solution to avoid war or to gain international support for U.S. military action.
"If we do wind up going to war with Iraq, it is imperative that we do so with others in the international community, unless there is a showing of a grave, imminent — and I emphasize 'imminent' — threat to this country," Kerry said during the debate.
By the time he ran for president in 2004, Kerry had turned solidly against the war, accusing Bush of "colossal failures of judgment" on Iraq.
"The time has come for decisive action to eliminate the threat posed by Saddam Hussein's weapons of mass destruction," then-Senator John Edwards (D-NC) said in a speech at the Center for Strategic and International Studies days before the vote. "Saddam Hussein's regime is a grave threat to America and our allies — including our vital ally Israel."
He also later said he regretted the vote.
Two weeks before the vote, Feinstein stood on the Senate floor, decrying Saddam as an "evil man" and saying she believed it was possible for him to acquire nuclear weapons.
Feinstein warned at the time that it was "not sufficient reason to pre-emptively attack another sovereign nation — for the first time in this nation's history — without first being provoked by an attack against our homeland."
But she voted for the war authorization.
"Many senators came to wish they had voted against the resolution. I was one of them," Clinton wrote in the new book. "As the war dragged on, with every letter I sent to a family in New York who had lost a son or daughter, a father or mother, my mistake (became) more painful."
In addition to the belief that Saddam had or could get weapons of mass destruction, many Democrats were keenly aware of the political pressures.
The country was still reeling from the terrorist attacks of Sept. 11, 2001, and worried about another strike.
Americans had enormous faith in Bush at the time, who was warning that Iraq was a danger. (His approval rating at the start of October 2002 was 67 percent.)
And members of Congress were weeks away from midterm elections, with many of their jobs on the line. (Clinton was not up that year.)
"It was pretty simple," said Jennifer Duffy, who tracks the Senate for the nonpartisan Cook Political Report. "There weren't a lot of reasons not to support the war."
"Given the political climate, the prudent thing was to vote in favor," said Gary C. Jacobson, a political science professor at the University of California, San Diego, who's written about the politics of the war.
Democrats thought that "if it turned out it was a big success and we were welcomed as liberators . . . that it would be good to be on the right side of that," Jacobson said. "If it turned out badly, well, you're just going along with President Bush; he gets the primary blame."
AFP Photo/Brendan Smialowski