Hillary To Donald: Game On!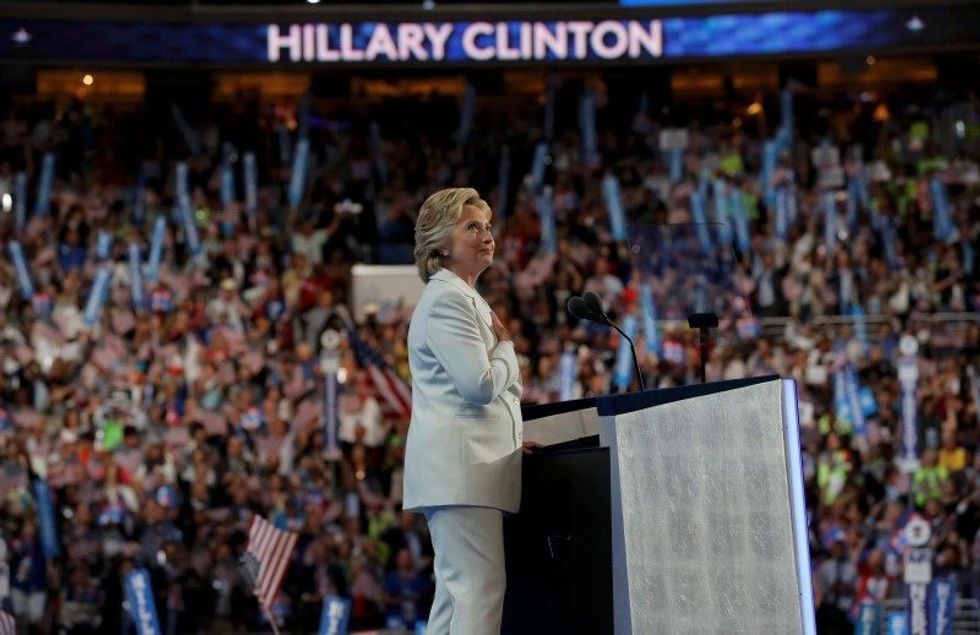 Hillary Clinton strode on stage in Philadelphia Thursday night and showed herself ready to win the presidency.
In her acceptance speech at the Democratic National Convention, she presented herself less in her historic role as the first woman presidential candidate of a major party and more on her merits as the best candidate for the job. She was positive, extolling the greatest ideals of the nation and making a persuasive case that all Americans will benefit from bolstering our democratic principles.
Yet she also drew judicious attention to the evident flaws of her opponent, Donald Trump. In doing so, her message was clear: Game on!
It was exactly the message she needed to deliver to a skeptical electorate.
Indeed, speakers throughout the Democratic convention made a point of contrasting Clinton's experience and gravitas to Trump's lack of character, seriousness and scruple. These critiques were all the more effective because they avoided the vituperation and bombast that Trump prefers in his attacks.
By the convention's last day, Trump had become so miffed by the criticism directed his way that he let his violent, menacing character show through. In a press conference he said he wanted "hit" some of the speakers "so hard that their heads would spin and they would never recover."
Thanks, Donald, for reminding us who the adult is in this race.
What will stick with many voters is the candidate Clinton showed herself to be—steeled and calm—the attributes that will make our country prevail against its many challenges.
Indeed, Trump's antics make the reasons to shun Clinton appear petty.
It may be true that voters want new blood, not another family returning to the White House as if a dynasty. And, yes, Clinton's judgment was terrible in creating a separate email server at the State Department. Yes, she has not held regular press conferences as she should. She is not smooth before the cameras. Her past pecuniary relationships with Wall Street raise questions about her political affinities. Her vote for the Iraq invasion was simply wrong.
But all these objections recede in the face of Trump. He is a candidate so unworthy of the powers of the presidency it is stunning. A candidate for president simply can't shoot off his mouth about foreign policy, as Trump has done. He has threatened to extort our NATO allies. He has invited the Russian government to commit cybercrimes against the United States government. He has alienated Mexico, a neighbor and major trading partner. His rhetoric about Muslims is a gift to terrorists.
Contrast that to Clinton's tenure as secretary of state. She was integral to the decision to kill Osama bin Laden and the negotiation of the treaty that got Iran to abandon its nuclear weapons program, among other achievements.
America has a simple choice. It is between one who is reliable and intelligent and experienced enough for the responsibilities of the presidency and one who is not.
It also happens to be a historic moment for women. For too long in politics, female candidates have been subject to unfair standards of scrutiny, including the superficial sorts of judgment we associate with middle school.
Clinton's certainly seen her fair share. Why are her pantsuits even a topic of commentary? How many times do we have to hear male pundits complain about her "lecturing" tone? Her voice is like that of many women. It can take on a different range, a higher one, when she changes her tone either for emphasis or when riled. That's mechanics, people. It's about her vocal cords, and it's not a reason to determine a person unfit for political office.
Hillary Clinton was always enough. She didn't need an association by marriage to Bill to rise to professional heights. Born as she was nearly 70 years ago, not to wealth or privilege, maybe she didn't even realize this early on. But history will probably judge that it was Bill who got to the White House with the help of his wife, not the other way around.
Clinton's been on a path to the White House her whole life, and not just to be a first lady. She's been gaining the types of experiences that would ready any person—male or female—to fulfill the job of president. It's just taken the nation until 2016 for other factors to align in a woman's favor. Now it's time to elect her.
Mary Sanchez is an opinion-page columnist for The Kansas City Star. Readers may write to her at: Kansas City Star, 1729 Grand Blvd., Kansas City, Mo. 64108-1413, or via e-mail at msanchez@kcstar.com.
Photo: Democratic U.S. presidential nominee Hillary Clinton pust her hand on her heart as she delivers her nomination acceptance speech on the fourth and final night at the Democratic National Convention in Philadelphia, Pennsylvania, U.S. July 28, 2016.  REUTERS/Brian Snyder