Hillary Summits On The Hill
@JamieStiehm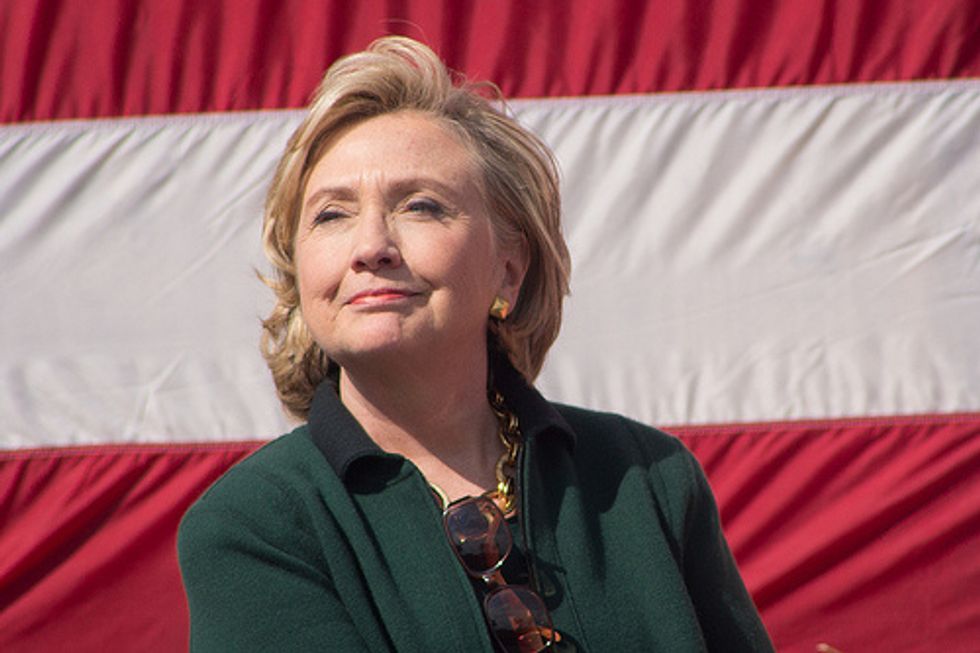 WASHINGTON — Under Capitol chandeliers in the Senate reception room, a hundred Senate pages, and a scrum of staffers and reporters waited for leading presidential candidate Hillary Clinton to leave a private lunch talk with Senate Democrats (and opponent Senator Bernie Sanders, a Socialist). This time, compared to 2008, the gleaming marble mountain was all hers — like when Sir Edmund Hillary conquered another summit.
At 67, Clinton may become the first American president who went to Wellesley College, one of the "Seven Sisters." On her second chance, she'd be wise to speak of sisterhood. Foes say she's "joyless," a silly code word Republican operative Stuart Stevens slyly tried to pin on her — as if Gov. Scott Walker is a barrel of fun. (Still breaking the code, Stu.)
A flashback: As Senator Clinton, running for president, she couldn't get arrested in these halls, among friends and comrades. The late Senator Edward M. Kennedy and Senator Harry Reid, chiefs who decided which way the wind blew in their caucus, chose to back a freshman senator from Illinois with a soaring way with words instead. A sport, Clinton took the cuts with amazing good grace, marching on to a hard loss to Barack Obama.
While waiting, I felt a rush. The room's din had a Beethoven-esque brio, a rustle like nothing lately in this torn chamber. This was no ordinary Tuesday. Even the portraits of Senators Daniel Webster, Henry Clay, and Robert LaFollette seemed excited, like nervous suitors on the porch.
To top it off, the news from Vienna that day lit up the dome: an Iran nuclear arms deal at long last. Slay Bibi (as the Israeli prime minister is known) with a feather. President Obama and artful diplomat, Secretary of State John Kerry, got to the endgame. But as "Madam Secretary" in Obama's first term, Clinton opened the delicate dialogue with an implacable enemy.
In sync with the White House on a rare happy day here, Clinton briefed about 45 Democratic senators on the Iran deal's parameters (not yet reviewed by Congress.) This conspired to remind lawmakers that only she brings "stateswoman" (or statesman) to the campaign. She flew and mended fences all over the world after George W. Bush's chaotic wars of choice.
Maybe that was Clinton's cosmic chore for the colossal unforced error of voting for the Iraq War as a New York senator in 2002. She was in office, a freshman, when the World Trade Center towers fell in fire on 9/11, but supporting the war was a tragic mistake, as she finally owned. Way too late: Humiliation is her forte; admitting when she is wrong is her weakness. Strong women are that way.
As first lady, Clinton told senior White House advisor George Stephanopoulos:
"Whenever I go out and fight I get vilified so I have just learned to smile and take it. I go out there and say, 'Please, please, kick me again, insult me some more.' You have to be much craftier behind the scenes, but just smile."
Clinton grew up in Illinois, her bedrock base camp. The Midwest has a cheery grit going for it.
The wait went on. Vermont senator Pat Leahy, the most senior Democrat, wandered out. So the old guard was gone. Who else could Clinton be talking to in there? "She must be staying until the last D dies," I said lightly to a Senate staffer, a bit young to get the joke.
The Arkansas hunting line — "until the last dog dies" — was a favorite Bill Clinton expression that defined his presidency. Oh, that seemed like a long time ago when I looked into her eyes. A faraway land of peace and prosperity. But it didn't feel like a fairy tale then, when I was walking these halls as a rookie reporter. There was never a dull day in the Clinton '90s.
Spitfire Senator Barbara Boxer (D-CA) told reporters: "I was pleased with everything. I think back to the Clinton brand — 23 million jobs — she is the Clinton brand. She unified everyone in the room."
Resplendent in raspberry, Clinton's throaty voice wafted over the realm. She spoke to the pages: "It's wonderful to see you. Are you having a good time?"
The broad smile was real. Broad and high.
To find out more about Jamie Stiehm and read features by other Creators writers and cartoonists, visit Creators.com
Photo: Former Secretary of State Hillary Clinton at the 2014 Harkin Steak Fry in Indianola, IA. (Gregory Hauenstein/Flickr)