Holder: Banks Are Not 'Too Big To Jail'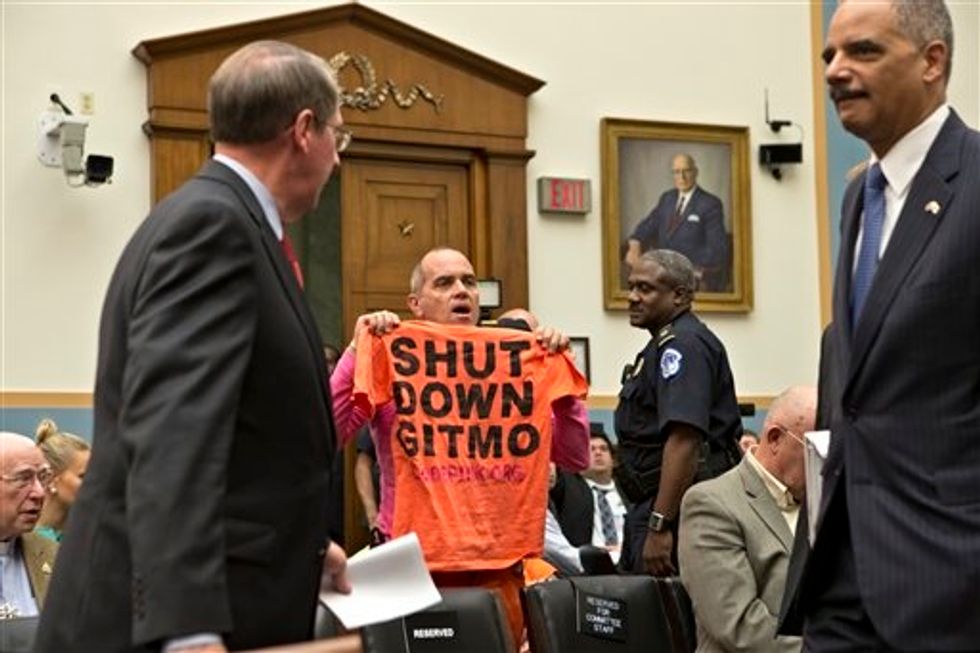 Attorney General Eric Holder told the House Judiciary Committee Wednesday that big banks are not "too big to jail."
In March, Holder had told the Senate Judiciary Committee, "I am concerned that the size of some of these institutions becomes so large that it does become difficult for us to prosecute them." This comment has been interpreted to justify the findings of a PBS Frontline investigation that found that Holder and his department have resisted taking banks to court based on a fear of shocking financial markets.
Responding to a question from Rep. John Conyers (D-MI) about his comment from March, Holder conceded again on Wednesday that such prosecutions may be too difficult, but stressed that "there's no bank, there's no institution, there's no individual that cannot be prosecuted by the U.S. Department of Justice."
"Let me be very, very, very clear… banks are not too big to jail," Holder added.
The DOJ has not brought any criminal charges against the big banks since the financial crisis of 2008 forced taxpayers to bail them out.
Senator Elizabeth Warren (D-MA) sent a letter to the Justice Department earlier this week, calling for explanations into the settlements that have been made with the big banks.
"If large financial institutions can break the law and accumulate millions in profits, and if they get caught, settle by paying out of those profits, they do not have much incentive to follow the law," she wrote.
The DOJ's handling of the subpoenaing of Associated Press reporters' phone records has been another major focus of the hearing. Rep. Conyers said he was "troubled by the notion that our government would pursue a broad array of phone records over a period of time," and suggested that Congress should pass a press shield law and other protections for the news media.
Holder reiterated that he recused himself from the AP case because he had been a material witness in the investigation of leaked classified information. He went on to assert that he had confidence in the members of his department who were carrying out the investigation.
In response to other questions from the Judiciary Committee, the attorney general reasserted his belief that the U.S. prison in Guantánamo Bay should be closed, and defended the record of Thomas Perez, President Obama's nominee to lead the Labor Department.
Holder also addressed reports that two rogue bureaucrats in the Internal Revenue Service inappropriately targeted Tea Party groups, calling the IRS' actions "outrageous" and promising more answers for the committee as the criminal investigation that he has opened proceeds.
"Anybody who has broken the law will be held accountable," Holder said.
White House Press Secretary Jay Carney announced Wednesday that President Obama will meet with Treasury officials to discuss the targeting of conservative groups by the IRS.
Holder's testimony has turned heated at times, particularly in a testy exchange with Rep. Darrell Issa (R-CA). After Issa repeatedly interrupted Holder's answers, the attorney general angrily rebuked the California congressman.
"It is inappropriate and too consistent with the way in which you conduct yourself as a member of Congress," Holder said. "It is unacceptable. It is shameful."
You watch the the hearing live here.
AP Photo/J. Scott Applewhite