Hollywood Needs Latino Actors: Mexico's Bichir
@AFP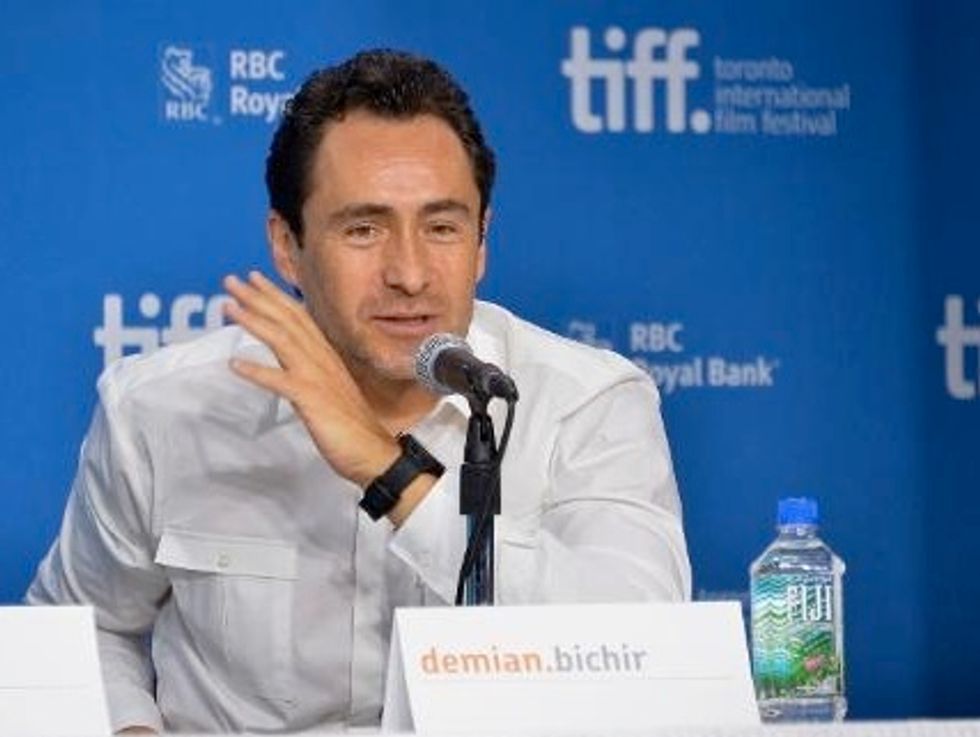 Mexico City (AFP) – One year after his Oscar nomination, Mexican actor Demian Bichir says Hollywood needs Latino artists while his soaring career puts him in the director's chair for the first time.
In an interview with AFP in his Mexico City home, Bichir spoke about his new film "Refugio," his leading role in the U.S. television series "The Bridge" and his disappointment in Mexican politicians.
Bichir earned a best actor nomination last year for his role as a Mexican undocumented immigrant in Los Angeles who strives to keep his son away from gangs.
His directorial debut ("Refuge" in English) also has a U.S.-Mexican flavor, with English and Spanish dialogue to tell the story of a boy who works in a circus in Mexico before making a perilous trip to the United States.
Sitting on a sofa, Bichir appeared relieved to have finished the first three weeks of shooting on site in Mexico before cameras roll in the southern U.S. city of New Orleans.
"I thought the process was going to be much harder in terms of nerves," the 50-year-old film-maker told AFP. "Could it be that age makes you more cynical?"
"There's a director sleeping, hidden in every actor," said Bichir, scion of a family of actors.
Bichir has a role in his movie alongside U.S. star Eva Longoria, his father Alejandro and his Canadian girlfriend Stefanie Sherk.
The film, he said, is being made "with much more heart than money."
"Part of what we want to do with 'Refugio' is to open a breach in order to continue telling more stories, to win some sort of credibility and be able to put different studios and actors on the table," said the actor.
Hollywood Latino power
Bichir, who played Fidel Castro in Steven Soderbergh's "Che" saga and had a role in Oliver Stone's Mexican drug cartel film "Savages," divides his time between Los Angeles and Mexico City.
"I think that we Latino actors in Hollywood are very much needed but it will be more interesting when we generate our own projects," he said.
He said the growing clout of Hispanic actors in Tinseltown has nothing to do with "the Hollywood dream."
"It has more to do with an adventurous spirit. For me, opening a path to the United States was hard work and I am where I am thanks to hard work, not talent," he said.
But the prizes he won at the Screen Actors Guild ceremony and Independent Spirit Award for his performance in a "A Better Life" tell a different story.
He now stars in the new FX series "The Bridge" as a Mexican detective based in the drug violence-torn border city of Ciudad Juarez who teams up with a U.S. homicide cop, played by Diane Kruger.
Mexico's drug violence
"The big, stressful problem in Mexico right now is violence," Bichir said.
More than 70,000 people have died amid bloody turf battles between drug cartels in Mexico since 2006, with more than 10,000 of those deaths in Ciudad Juarez alone.
The surge in violence coincided with the deployment of troops by then president Felipe Calderon, who sent 50,000 soldiers to the streets to crack down on gangs after taking office in December 2006.
"The problems is this stupid war that was started by the former president, who now gives classes at Harvard," he said, referring to the academic job that Calderon was given by the U.S. elite university after he left office in December 2012.
"Imagine, such wonderful prestige for this institution," he said with sarcasm.
Bichir also had harsh words for the government of President Enrique Pena Nieto, whose electoral victory last year marked the return of the old ruling Institutional Revolutionary Party (PRI) after a 12-year absence from the presidency.
The PRI, which ruled Mexico for 71 years non-stop until 2000, "will do everything to keep the power they lost," he said.
"We have very few good news to celebrate," he said.
"The political class constantly manages to give Mexico a bad name and there's a lot of us who are repairing these cracks all the time," he said. "It's hard work because what these bastards are doing is a disaster, but we do it with love and dedication."
AFP Photo/Alberto E. Rodriguez