Hong Kong Officials, Democracy Protesters Hold First Talks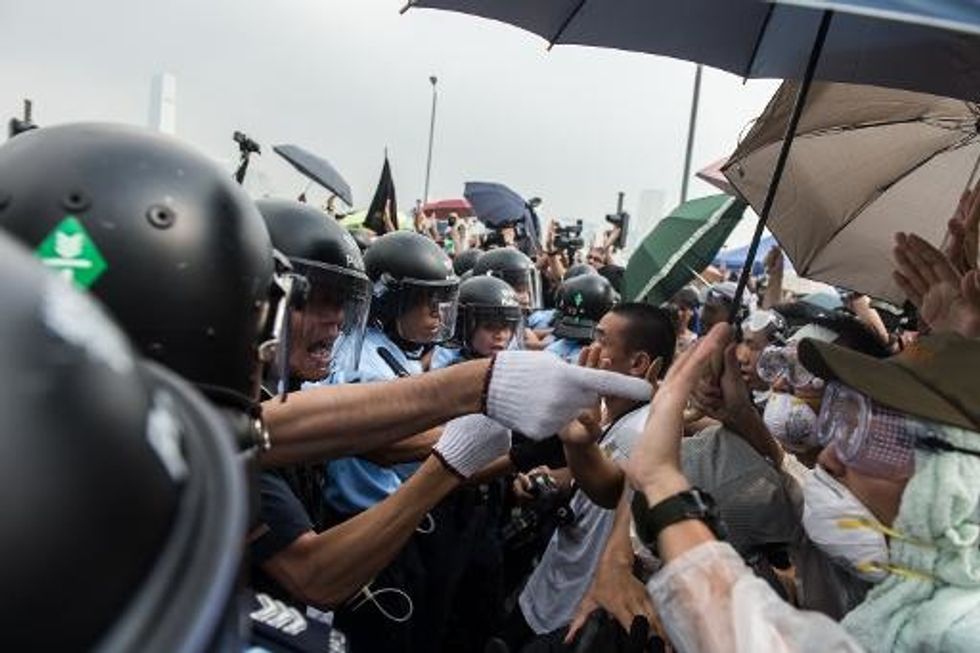 Hong Kong– Hong Kong authorities and pro-democracy protesters Tuesday held their first talks aimed at ending weeks of rallies that have paralyzed parts of the city, after its leader ruled out major reforms.
Chief executive Leung Chun-ying, in an interview late Monday, said open elections for his successor as demanded by demonstrators would result in the largest sector of society — the city's poor — dominating the electoral process.
But hours before the talks began, he raised the prospect of limited reforms — offering protesters an olive branch after more than three weeks of rallies and roadblocks in the financial hub.
Several major intersections in the semi-autonomous southern Chinese city have been paralyzed since September 28 by mass rallies demanding free elections, in one of the biggest challenges to Beijing's authority since the Tiananmen pro-democracy protests of 1989.
"I hope this dialogue can calm the relatively tense atmosphere in society," said Chief Secretary Carrie Lam, Leung's deputy, in her opening remarks Tuesday as the talks got under way at a medical college.
As part of promised constitutional reforms China has offered Hong Kongers the chance to vote — for the first time — for their next chief executive in 2017.
But only those vetted by a 1,200-strong committee loyal to Beijing will be allowed to stand for election — a proposal activists have labelled a "fake" democracy.
Under the current system the committee directly elects the leader.
"When five million eligible voters directly vote for the chief executive through one-person-one-vote, no matter which way you look at it, it is much more democratic than having the leader chosen by a 1,200-strong committee," Lam added.
"The government's direction of development…is not democratic, equal, open and is not an improvement," said Alex Chow, secretary general of the Hong Kong Federation of Students, one of the groups leading the protests.
Chow, wearing a black T-shirt with the words "Freedom now" and accompanied by four other student leaders, demanded that the public should have the right to nominate candidates for the 2017 chief executive election.
"The Hong Kong people's demands for the city's future constitutional development are very simple — civil nominations. We don't want pre-selected candidates," Chow said.
But Lam said the city must work within the framework provided by Beijing.
"Hong Kong is not an independent country, it cannot decide its political system on its own," she said.
Leung, in an interview Tuesday afternoon with AFP and other media, said he was open to creating a more democratic committee to vet candidates for his successor.
– 'All concerns and opinions' –
He said that while Beijing would not back down on vetting his successor, the committee tasked with selecting those candidates could become "more democratic".
The offer is still a long way from meeting the core demands of protesters. But Leung's comments were the first indication of a potential negotiating point.
Lam also said the government will consider whether to prepare a report for mainland Chinese authorities on events in the city after Beijing's decision at the end of August on Hong Kong's political reforms.
Analysts have suggested such a move to appease protesters.
Leung in the interview Tuesday afternoon insisted his administration remains in charge of dealing with the ongoing protests, after repeated speculation Beijing was really calling the shots.
"We don't have any instructions from Beijing, or suggestions, as to when or who we clear the streets," he said, adding he did not feel the need to speak to his political masters on the mainland on a daily basis.
He warned police could move on the barricades at any time — even with talks going on — because patience among many locals was running out and some were "taking the law into their own hands".
Five representatives from each side faced each other across a large rectangular table for the two hours of talks.
Protests have been largely peaceful until recent days, when police trying to reopen some roads and armed with pepper spray and batons clashed with demonstrators.
There are fears of further violence should the talks make no progress.
Joy Lam, a 36-year-old social worker, was watching the talks on a small screen at a protest site behind the government headquarters, away from the bigger crowds in Admiralty.
As student leaders made fiery speeches, many of those watching alongside her erupted into cheers and applause. But she said she was not optimistic.
"It's not good, the government is still telling us what to do. I don't think we will get any agreement because this government is still ignoring the people's hopes and wishes," she said.
AFP Photo/Anthony Wallace
Want more world and political news? Sign up for our daily email newsletter!