Hooray For Health Care Reform! Now About That Election…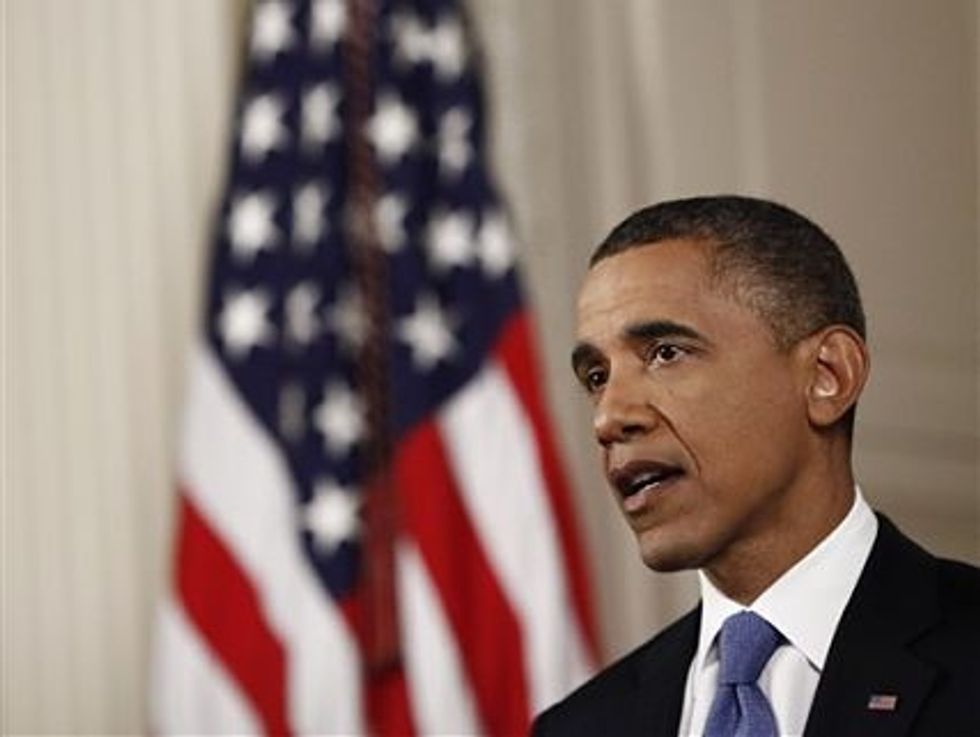 The Affordable Care Act survived the Supreme Court, but its true fate — and the fate of the millions it will insure — will be decided in November.
That was a shout of joy followed by an enormous sigh of relief you just heard. And a tear you can't see in my eye. Today the Supreme Court refused to sign the death warrant for tens of thousands of people. And tomorrow a Koch brothers-funded group called Americans for Prosperity will put up $9 million in TV ads in swing states attacking the law.
When I sat in Nancy Pelosi's box on March 21, 2010, watching the House enact the Patient Protection and Affordable Care Act, I felt an enormous sense of peace. After 100 years of failing, and after a quarter-century of organizing in my own life, the United States had finally made a government guarantee to health care the law of the land. At the time, the last thing I was going to do was look ahead to the roadblocks that would be encountered between then and 2014, when the sections of the law that would make that guarantee real kicked in. I simply wanted to celebrate and believe that, as I'd been telling people all around the country for the two years since we launched Health Care for America Now, the moral arc of the universe can be bent towards justice if we pull hard enough.
But it turns out the ACA had to get around more than roadblocks — more like two big landmines. The first was the Supreme Court, where the right mounted a challenge that surprised constitutional scholars in its vigor. What had seemed like a frivolous lawsuit gained enormous momentum, powered by the right-wing and corporate media, political ads, and relentless messaging. Even after two very conservative appellate judges upheld the law, questioning at the Supreme Court oral arguments made it look like the first landmine would be triggered. But by one huge and surprising vote, Justice Roberts took us around that deadly obstacle.
Let's not kid ourselves; the biggest danger remains on November 6th, and the right will do everything it can to make these elections a mandate to kill ObamaCare and with it, legislation that will demonstrate to Americans that government can be a powerful force for security and opportunity. Since the president signed the law, opponents have spent $235 million attacking it, while a fraction of that, $69 million, has been spent on its defense. Remarkably, Mitt Romney – who by passing RomneyCare paved the way for ObamaCare – has the chutzpah to now be championing his opposition.
But the law's near-death experience at the Supreme Court can be a huge opportunity to change the debate and convince the American public that ObamaCare is a vital solution to the crushing of the middle class in today's economy. There is only one state in the country in which people don't have to worry that losing your job will mean losing your health care, or about taking a job that doesn't have health care benefits, or that you won't be able to find affordable health coverage if you have a pre-existing condition. That state is Massachusetts, and the great irony is that if the governor who signed the law that created that system gets elected president, it will remain the only state where Americans will have the security of affordable health coverage that's always there.
President Obama and Democrats must embrace ObamaCare as part of the story they are telling voters about the economy. They cannot continue to be silent in the face of the relentless attack that will only accelerate. Yes, the issue that will decide the election among swing voters is jobs and the economy. Which is why it's time that Obama made clear – in the new economy where so many jobs don't come with health coverage, with so many people juggling two or three part-time jobs, so many others worried they will lose their jobs, and so many still without work – that ObamaCare will end those worries. But only if he is reelected.
An election is a choice, and the choice between Obama and Romney on health care is crystal clear and compelling if voters hear their options over and over again.
So unlike March 21st, 2010, I'm not feeling peaceful today. We've got one more very big landmine to get around. Make no mistake about it — I'm very happy. Like Fred Flintstone, I'll add a jig to my yabbadabbadoo! But I want to be sure that we use this victory today as a springboard over that mine to a victory on November 6th — an Election Day triumph that will secure health care as a right in these United States.
Richard Kirsch is a Senior Fellow at the Roosevelt Institute, a Senior Adviser to USAction, and the author ofFighting for Our Health. He was National Campaign Manager of Health Care for America Now during the legislative battle to pass reform.
Cross-Posted From The Roosevelt Institute'sNext New DealBlog
The Roosevelt Institute is a non-profit organization devoted to carrying forward the legacy and values of Franklin and Eleanor Roosevelt.