House GOP: Immigration Reform Will Have To Wait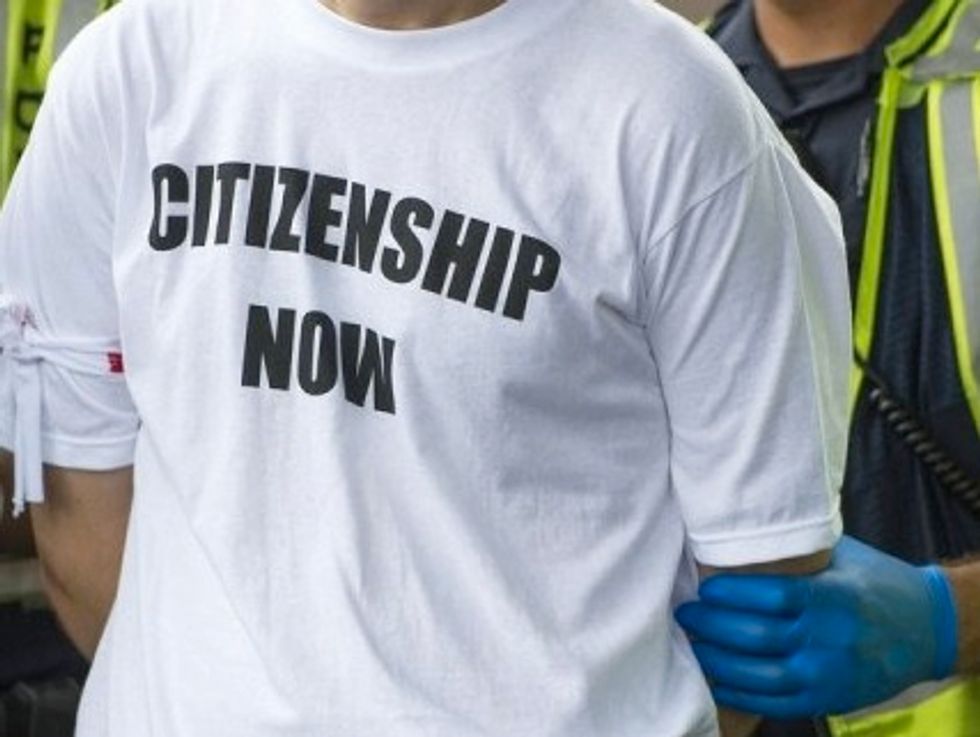 In a speech to renew the push for comprehensive immigration reform yesterday, President Obama lamented, "Because something is smart and fair and good for the economy and fiscally responsible and supported by business and labor, the evangelical community and many Democrats and many Republicans, that does not mean that it will actually get done. This is Washington, after all."
Obama's fear that even an immigration bill will fall victim to Washington dysfunction may well be realized.
Politicoreports that House Republicans do not intend to vote on an immigration reform bill before the end of 2013, due in large part to the toxic environment created by the government shutdown and debt ceiling debate. Skepticism of President Obama has increased among House Republicans, which has influenced their decision to not make immigration reform a priority.
An anonymous Republican operative involved in the immigration debate toldPolitico, "After Obama poisoned the well in the fiscal showdown and [House Minority Leader Nancy] Pelosi now is actively trying to use immigration as a political weapon, the chances for substantive reforms, unfortunately, seem all but gone."
House Republicans do have a plan to reform the U.S. immigration system. Bills floated by House Majority Leader Eric Cantor (R-VA) and Rep. Darrell Issa (R-CA) are designed to reform specific aspects of the immigration system, not to fully overhaul the system like the bill passed by the Senate.
The Senate bill is unpopular with House Republicans because it contains an "amnesty" clause, which would grant citizenship to undocumented immigrants after they've lived in the United States for 13 years. Cantor's bill offers those who were brought here as children a pathway to citizenship, while Issa's bill grants some undocumented immigrants legal status for a period a six years.
This piecemeal approach to immigration reform is not supported by House Democrats, who have made it clear that they are open to voting on multiple immigration bills, as long as the entire immigration system is reformed. The bills introduced by Cantor and Issa do not clear that threshold. As Rep. Joe Garcia (D-FL) said at a press conference earlier this week, "The idea that that same party who cannot pass anything…is now piecemeal going to do this is a fallacy."
Without the support of a large number of Democrats, the Issa and Cantor bills will not pass the House. For now, that Democratic support eludes House Republicans.
If an immigration reform bill faces a tough road through Congress now, it only stands to get tougher, according to lawmakers. As TheNational Memonoted last week, next year is an election year, making it more unlikely for a bipartisan bill to pass the House. "I think there are a lot of folks who are concerned about this issue not getting solved, and I think legitimately so," Rep. Mario Diaz-Balart (R-FL) toldPolitico. "Because I do think that every day that goes by, it makes it more and more difficult."
Outside special interest groups are poised to make it an issue for some Republicans seeking re-election, if reform is not passed by the 2014 midterms. As pro-immigration activist Frank Sharry of American Voice toldPolitico, "We're either going to pass immigration reform or punish Republicans who block it. If they can't convince their leadership then of course we want a Democratic majority that will."
AFP Photo/Jim Watson