House Gun Task Force Chair 'Confident' Despite Assault Weapons Ban Setback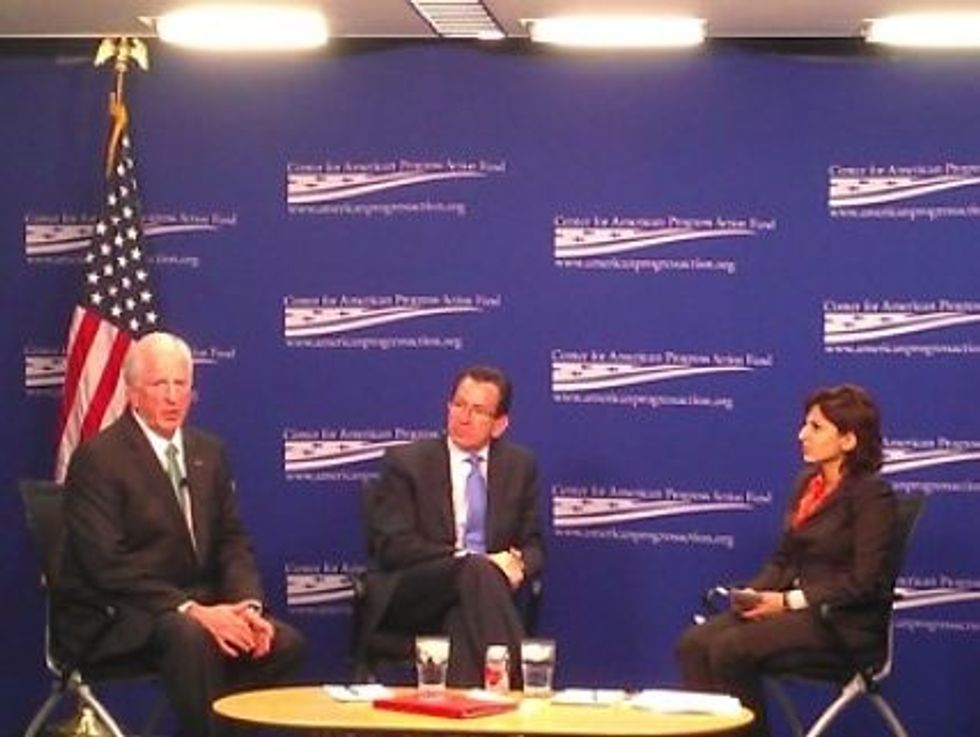 About a half-hour into a gun violence prevention conversation between Connecticut governor Dan Malloy and Center for American Progress president and CEO Neera Tanden Tuesday afternoon at CAP headquarters in Washington, D.C., Rep. Mike Thompson (D-CA), chair of the House Gun Violence Prevention Task Force, walked into the room and delivered the bad news for those who hadn't heard: The assault weapons ban was dead.
"I think everybody is aware of the announcement that Sen. Feinstein made today that the likelihood of an assault weapons ban passing Congress is pretty slim, and she acknowledged that today. But she raised that issue and I think it was an important issue to raise and it needs to be talked about. It also heightens the exposure to this conversation," said Thompson.
In a meeting with Senate Majority Leader Harry Reid on Monday, Feinstein learned that he would not include her Assault Weapons Ban of 2013 because Feinstein could only get 40 votes out of 60 needed. The assault weapons ban could end up as an amendment to the base bill, but that would mean an even tougher road for the legislation, which enjoys broad support everywhere but Congress — the White House backs the assault weapons ban along with major gun control, medical, law enforcement, and religious organizations. Also, poll after poll shows a majority of Americans back the assault weapons ban. The high-capacity magazines ban, which has similar broad support, could also be removed from the base bill and become an amendment.
Thompson did provide hope for President Obama's other two major gun safety proposals — universal background checks and a federal statute to prohibit gun trafficking and increase penalties for straw purchases.
Malloy joked that there is "near-universal support of universal background checks," and Thompson followed up with a reminder that 91 percent of Americans support universal background checks, which is more than like Italian food, capitalism, and vacations.
Thompson warned, however, that lawmakers on Capitol Hill don't respond to polling as much as they respond to direct action from their constituents.
"The bigger issue is regular rank-and-file voters not speaking out in their districts — calling the office of their member of Congress, writing, emailing, whatever it might be….until people start hearing a lot at home, the poll numbers support what we're doing, but I don't think that they influence members of Congress to move."
On Tuesday, the Center for American Progress also released a report on the National Rifle Association's abuse of appropriations riders that weaken gun laws so the NRA can then claim gun laws don't work. The report states that "riders jeopardize public safety and undermine any new legislation that Congress may pass to reduce gun violence" and calls on President Obama to remove any gun lobby riders from the 2014 appropriations bill he will submit to Congress.
"Maybe we shouldn't call them riders, we should call them earmarks for gun sellers, NRA earmarks," cracked Malloy.
"We're criticized for not enforcing these laws, but these riders have gone a long way to make it impossible enforce the law," said Thompson, using the example that 60 percent of crime guns come from one percent of the dealers and "the ATF only has the resources to do inspections on these dealers once every five years, so guns go missing, inventories go missing, there's no follow-up on it."
Malloy said politicians will face consequences for blocking common-sense gun laws.
"I think there is a danger in the folks who fight this too much and that is unfortunately that we are going to have more of these mass killings. They are going to be in movie theaters, they are going to be in malls, they are going to be on streets, they could possibly be in subways. This is going to happen again and again and again and at some point folks are going to have to look voters in the face having voted down some of these common-sense approaches and then defend that to a constituency that has lost their children or some of their parents or some of their police officers or firemen…at some point politicians are going to have to be held accountable and will be held accountable."
Here is audio of the conversation with Thompson and Malloy:
[soundcloud url="http://api.soundcloud.com/tracks/84002628″ params="" width=" 100%" height="166″ iframe="true" /]
Photo and audio credits: Josh Marks