House Intel Committee Ignored Evidence Of Trump-Russia Ties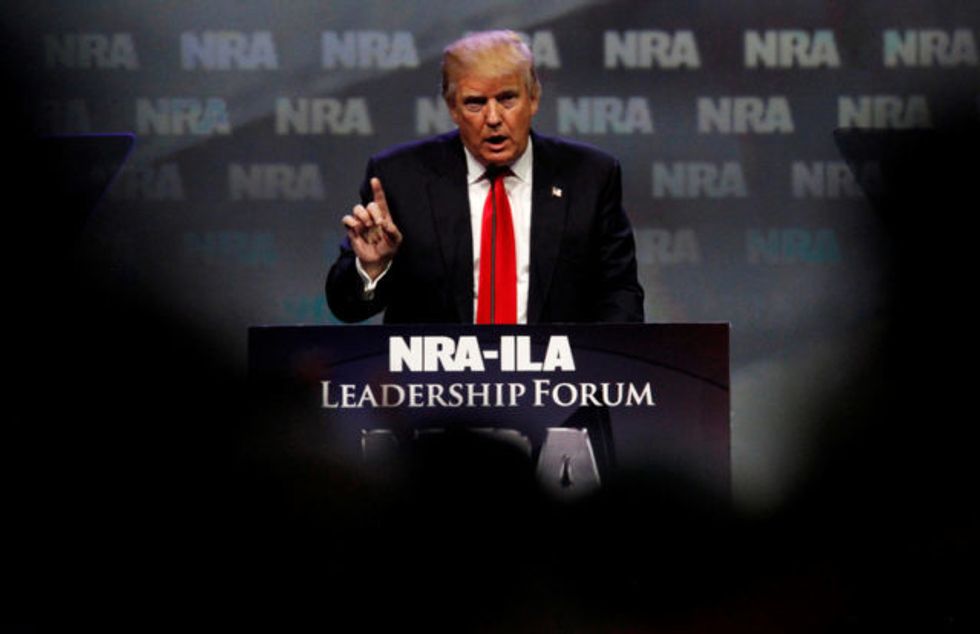 Reprinted with permission from Shareblue.com
Republicans on the House Intelligence Committee released a report Friday summarizing the findings from their investigation of Russian interference in the 2016 presidential election. But before they could finish saying "no collusion!", a slew of damning new evidence was made public in the form of a Minority report — and unlike Republican committee members, Democrats brought receipts.
According to the 98-page Minority report, Republicans failed to pursue key lines of evidence, refused to issue requests for critical documents and witness testimony, and turned a blind eye to some of the most pressing unanswered questions about the Trump campaign's ties to Russia.
Among the most glaring issues ignored by Republican lawmakers is the role of the NRA as a conduit between the Kremlin and Trump campaign officials.
Citing evidence from emails and other communications, financial documents, intelligence assessments, and public records, the report describes how Russia tried to cultivate relationships with Trump associates, including an effort to establish a "first contact" with the Trump campaign through an intermediary at the NRA named Rick Erickson.
In an email included in the report, Erickson reached out to Rick Dearborn, a longtime senior advisor to Jeff Sessions and a senior Trump campaign official, to inform him of the Kremlin's interest in establishing a relationship with the campaign. Erickson even used the word "back-channel" to describe the type of communication he sought to initiate between the Trump campaign and Russia.
"I'm now writing to you and Sen. Sessions in your roles as Trump foreign policy eexperts/advisors" Erickson wrote in the May 2016 email. "Happenstance and the (sometimes) international reach of the NRA placed me in a position a couple of years ago to slowly begin cultivating a back-channel to President Putin's Kremlin."
Erickson went on to describe Russia's covert efforts to forge relationships with Republican politicians in America, writing, "Russia is quietly but actively seeking a dialogue with the U.S. that isn't forthcoming under the current [Obama] administration."
"And for reasons that we can discuss in person or on the phone, the Kremlin believes that the only possibility of a true re-set in this relationship would be with a new Republican White House," he wrote. "Putin is deadly serious about building a good relationship with Mr. Trump."
The email also included details about Russia's plan to use the NRA's annual convention to make "first contact" with the Trump campaign.
The NRA's outreach made its way "to the highest levels of the Trump campaign," the Minority report says. Emails reviewed by the committee show that the effort to establish a back-channel between Russia and the Trump campaign reached key officials including Jared Kushner, Donald Trump Jr., campaign manager Paul Manafort, deputy campaign manager Rick Gates, and then-foreign policy adviser Jeff Sessions.
While not all of their efforts were successful, Russia was able to use its intermediaries in the NRA to establish contact with and potentially gather intelligence from key Republican politicians and members of Trump's inner circle. The report cites two individuals specifically, noting, "Alexander Torshin, the deputy governor of the Central Bank of Russia, with the assistance of his deputy, Maria Butina, have used their affiliation with the NRA to cultivate relationships" with U.S. politicians.
And they're not talking about just any politicians.
In July 2015 — just a month after Trump launched his presidential campaign — Butina attended the libertarian Freedom Fest conference in Las Vegas, where Trump was featured as a speaker. At one point, Butina had the opportunity to introduce herself and ask Trump a question.
"I am from Russia," Butina said. "If you would be elected as the president … do you want to continue the politics of sanctions?"
Trump's answer was telling.
"I know Putin … I believe I would get along very nicely with Putin," he said. "I don't think you'd need the sanctions. I think we would get along very, very well."
Here's Trump in 2015, suggesting to Maria Butina (Russian crime boss Alexander Torshin's special assistant) that he would lift sanctions on Russia.

"I believe I would get along very nicely with Putin… I don't think you'd need the sanctions."

/9/ pic.twitter.com/dCXqktvSKs

— Caroline O. (@RVAwonk) January 18, 2018
However, Republicans on the House Intelligence Committee weren't interested in looking at any of this. According to the Minority report, Republicans "refused multiple requests by the Minority to interview witnesses central to this line of inquiry, including Torshin, Butina, Erickson, and others."
Yes, you read that correctly: Republicans flat-out ignored critical evidence and purposefully failed to solicit key testimony — a revelation that calls into question what their conclusions were based on, or if they were based on anything at all.
But it doesn't end there.
In recent months, the NRA has faced increasing scrutiny amid allegations that it accepted illegal contributions from Russians to help the Trump campaign.
The group spent an estimated $35 million on the 2016 presidential election, including $21 million to support Trump's campaign and another $14 million to attack Hillary Clinton. That adds up to more than its combined spending in all races during the 2008 and 2012 presidential election cycles — and some reports suggest that the true figure may be twice that much.
Naturally, those eye-popping figures raised some questions about where all that money came from.
The FBI is reportedly investigating the NRA's finances, with a specific focus on whether Torshin, who was recently sanctioned by the U.S. Treasury Department, may have funneled money through the NRA. In addition, the FEC is reportedly looking at whether Russian entities gave illegal donations to the NRA that were intended to benefit the Trump campaign.
Meanwhile, after initially denying that it received foreign contributions, the NRA admitted earlier this month that it had accepted money from at least 23 Russian sources, though it claims none of the cash was funneled to the Trump campaign.
Surely Republicans looked into the NRA's role as a potential conduit for illegal donations to the Trump campaign before reaching their conclusions, right?
Wrong.
Republican committee members "refused to investigate whether Russian-linked intermediaries used the NRA to illegally funnel money to the Trump Campaign," the Minority report says.
Apparently, Republicans are hoping they can make this all go away if they bury their heads in the sand and ignore the damning evidence piling up around them.
When they released their report Friday, they did so with the intent of clearing Trump and giving their base a new set of talking points to refute allegations of collusion. Instead, they raised a whole new set of questions about what's hiding behind the doors they are too scared to open.