House Republicans Aim To 'Defund' Trump Prosecutions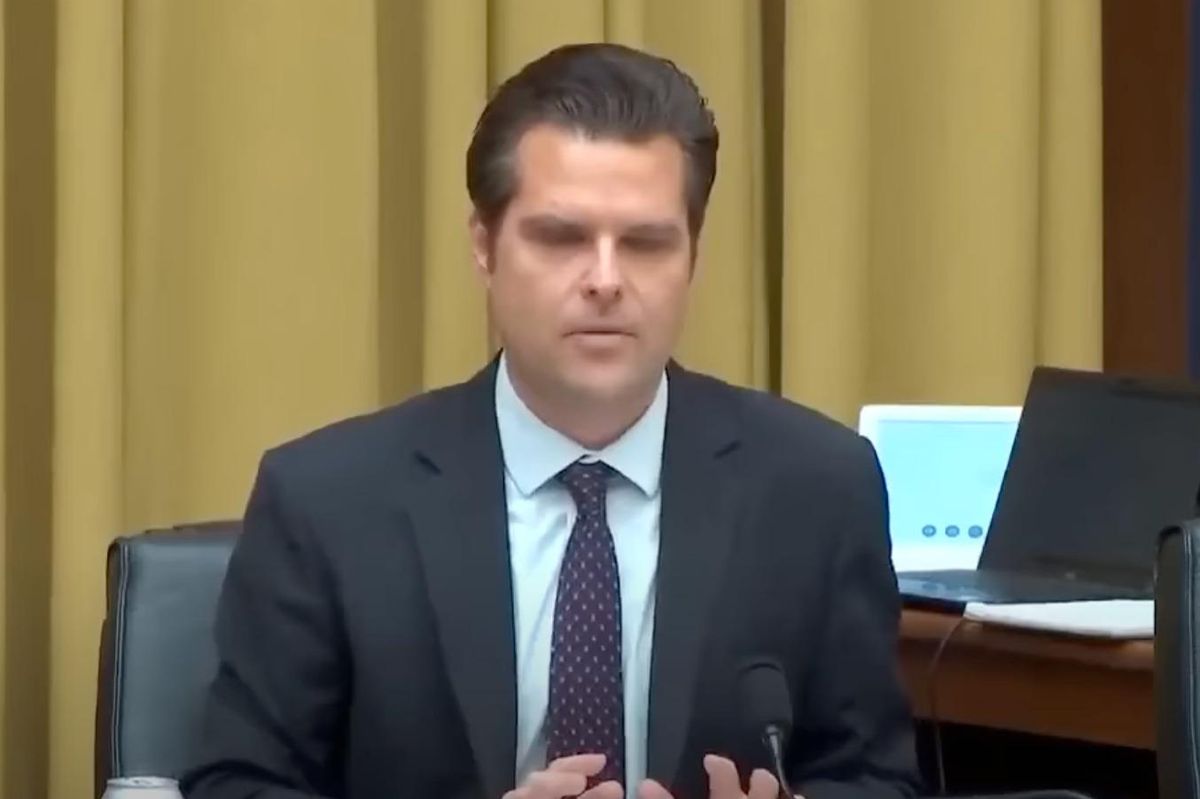 Three House Republican lawmakers either have filed or plan to file legislation that would strip federal funding for the work of prosecutors who have charged Donald Trump with crimes, baselessly accusing them of "weaponizing" the government against the former president.
On Monday, Rep. Andrew Clyde of Georgia became the latest GOP lawmaker to try to defund the efforts of three law enforcement officials who have brought charges against Trump.
Clyde, a member of the House Appropriations Committee, told Fox News that he wants to use the upcoming consideration by the committee of two government funding bills to propose amendments that would take federal funds away from the Fulton County district attorney's office, the office of special counsel Jack Smith, and the Manhattan district attorney's office.
Prosecutors from the three offices have charged Trump with dozens of crimes, ranging from violating the Espionage Act to conspiring to defraud the United States.
"Americans' hard-earned tax dollars have no place funding the radical Left's nefarious election interference efforts," Clyde told Fox News. "Together, Jack Smith, Alvin Bragg, and Fani Willis intentionally brought four sham indictments against the sitting president's top political opponent, President Donald J. Trump, as the upcoming 2024 presidential election ramps up."
Republican Reps. Matt Gaetz of Florida and Andy Biggs of Arizona have filed similar legislation to pull federal funding from the prosecution proceedings.
In July, Gaetz introduced a bill that would have defunded Smith's grand jury probe into Trump's efforts to overturn the 2020 election. The legislation was filed days before the grand jury charged Trump with conspiracy to defraud the United States, conspiracy to obstruct Congress' certification of the 2020 presidential election results, and conspiracy against Americans' right to vote.
"The government is being weaponized to go after President Donald J. Trump. The House of Representatives must defund Jack Smith's office and end the witch hunt," Gaetz said in a statement. "The power of the purse is not some intermittent thing that we wield every fiscal cycle. It's something that we have to wield day in and day out to achieve victory for our people and to stop this."
In August, Biggs introduced a bill that would strip federal funds from the Fulton County district attorney's office, which charged Trump and 18 of his allies with felony racketeering and conspiracy charges over their attempt to overturn President Joe Biden's victory in Georgia in 2020.
Neither Gaetz's nor Biggs' bill has been taken up since they were introduced.
While GOP lawmakers have railed against prosecutors for charging Trump, polls show voters broadly agree that Trump should have been charged and that the charges are serious.
An ABC News/Ipsos poll conducted August 15-17 found 49 percent of adults said Trump should suspend his 2024 presidential campaign because of his indictments.
A Politico Magazine/Ipsos poll from August 25 found 59 percent of voters believe the Justice Department indicted Trump over his efforts to overturn the 2020 election "based on a fair evaluation of the evidence and the law."
A Navigator Research survey from August found 62 percent of Americans believe Trump committed a crime.
On Monday, federal district court Judge Tanya Chutkan set a March 4 trial date in the case over Trump's efforts to overturn the 2020 election. On March 25, the trial is set to begin in Manhattan of charges that Trump illegally made hush money payments to pornographic film actress Stormy Daniels during the 2016 campaign. And on May 20, Trump will appear in court in Florida to answer charges that he illegally withheld classified documents at his Mar-a-Lago estate.
All of these cases are set to take place during the Republican presidential primary.
Polls show Trump currently has a wide lead over the Republicans running against him: Trump leads the field with 49.5% of the vote, followed by Florida Gov. Ron DeSantis in a distant second with 15.2%, according to FiveThirtyEight's national polling average.
Some Republican operatives have expressed fears that nominating Trump despite his legal perils will cost the party in 2024.
"If we make it about Donald Trump, it's going to be a three-ring circus and we will lose," former Georgia Lt. Gov. Geoff Duncan told CNN the day the Fulton County grand jury voted to indict Trump. "And the only place we're going to be able to make our campaign speeches as Republicans are going to be on courthouse steps, because it looks like every Republican that hung out with Trump is going to get an indictment."
Reprinted with permission from American Independent.