House Republicans Finally Sanction Racist Rep. Steve King
@AlterNet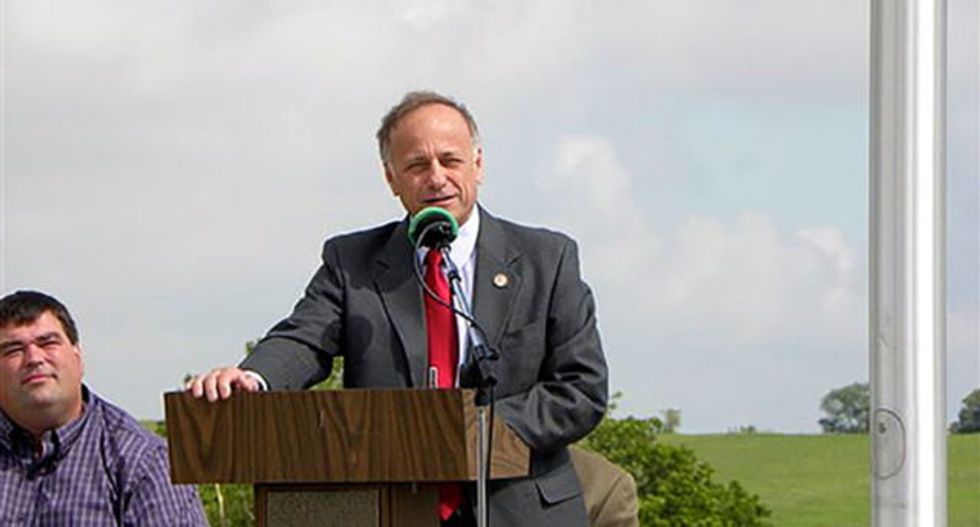 Reprinted with permission from AlterNet.
After years of spewing hateful rhetoric, Rep. Steve King (R-IA) finally took things too far even for the GOP when he asked in a New York Times interview when white supremacy became offensive.
On Monday, Republican leaders voted to strip King of his assignments on the Agriculture, Small Business, and Judiciary committees, a substantial punishment that will drastically curtail Kong's power to shape bills. Sen. Mitt Romney (R-UT) called on him to resign, and Senate Majority Leader Mitch McConnell (R-KY) said, "If he doesn't understand why 'white supremacy' is offensive, he should find another line of work." House Democrats are planning on a censure vote.
King, however, remains unbowed. In a new statement on Monday evening, he lashed out at House Minority Leader Kevin McCarthy (R-CA) and insisted that he had not said anything racist — his statement was just parsed wrong:
New: @SteveKingIA says he has been kicked off all House committees by @GOPLeader, and he's not happy about it. pic.twitter.com/N05BuU4iuL

— Sahil Kapur (@sahilkapur) January 15, 2019
The problem with King's defense is that he can't really get the benefit of the doubt on his racism anymore. He has called Mexican immigrants drug mules with "calves the size of cantaloupes." He has said that "diversity is not our strength" and that he wants America's population to be more "homogenous." He has retweeted neo-Nazi content. He gave an interview to an Austrian far-right party founded by an SS officer during a Holocaust education trip, and espoused conspiracy theories that Jewish billionaire philanthropist George Soros is secretly funding a plot to replace white Europeans with brown-skinned Muslim immigrants.
Even King's excuse that he was simply defending our "civilization" rings hollow, because he has consistently used that word as a euphemism for "white people." He previously claimed that it is white people, and not other "sub-groups," that contributed to our civilization and famously warned, "we can't restore our civilization with somebody else's babies."
Republicans waited far too long to mete out any sort of consequences for the white nationalist in their midst. But now they finally are — and King has only himself to blame.