House Speaker Boehner To Resign In October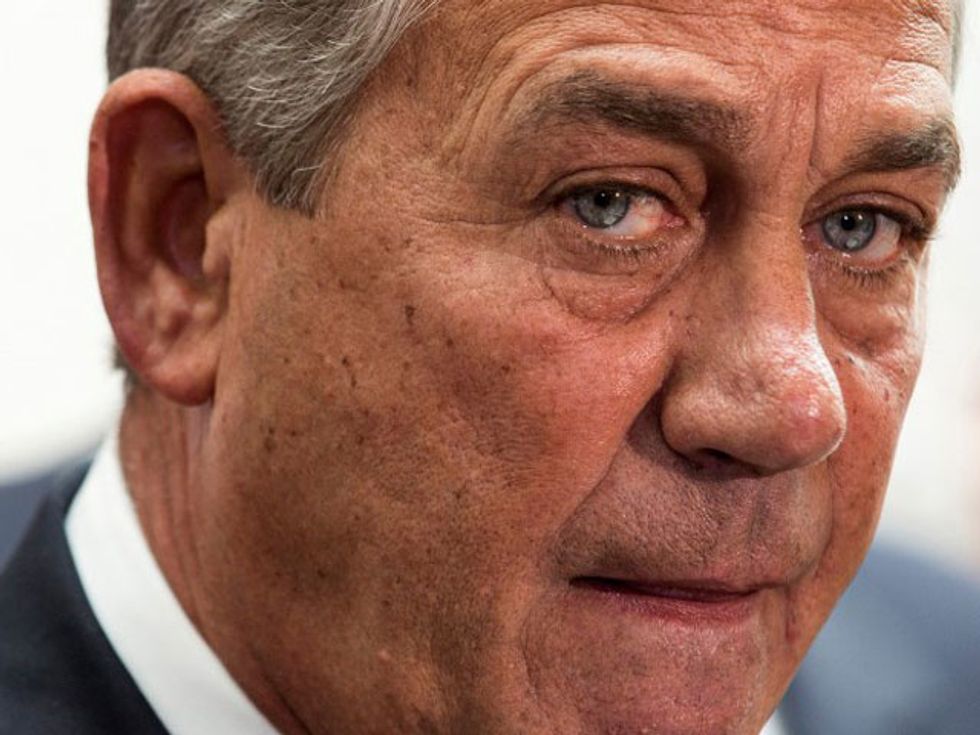 In a win for the conservative element of his party, U.S. House of Representatives Speaker John Boehner will resign from Congress on October 30, giving up both his House seat and one of the most powerful positions in government.
In recent weeks, Boehner had been frequently challenged by the far-right wing of the Republican Party over whether or not to defund Planned Parenthood, even if it meant shutting down the federal government.
Boehner had originally planned to only stay in his seat through the end of last year, according to a statement from his aides. Former House Majority Leader Eric Cantor's loss in his local primary election last year, and his subsequent resignation, "changed that calculation."
"The Speaker believes putting members through prolonged leadership turmoil would do irreparable damage to the institution," the statement continued. "He is proud of what this Majority has accomplished."
"My mission every day is to fight for a smaller, less costly, and more accountable government," Boehner said in a statement, in which he touted his party's success in advancing "conservative reforms that will help our children and their children."
"The first job of any Speaker is to protect this institution that we all love," he said. "Today, my heart is full with gratitude for my family, my colleagues, and the people of Ohio's Eighth District.  God bless this great country that has given me — the son of a bar owner from Cincinnati — the chance to serve."
At a press conference, a characteristically emotional Boehner said he had planned to stay in office until the end of the year, and announce his resignation on his birthday, November 14. Repeating his claim that protracting his resignation would only harm the institution, he said that he woke up this morning, said his daily prayers, "and I decided, you know, today's the day I'm gonna do this. Simple as that." He even briefly sang a bar of "Zip-a-Dee-Doo-Dah" to indicate that he was really quite cheerfully unambivalent about his decision.
He praised his staff, expressed gratitude for his family for putting up with his career in politics for over three decades, and thanked his constituents who voted him into office 13 times.
Boehner said he did not feel as though he had been pushed out by the far right, although he had been under enormous pressure from the Tea Party wing to pass a bill that would cut off federal funding to Planned Parenthood.
Shortly before announcing his resignation, Boehner disclosed a plan to pass a stopgap funding measure to keep the federal government running past September 30. The measure would allow the women's health care organization to continue receiving federal support while Congress sorts out its fiscal responsibilities. He did this in defiance of conservatives who are vehement about punishing Planned Parenthood.
According to Reuters: "Some Tea Party conservatives had said recently that Boehner's reluctance to defund the group would jeopardize his position."
Presumably, his imminent departure could allow Boehner to act with more latitude during his final month in office when confronting the far-right factions in Congress. Republicans vying for his seat, on the other hand, may be inclined to turn up the volume on their conservative views, particularly as it pertains to defunding Planned Parenthood.
Boehner acknowledged that he would not be on hand to vote for his successor, but that the frontrunner, House Majority Leader Kevin McCarthy (R-CA), would make a great Speaker. "I'll tell Kevin [McCarthy], if he's the next Speaker, his number-one priority is to protect the institution."
In a statement, McCarthy said: "Now is the time for our conference to focus on healing and unifying to face the challenges ahead and always do what is best for the American people."
But the deep divisions that have wracked the Republican majority for most of Boehner's five-year tenure as Speaker will outlast him. Representative Steve Womack (R-AK) told reporters: "You can change the faces and the names in the leadership chairs, but the pressures are going to remain the same."
—
Photo: REUTERS/Joshua Roberts
This post has been updated.