House To Offer Its Own Plan To End Shutdown, Raise Debt Limit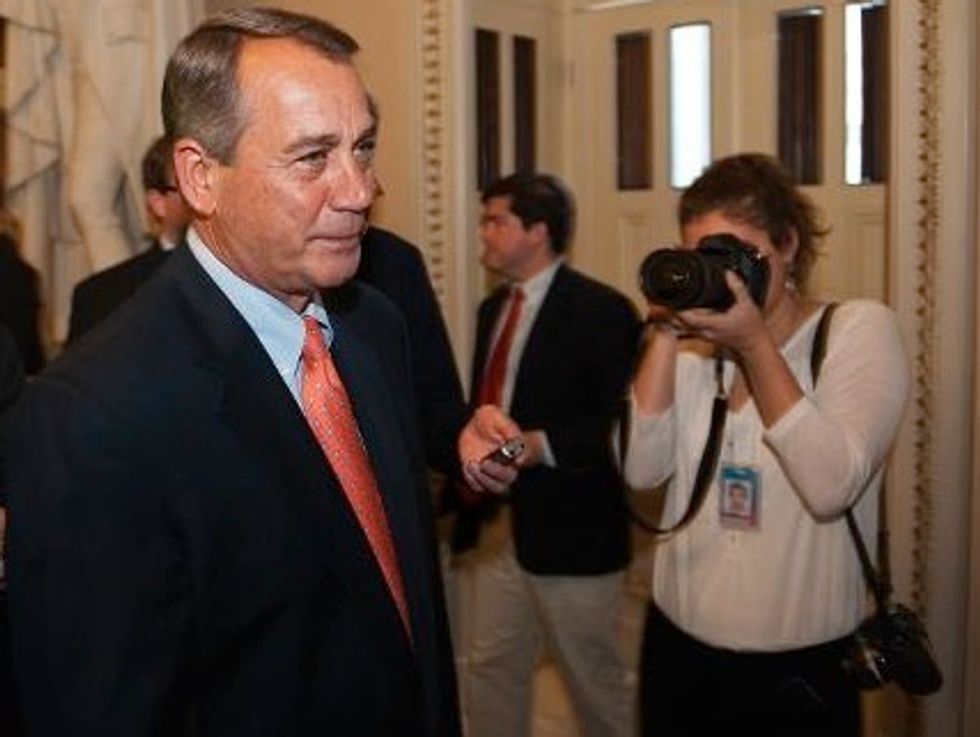 Not satisfied with the Senate's impending proposal to end the government shutdown and raise the debt ceiling, House Republicans are preparing to put forth their own plan on Tuesday.
Like the Senate deal, multiple reports indicate that the House proposal would fund the government at sequester levels through January 15, raise the debt ceiling by enough to last through February 7, and reintroduce income-verification measures for the recipients of Affordable Care Act subsidies.
Additionally, the House would require all members of Congress and the cabinet to sign up for the Affordable Care Act's exchanges (with no employer contribution), delay the implementation of the medical device tax for two years, and end the Treasury's ability to take "extraordinary measures" to avoid default in the future. These proposals would seemingly violate President Barack Obama and Senate Majority Leader Harry Reid's (D-NV) vow not to give away policy concessions in exchange for reopening the government and paying its bills, and seemingly makes the plan dead on arrival in the Senate.
The plan may not even be able to pass the House; according to The Washington Examiner's David Drucker, Speaker Boehner plans to bring the bill to the floor without a whip check. This suggests that Boehner has serious doubts about the plan's viability within his own caucus — likely because right-wing Republicans will demand more concessions — and may be planning to rely on Democratic votes to pass it (in violation of the so-called "Hastert Rule").
If the House leadership's plan cannot make its way through Congress, there are serious questions about whether the government can avoid breaching the debt limit on Thursday. Adding to the concerns: The House is reportedly considering leaving Washington, D.C. after passing its bill, in an effort to pressure the Senate into passing its proposal.
Update: Shortly after 11 am EST, Republican House leadership declined to outline their plan during a brief press conference on Capitol Hill.
"There have been no decisions about what exactly we will do," Speaker Boehner said.
"We're talking with our members on both sides of the aisle to try and move forward today," he added.
If the House does go ahead with its reported plan, it should expect to run into opposition from Democrats. In a statement released minutes before Boehner took the podium, the White House dismissed the proposal as just another ransom demand.
"The president has said repeatedly that members of Congress don't get to demand ransom for fulfilling their basic responsibilities to pass a budget and pay the nation's bills," said White House spokeswoman Amy Brundage. "Unfortunately, the latest proposal from House Republicans does just that in a partisan attempt to appease a small group of Tea Party Republicans who forced the government shutdown in the first place. Democrats and Republicans in the Senate have been working in a bipartisan, good-faith effort to end the manufactured crises that have already harmed American families and business owners. With only a couple of days remaining until the United States exhausts its borrowing authority, it's time for the House to do the same."
AFP Photo/Mandel Ngan