How Fox News Abandoned Standards For Trump Lapdog Hannity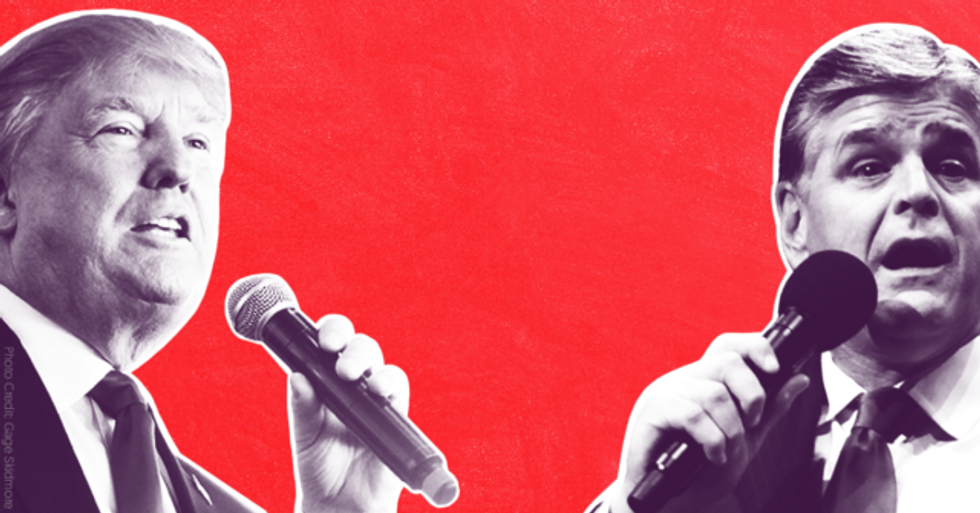 Reprinted with permission from MediaMatters.
Fox News said Sean Hannity wasn't going to campaign for President Donald Trump at Monday night's rally. Sean Hannity said he wasn't going to campaign for Trump.
Hannity proved them both liars last night.
While Trump's campaign had described Hannity as a "special guest" at the Missouri rally — Trump's last before the midterm elections — both the Fox star and his network insisted he was just there to interview the president. But after the interview, Trump summoned his loyal propagandist to the stage, and Hannity went. He mugged with Trump for the cheering crowd, praised the administration for keeping its promises, and slammed journalists covering the event as "fake news." Fellow Fox host Jeanine Pirro followed him on to the stage, basking in Trump's praise before urging the crowd to vote for Republican candidates.
In April, after Hannity brazenly disregarded a basic tenet of media ethics, journalists at credible news outlets questioned whether Fox would censure, suspend, or even fire the host. "Going to find out what kind of org Fox is today," NBC News' Chuck Todd tweeted the morning after that news broke.
Few seem to be bothering this time around. There's a shared understanding that there aren't really any rules that Fox is willing or able to enforce against him. In 2010, the network reined him in when he tried to use his show to raise money for a tea party group; in 2016, a Fox spokesperson issued a statement after he appeared in a Trump ad, promising that it wouldn't happen again. These were modest steps at best — Fox executives never formally reprimanded Hannity for his actions, much less suspended him — but they at least signaled that the network had some lines he couldn't cross.
But since Trump's election, Hannity's ties to the White House and role as a Trump confidant have apparently rendered him untouchable by the network. Hannity has spent multiple days on his show pushing a despicable conspiracy theory, defended the president's lawyer without noting that he's also Hannity'slawyer, and now campaigned with the president after he and his network both swore he wouldn't, without apparent consequences. In the unlikely event Fox News finally decides to take action, it would be long overdue — and also completely out of character.
Hannity isn't the only one Fox treats with kid gloves. Pirro also appeared on stage with Trump last night. Lou Dobbs laughed off Fox banning one of his guests over anti-Semitic rhetoric last week. Laura Ingraham knows that no matter how depraved her commentary, Fox will have her back. And Tucker Carlson has effectively turned the network's 8 p.m. hour into Stormfront TV.
There are some at Fox who operate within standards that, if you squint hard enough, resemble those of a traditional media outlet. They may complain about the behavior of the network's stars, either to other reporters or more publicly. But Fox's business model is built on hard-right propaganda garnished with a fig leaf of "real" reporters whom network executives like Lachlan Murdoch can point to defray criticism. That has been the play for years, and the Fox "straight news" people have been happy to keep cashing their checks. They are complicit in the worst failings of their colleagues.
As I noted after Hannity's ethical disaster in April, "because Fox does not hold its stars to the most basic codes of ethical behavior, let alone the standard principles of journalistic conduct, critics hoping for accountability have little recourse but to appeal directly to the network's advertisers."
Things have only gotten worse. The network and Trump have fully merged, with Fox operating as a literal arm of his campaign. Sean Hannity owns Fox, but Donald Trump owns Sean Hannity.
UPDATE:
Fox and Hannity have both responded to the controversy by neither admitting fault nor promising that this won't happen again. Both farcical statements suggest that the network's real concern is that Hannity impugned the Fox employees present among the press throng when he went onstage and said of the media at the rally, "all those people in the back are fake news."
An anonymous Fox spokesperson released the following statement: "FOX News does not condone any talent participating in campaign events. We have an extraordinary team of journalists helming our coverage tonight and we are extremely proud of their work. This was an unfortunate distraction and has been addressed."
The statement is notable for its brazen lie: Regardless of what the network says it does or "does not condone," more than a dozen Fox hosts and contributors raised funds for Republican Party organizations in the first year of Trump's administration — continuing a yearslong pattern.
The statement is also notable for what it is missing: Any direct criticism of Hannity or Pirro by name, or any consequences for what they did.
At the same time the network's statement went out, Hannity tweeted that his appearance on stage "was NOT planned," and that he "was not referring to" his Fox colleagues when he described the assembled journalists covering the event as "fake news." Absent was an apology, an acknowledgment that what he did was wrong, or a statement that he would not do it again.
He probably will.
Header image by Melissa Joskow / Media Matters