How Neil Gorsuch Snowed One Side Of The Senate Aisle
@JamieStiehm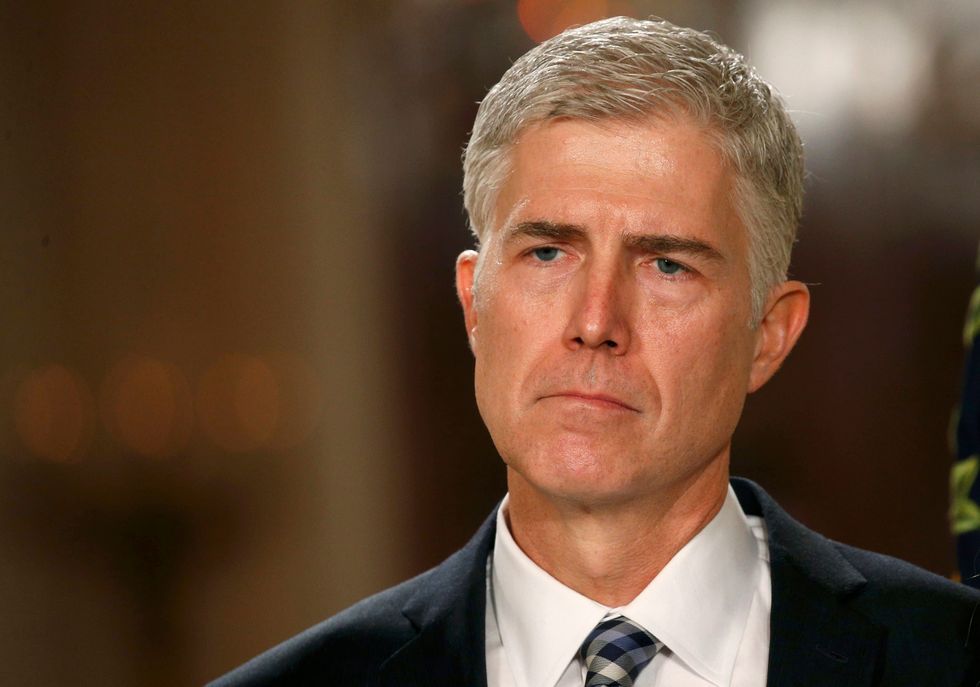 WASHINGTON — Judge Neil Gorsuch, the Supreme Court nominee speaking before the Senate Judiciary Committee, had all the answers — or so it seemed — at the theater.
Yet President Trump's man for the Supreme Court deftly dodged Democratic efforts to engage on women's constitutional privacy rights, dark money in politics, surveillance, corporations and torture. Substance was not his strong suit.
Not so long ago, as a Bush White House Justice official, Gorsuch wrote a presidential signing statement on detainee treatment that raised eyebrows. "I was a lawyer for a client," Gorsuch shrugged it off.
As a sitting federal judge, his refrain was something like this: Judges don't give a "whit" about politics, so I can't prejudge this or that. We just apply the law. We're all human beings, but a judge has to put that aside.
Here's what the Gorsuch brought to his role. A perfect head of silver hair, suggesting wisdom at age 49, just like Alexander Hamilton. His Harvard and Oxford credentials worn lightly with easy manners. He knew his lines by heart under the lights and cameras in the Hart building hearing room.
"I'd like to convey to you, from the bottom of my heart … that I'm a fair judge. …I can promise you absolutely nothing less," Gorsuch said. "Anyone, any law is going to get a fair and square deal with me."
You could hear the corn popping in Iowa Republican Senator Charles Grassley's plain-spoken voice as he presided over his party's love fest
But wait, there's more.
Back home in "the West," the Colorado native said, "I love my life," lest there be doubt. He'd be doing us a favor to leave the great outdoors.
Lord knows the embattled, unpopular President Trump desperately needs his first win in office. The talk in the halls is that Gorsuch may hand him a victory in early April, when the full Senate votes on his confirmation. As of now, Gorsuch needs 60 votes from a closely divided Senate: 52-48.
Whether he can pick up eight votes among the vexed, scrappy Democratic minority, though, is not a done deal. Senators Dick Durbin, D-Ill., and Sheldon Whitehouse, D-R.I., landed a few punches as the leading antagonists.
Durbin brought up one of Gorsuch's dissents in the case of a trucker stuck with frozen brakes in subzero weather in Chicago. It was "so cold, but not as cold as your dissent, Judge Gorsuch," Durbin declared.
Gorsuch looked pained.
Whitehouse noted that millions of "dark" dollars had been raised to buttress Gorsuch's nomination, without names attached. "They obviously think you will be worth their money," Whitehouse said bluntly.
Gorsuch's rulings raised concern that he will be sympathetic to the Chief Justice John Roberts "corporate court," senators said.
Among all the players, a ghost hovered in the room: Judge Merrick Garland, President Obama's final pick for the high court last March. Republicans blocked the highly respected Garland, the first Supreme Court nominee who never had a hearing, from his day in the Judiciary Committee's court.
Democratic Senator Dianne Feinstein pointedly raised "the very unusual circumstance." Everyone at the hearing knew a sore was seething under the surface.
Gorsuch rated Garland as an "outstanding judge." He even called him to tell him he'd been nominated. That's the kind of winner he is.
The four-day drama was watched closely because Gorsuch will effectively step into the shoes of ferocious conservative Antonin Scalia, who died last winter.
Gorsuch likes to say he was skiing when he heard of Scalia's death. The older man, a mentor, and he were fly-fishing buddies.
And the story goes that he wept as he skied down the mountain slope. "I am not embarrassed to admit that I couldn't see the rest of the way down the mountain for the tears," he said.
Well. I have a better takeaway. Gorsuch also wept because a Democratic president would presumably fill the seat meant for him.
Has Washington made me cynical?
Here's where I'm almost sure he lied under oath: "I never dreamt I'd be sitting here, I can tell you that."
So spoke Gorsuch, with a straight face.