How John Kelly Misled Congress About Family Separation Policy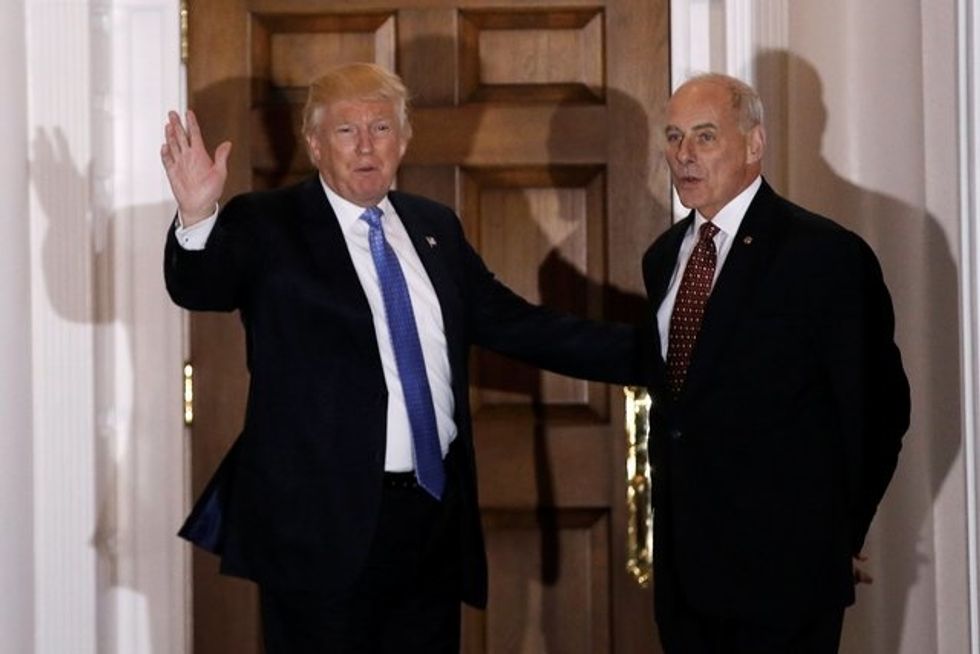 Reprinted with permission from Shareblue.
Trump and his allies are becoming increasingly desperate to pretend that the law forces them to rip children away from their parents. But as it turns out, Trump's own immigration chief once promised never to do that unless the children's lives were in danger.
At a Senate Homeland Security hearing in April of 2017, then-Department of Homeland Security Secretary John Kelly repeatedly promised that children would only be separated from parents if the children were in danger.
During the hearing, Sen. Heidi Heitkamp (D-ND) asked Kelly: "Just a quick yes or no, there's been reports that you are considering separating children from their mothers at the border, and I want to know, yes or no, whether that's true."
"Only if the situation, at that point in time, requires it," Kelly replied. "You know, the mother — if the mother is sick or addicted to drugs or whatever."
"So, if you thought the child was endangered…" Heitkamp clarified.
"Not routinely," Kelly said. "Sure."
"That's the only circumstance to which you would separate?" Heitkamp asked.
"Can't — can't imagine doing otherwise," Kelly replied.
Later in the hearing, Sen. Kamala Harris (D-CA) asked Kelly to clarify.
"I understood you to say that only if the life of the child is in danger would there be a separation. Is that correct?" Harris asked.
"Depending on what's going on, on the ground, but that generally would be my approach," Kelly replied.
Kelly, who was subsequently promoted from DHS secretary to White House chief of staff, has distinguished himself as a vicious, racist liar even by Trump administration standards.
So it's not surprising that Kelly chose the most racist possible way to make his promise to senators last year — by suggesting that immigrant mothers are likely to be on drugs.
Kelly was also among the Trump administration officials praising the deterrent value of the family separation policy after it went into effect, in similarly callous fashion.
"[A] big name of the game is deterrence," Kelly told NPR in a May interview. He also dismissively brushed off criticism of the policy's cruelty: "The children will be taken care of — put into foster care or whatever," he said.
Now that this "whatever" appears to include proposed prison camps, Trump is running as fast as he can from his own policy — but video doesn't lie.
This policy is the Trump administration's choice, and a direct violation of a promise it made over a year ago.
Published with permission of The American Independent.