How Many Must Die In Mass Shootings For Lawmakers To Act?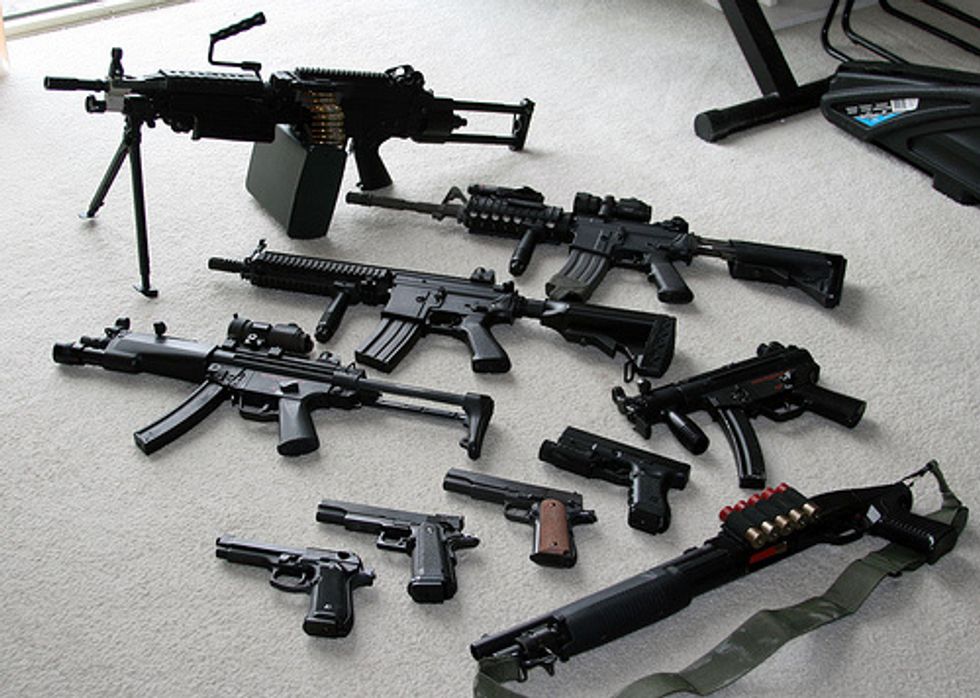 The alleged perpetrator of yet another mass shooting — this one in a Lafayette, Louisiana movie theater — had been "involuntarily committed" by his family, and reportedly had a history of domestic violence and mental illness. Why was he able to get a handgun? Because elected officials have failed to lead on gun regulation.
At a Thursday night screening of the comedy Trainwreck, the 59-year-old man from Alabama, identified as John Russell Houser, shot and killed 33-year-old Jillian Johnson and 21-year-old Mayci Breaux, and injured nine other people, seven of whom remain hospitalized.
The suspected shooter used a .40 caliber handgun and had an additional magazine, which he used to reload, firing one round to kill himself inside the theater, Lafayette police chief Jim Craft told reporters Friday.
Police found 13 shell casings in the theater, Craft said. State police and FBI agents are also investigating the shooting, according to MSNBC.
Houser was denied a pistol permit in 2006 while he was living in Alabama, the New Orleans Advocate reports. According to The Associated Press:
Court documents from 2008 say family members of the theater shooter petitioned the probate court to have him involuntarily committed "because he was a danger to himself and others."

A judge issued the order, and John Houser was taken to a hospital in Columbus, Georgia.

[…]

The wife and other family members of [Houser] … asked for a temporary protective order in 2008 against the man.

Court documents seeking the order said John Houser, "exhibited extreme erratic behavior and has made ominous as well as disturbing statements."

The documents said even though he lived in Phenix City, Alabama, he had come to Carroll County, Georgia, where they lived and "perpetrated various acts of family violence."

Houser "has a history of mental health issues, i.e., manic depression and/or bi-polar disorder," the filing said.

The filing says Houser's wife, Kellie Maddox Houser, "has become so worried about the defendant's volatile mental state that she has removed all guns and/or weapons from their marital residence."

The protection order was at least temporarily granted.
Law enforcement officials have not yet reported how Houser obtained the handgun used in the theater shooting. But based on the earlier court records, it seems clear Houser should not have been in possession of a firearm.
In a BBC interview earlier this week, President Obama said "his failure to pass 'common-sense gun safety laws' in the U.S. is the greatest frustration of his presidency."
"If you look at the number of Americans killed since 9/11 by terrorism, it's less than 100. If you look at the number that have been killed by gun violence, it's in the tens of thousands," the president said.
So, what will it take for U.S. political leaders to pass common-sense gun regulations?
The killing of two women and wounding of nine others in a Louisiana movie theater?
Perhaps the recent shooting of four Marines at a Chattanooga, Tennessee military recruitment office, or the killing of 12 people and injuring of eight at the Washington Navy Yard in 2013?
Maybe, the racially motivated murder of nine parishioners in a Charleston, South Carolina church, including a state senator? The South Carolina legislature voted to remove the Confederate flag from the State House grounds, a symbolic act to honor those killed by a white supremacist, but gun control was never even up for debate.
How about the 2012 killing of 12 people and injuring of 58 in another movie theater, this one in Colorado? The shooter has been convicted and awaits the sentence of life imprisonment or the death penalty, but what has been done to limit future mass shootings?
Surely, the gunning down of 20 children and six adults in an elementary school (after the shooter killed his mother at their home) in Connecticut would spur elected officials to action. President Obama even visited the town and gave an emotional speech appealing for stronger gun regulations. But, no, the 24/7 news cycle, the American people, and Congress moved on.
How about shooting a United States congresswoman, Rep. Gabrielle Giffords, in the head? That shooter killed six people and injured 12 others. Giffords' congressional colleagues were still not moved to act. She lived and has become a vocal advocate to prevent gun violence, but no longer in office, she won't achieve reform by herself.
According to Mother Jones, more than three-quarters of the guns possessed by the killers involved in mass shootings in the United States since 1982 were obtained legally. It's doubtful common-sense restrictions, background checks, and waiting periods would have allowed all these gun sales to go through.
Nearly 600 Americans have been killed and 500 injured in mass shootings in the last three decades, and "active shooter events have become more common in recent years," according to The Washington Post.
A U.S. president hasn't been shot since Ronald Reagan survived an assassination attempt in 1981. Four U.S. presidents have been assassinated while in office in our nation's history by men with guns.
Even if the commander-in-chief was shot and killed by a person with a gun who shouldn't have had one — in the 21st century — that would likely still not motivate officials to enact policies that decrease mass shootings by taking guns out of the hands of extremists, those with criminal histories, and those living with mental illness.
The problem is these armed killers may act alone, but they have far too much company when it comes to people with undue access to firearms. If current legislators continue to fail to protect their constituents from the dangers of gun violence, and don't even pass laws that would limit the potential for mass shootings, then perhaps voters need to find other lawmakers who will.
Photo: gunsnews2012 via Flickr