How Right-Wing Media Cut Video Clip To Defame Arizona Democrat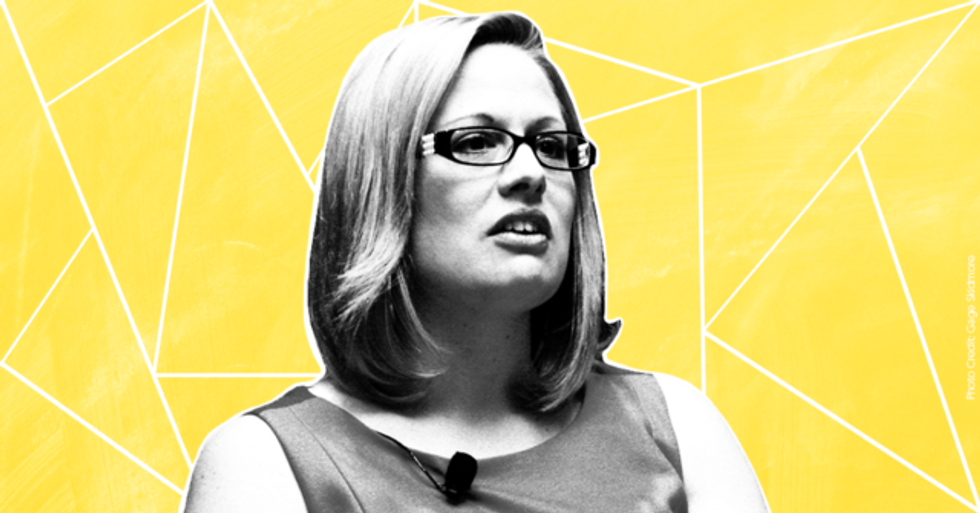 Reprinted with permission from MediaMatters.
Conservative media used an out-of-context video to falsely claim that Senate candidate Rep. Kyrsten Sinema (D-AZ) called all Arizonans "crazy." As local journalists explained, the full context of her remarks shows that Sinema was clearly referring only to Republican lawmakers in Arizona who were promoting extremist legislation, such as the state's racially discriminatory SB 1070 "papers please" law.
This smear originated with an October 11 tweet from the Twitter account "The Reagan Battalion," described by The Associated Press as "an anonymous conservative group," which published a 65 second-long video with clear edits at the 23 and 30 second marks, stripping Sinema's remarks of necessary context. According to the tweet, Sinema mocked "Arizonans as 'Crazy' and calls Arizona the 'crazy' state."
BREAKING: LEAKED VIDEO: in a 2011 speech in TX, Democratic Senate candidate @kyrstensinema mocks Arizonans as "Crazy" and calls Arizona the "crazy" state. pic.twitter.com/fArBGddn16

— The Reagan Battalion (@ReaganBattalion) October 11, 2018
As of 11 a.m. EDT today, that crudely edited video had roughly 240,000 views. The Reagan Battalion later posted a full 5 minute 23 second version on its YouTube account, suggesting it had the full context all along. The original, uncut video had only 3,129 views as of 11 a.m.
Fox News host Sean Hannity ran with this false framing, citing The Reagan Battalion and saying the video showed Sinema "calling Arizonans, the people she wants to vote for her, crazy."

Conservative outlet Independent Journal Review (IJR) embedded the deceptively edited Reagan Battalion video and tweet in a piece that falsely blared in its headline: "Leaked Video Shows Arizona Dem Senate Candidate Mocking Arizonans as 'Crazy' While in Texas." Talk radio host and MSNBC contributor Hugh Hewitt tweeted: "Wow: 'Sinema Called Arizonans "Crazy" at Texas Democratic Event in 2011,'" linking to a Washington Free Beacon story with a similarly misleading headline, despite the body of the piece acknowledging that she was referring to Republican lawmakers. Fox & Friends also aired an edited version of Sinema's remarks which included her reference to Republicans lawmakers, yet the show still falsely claimed in an on-air graphic that "Sinema mocked Arizonans as 'crazy' in 2011."
But local journalists quickly made clear that conservatives were wrong to claim Sinema was referring to all Arizonans as "crazy." Arizona Capitol Times editor Luige del Puerto called out The Reagan Battalion in a tweet, pointing out the clear edits and demanding it "show the unedited version so we can hear her whole speech." He also told IJR that it was wrong to promote the misleadingly edited video. And The Arizona Republic published an article on Sinema's full remarks with the correct context and a factually correct headline: "Kyrsten Sinema in 2011: 'There's something wrong with the people in public office in Arizona.'" The lede of the article stated: "Rep. Kyrsten Sinema seven years ago ridiculed as 'crazy' the Republican elected officials leading the state at the time, and the anti-illegal immigration legislation that began in Arizona and was being replicated in state Capitols across the nation."
And Sinema was absolutely correct about the extremist nature of the Republican legislators in Arizona. The 2010 Arizona anti-immigrant bill SB 1070, known as the "papers please" law because it required police to check the immigration status of anyone they suspect of being in the country without authorization, was so extreme that the Supreme Court struck down three out of four provisions of the law in 2012. The remaining provision that required officers to question people's immigration status and demand immigration documents was largely rendered moot in 2016 when the state settled a lawsuit brought by immigrants' rights groups. The Arizona Republic explained that the law "sparked a national outcry" and "led to a torrent of canceled trips to Arizona by would-be tourists and conventioneers, and travel bans by cities and organizations around the country who deemed the legislation discriminatory and in violation of federal law." The same article pointed out other extreme legislation introduced by Republicans in the state legislature that year:
In 2011, the year of Sinema's remarks, Republicans at the Arizona Capitol had introduced other legislation targeting undocumented immigrants.

One bill would have required hospitals to check a person's legal status and notify law enforcement if they suspected the person was in the United States illegally. Another would have banned illegal immigrants from going to state universities and community colleges, and from getting federal benefits.

A third targeted the issue of birthright citizenship.

All of the bills failed.
Russell Pearce, who was singled out in Sinema's remarks and authored the SB 1070 legislation, was forced into a recall election over the bill and lost to another Republican the year after it was signed into law.
Header image by Melissa Joskow / Media Matters