How Roger Stone's Trial May Expose Trump's Wrongdoing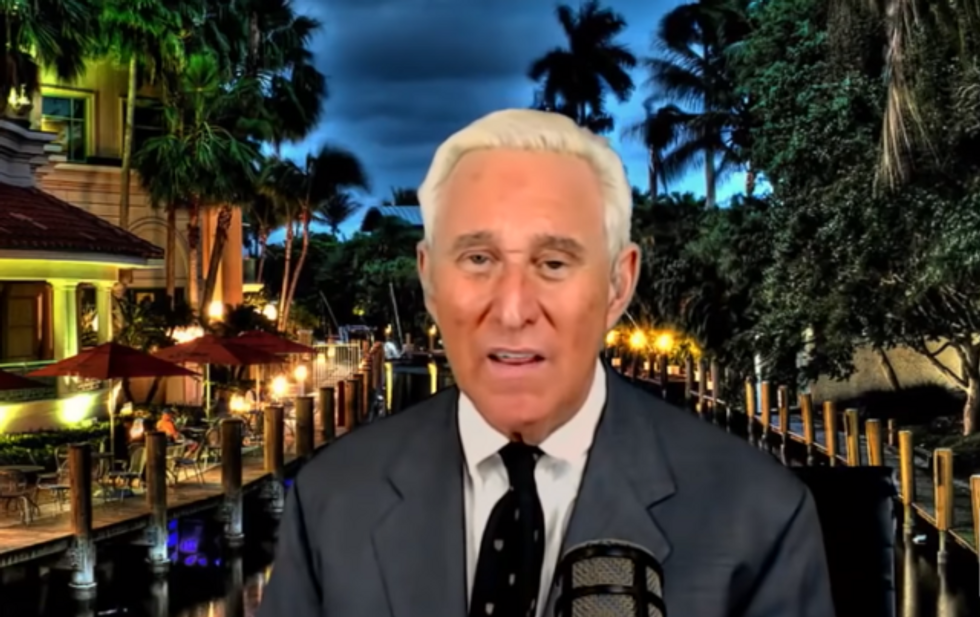 Reprinted with permission from Alternet.
Special Counsel Robert Mueller's office is no more, but the legacy of his office lives on.
One major component of that legacy is the prosecution Roger Stone, President Donald Trump's longtime ally and friend, who is facing charges of misleading Congress, obstructing justice and intimidating a witness. He is currently scheduled to go to trial in November 2019, an event that could refocus the nation's attention on Trump's complicity with Russia's attacks on the 2016 election. It could also expose troubling new details about Trump's connections to WikiLeaks.
As reporter Marcy Wheeler noted in a new blog post Thursday about the Stone case, many of the most intriguing redactions in the Mueller report relate to right-wing firebrand. The Justice Department, with good reason, redacted information related to Stone to preserve his right to a fair trial.
Vox's Andrew Prokop, too, pointed out many instances in which the Mueller report redacted information about Trump and his apparent knowledge of Stone's interactions with WikiLeaks. In one partially redacted section, Mueller's cooperating witness Rick Gates, who served as Trump's deputy campaign chair, heard the then-candidate take a phone call and then, "Trump told Gates that more releases of damaging information would be coming."
There's some suggestion that, while Mueller might have considered charging Stone for a crime related to the interactions with WikiLeaks, he ultimately declined to do so.
Prokop wrote:
Now, we know Mueller decided not to bring charges against any Trump associates regarding the hacked emails. That could mean that nothing significantly untoward happened here. But it also leaves open other possibilities — that something happened that was shady but not criminal or that there wasn't enough evidence to bring charges or that Mueller just flat-out isn't sure. The answer is under those black bars.
This information could come out during Stone's trial — there's been some indication that Gates may be a witness in the case. Alternatively, once the trial is over, a news organization or other entities might be able to successfully request the Stone-related material to be unredacted, given that there would no longer be an ongoing matter to harm.
We also know that Stone's associate Andrew Miller, who Mueller long sought testimony from, will finally speak to the grand jury on Friday. This may result in new charges against Stone, though it's unclear whether they would be relevant to the 2016 election or Trump's conduct specifically.
It's not clear where the national conversation about the Mueller report and impeachment will have landed by the time Stone's trial rolls around. We could be in the middle of impeachment hearings, or talk of impeachment could have been sufficiently quashed by that point. Either way, the Stone revelations could have a serious impact on the discussion of Trump's conduct. For instance, if redactions contain really troubling behavior by the president, they could strengthen the argument that Trump had criminal intent when he obstructed the Russia investigation.
On the other hand, it's possible the new details wouldn't shift the conversation at all. Two Republican lawmakers — Sen. Lindsey Graham of South Carolina and Rep. Doug Collins of Georgia — have seen a less-redacted version of the report, and they indicated that there was nothing game-changing about the concealed material. However, they may not be the most reliable narrators when it comes to what is or isn't bad for Trump.
Wheeler suggested that Trump could try to undermine the spectacle of the trial by pardoning Stone to thwart the proceedings. That's one reason, she argued, that Democrats should start impeachment inquiries already. That way, if he did pardon Stone, they could potentially use that act itself to further bolster the case for impeachment. This potentiality would discourage him from pardoning Stone in the first place. Even if he did pardon Stone, though, the redacted information in the report might be uncovered.
Wheeler also noted another odd wrinkle in the story. Mueller, she pointed out, seems to have concluded that the interactions with WikiLeaks during the 2016 election wouldn't constitute a crime, even though it was trafficking in stolen emails. These interactions would likely be covered by the First Amendment, which makes it difficult to criminalize soliciting and receiving even stolen information without an underlying conspiracy.
But it's exactly this theory of the First Amendment that Trump's Justice Department has challenged in its recent indictment of Julian Assange relating to his work soliciting and distributing classified material from Chelsea Manning. So under the novel and aggressive theory — which many argue is a threat to the press — propounded by the Justice Department under Attorney General Bill Barr, Trump and Stone's own conduct with WikiLeaks may have constituted a crime.