How Ryanization Threatens The GOP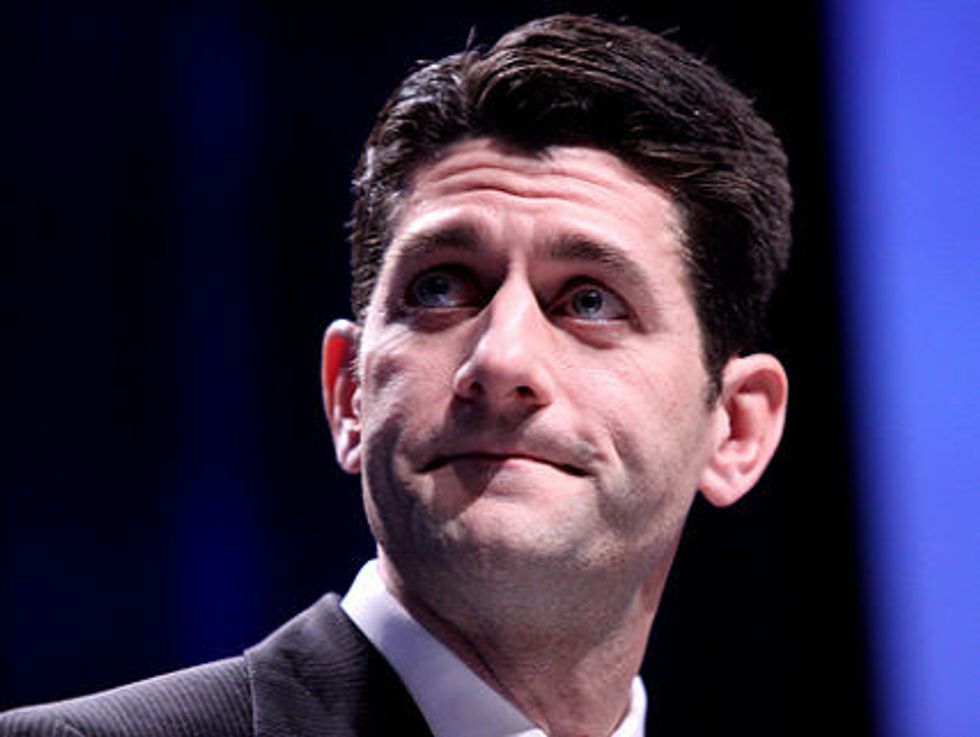 WINSTON-SALEM, N.C. — There is the idea of having Paul Ryan on the Republican ticket, and then there is the reality.
If conservative ideologues are over the moon at having their favorite conviction politician as Mitt Romney's vice presidential running mate, many Republican professionals — particularly those running this fall — are petrified. They freely express private fears that Democrats will succeed in Ryanizing the entire GOP.
What's striking is not just that down-ballot Republican candidates are distancing themselves from Ryan's proposals, particularly on Medicare, but that Romney won't take ownership of them either, except in vague terms. Worse, the Romney apparatus is forcing Ryan to distance himself from his own budget. It was sad to watch Ryan dancing around these issues on Fox News Tuesday night and having to say that Romney is the boss. How long before conservatives start producing "Let Ryan Be Ryan" bumper stickers?
Oh, yes, and Ryan could not explain when his fiscal plan would balance the books (presumably because the right answer is somewhere past 2030). "I don't know exactly when it balances," Ryan told Brit Hume. So much for specificity.
To understand the elation Democrats feel about the Ryan choice, it's useful to canvass their reactions in what will be one of the hardest battleground states for President Obama to hang onto. In 2008, Obama became the first Democratic presidential candidate in 32 years to carry North Carolina. Now it is, with Indiana, one of the states most likely to move back to the GOP. "We're at the pink end of the spectrum," Rep. David Price, a Democrat who represents the Research Triangle area, said in a phone interview.
For Price, Ryan offers a double opportunity for his party. The swing voters in his own district, he says, "are pretty practical and not enamored of the doctrinaire, ideological approach that Ryan exemplifies." The very reasons that ideologues admire Ryan are the reasons that independents and moderates may be put off by him.
On top of that, Price said, "the issues of Medicare and Social Security are toxic for Ryan." White voters in the current over-65 generation, more conservative than the New Deal Era electoral cohort that has largely passed on, are now the base of the Republican Party. By putting Medicare on the ballot, Ryan threatens to push away core Republican voters.
That's why Romney went up so quickly with advertisements attacking Obama for reducing spending on Medicare. One long-time Democratic organizer of senior citizens I spoke with here — his organization doesn't let field staff speak for the record — noted that John McCain defeated Obama by eight points among voters over 65. "If Obama can cut that margin from eight to five, he wins," the organizer said. "He doesn't have to win that demographic. Closing the gap is a win." His analysis is especially apt in North Carolina, where McCain beat Obama by 13 points among seniors.
Already, the North Carolina Democratic Party is out with lots of numbers — in other circumstances, Ryan might appreciate their wonkery — showing how the Ryan budget would hurt certain voter groups in the state. The party says that "1,368,646 North Carolinian seniors would be forced onto vouchers when they retire," referring to the number of near-elderly citizens who would be affected a decade from now by Ryan's idea of changing Medicare into a premium support program. Repeal of the Obama health care law, the party says, would move "154,884 North Carolina seniors back into the prescription drug 'donut hole.'"
Walton Robinson, the Democrats' state communications director, has his eye on a very specific demographic group that Ryan might move: older white rural women without college educations. Obama remains competitive in this state because of a large lead among female voters. Shifting this "one holdout group" Obama's way, Robinson says, "could drive that gender gap even further apart."
State Sen. Linda Garrou, a pro-business Democrat who has represented Winston-Salem for 14 years, is retiring after a Republican reapportionment broke up her district. She agrees that Ryan will help Democrats among older voters, but is especially worried about Republican education cuts at all levels of government. She casts the choice as fundamental.
"The Romney/Ryan plan," she said, "seems to say, 'I've got mine, you get yours the best you can, the heck with you.'"
Americans often oppose government in the abstract but actually want it to do quite a lot. Thanks to Paul Ryan, this year's debate will be anything but abstract.
E.J. Dionne's email address is ejdionne@washpost.com.
Photo Credit: Gage Skidmore/Flickr.