How 'The New York Times' Bungled Its 'Big' Clinton Email Story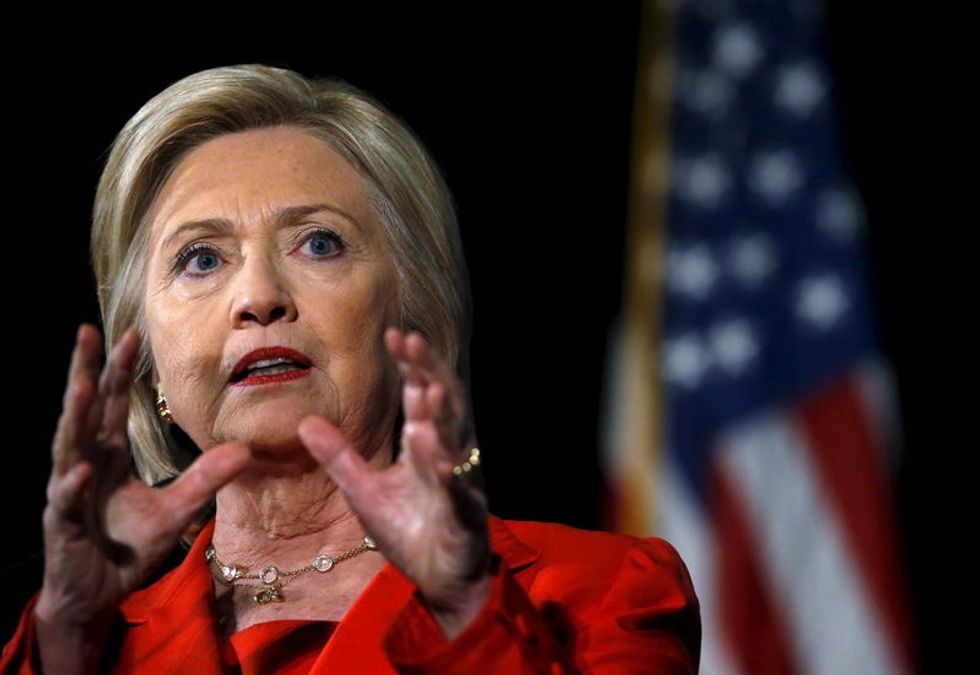 New York Times public editor Margaret Sullivan seems surprised that the paper's latest story on Hillary Clinton's emails — sensational, wrong, leak based, and badly bungled — is now a significant journalistic debacle. Maybe she really is surprised, but there is in fact nothing startling about this embarrassing episode.
In a long post, headlined "A Clinton Story Fraught With Inaccuracies: How It Happened and What Next?" Sullivan criticizes the Times editors' rush to print the July 23 story, which in its first iteration reported that Clinton is the subject of a "criminal referral" to the Justice Department by two inspectors general. In fact, the referral wasn't "criminal," the target isn't Clinton, and the accusation that she emailed classified information is highly exaggerated.
Sullivan explains all those details quite adequately, if far too late. As she ruefully notes, it isn't possible to put a story like that "back in the bottle" once it has begun to circulate "through the entire news system." Not only was the original story unfair, she adds, but the editors' subsequent failure to correct its mistakes in a timely and transparent manner made the resulting "mess" much worse, "damaging…the Times' reputation for accuracy."
Yet while hyping her exhaustive examination of this giant flub, Sullivan lets the Times editors and reporters off a bit too easily, allowing them to blame their anonymous sources and even to claim that the errors "may have been unavoidable." What she fails to do, as usual, is to examine the deeper bias infecting Times coverage of Hillary and Bill Clinton — a problem that in various manifestations dates back well over two decades.
(For historical context, amusing background, and contemporary commentary on this issue, don't miss our new e-book, The Hunting Of Hillary – available free of charge, for a limited time.)
In the paper's ongoing coverage of the controversy over Hillary Clinton's email practices as Secretary of State – and a related investigation by the House Select Committee on Benghazi – the pattern of slanted coverage deserves closer scrutiny by the paper's editors, including Sullivan.
Those "anonymous sources" Sullivan briefly deplores are lurking among the members and staff of that committee's Republican majority – a fact she teases when noting that initial "tips" about the non-existent criminal referral came from "Capitol Hill." For reasons best known to reporter Michael S. Schmidt and his editors, committee chairman Trey Gowdy and his fellow "tipsters" get special treatment in the Times, while their Democratic critics are mostly ignored.
It is a pattern wearily familiar to anyone who observed Kenneth Starr's taxpayer-financed inquisition against the Clintons. Starr always got sweet treatment from the reporters who relied upon leaks from him — and his politicized, drawn-out investigations of non-existent "crimes" provides a precise analogy to Gowdy's phony, wholly partisan Benghazi probe.
After Sidney Blumenthal gave a deposition to the Benghazi committee behind closed doors, he emerged to deliver a public statement, which the Times barely mentioned (unlike many other news outlets). Was that because he criticized "reckless" repetition of inaccurate leaks from the committee, a remark clearly aimed at the Times?
The paper went on to report further leaks from Gowdy's committee about Blumenthal's testimony, without response from his attorney James Cole (although Schmidt didn't hesitate to troll Cole on the eve of Blumenthal's appearance on Capitol Hill). Nor did the paper report that Cole sent several letters to Gowdy, demanding that the committee release Blumenthal's testimony in full, rather than leaking it in piecemeal drips designed to defame both Blumenthal and Clinton.
Similarly, the Times has given short shrift to statements from Democrats on the Benghazi committee, notably its ranking minority member Elijah Cummings, Jr. and Adam Schiff – both of whom have challenged Gowdy to release Blumenthal's testimony and stop the majority's pernicious, unethical leaking. The chief beneficiary of those leaks are Schmidt and the Times, whose editors haven't hesitated to celebrate its Clinton coverage, despite a deepening credibility gap.
That editorial braggadocio erupted two months ago when Sullivan asked Carolyn Ryan, the paper's Washington bureau chief, whose personal hostility to Clinton is widely known in the capital, to respond to reader concerns about the paper's campaign reporting.
"We've had extraordinary and world-beating coverage," said Ryan — who went on to highlight "praise" that she boasted the Times has earned this year from the likes of Matt Drudge, proprietor of the Drudge Report. Yes, the Drudge Report. Is a blurb on Drudge the standard by which we are now to judge the New York Times? Somewhere the paper's late, great journalists are whirling in their graves at warp speed.
P.S. Even when the Times publishes a story that is entirely fair to Clinton – as it surely does, of course – the subtext can indicate inherent bias. To take a recent example, in a valuable July 25 article exposing the myriad ways that presidential candidates game the federal campaign finance disclosure system – which they evidently do by assigning expenses illegitimately to gubernatorial and other political committees – the Times noted, many paragraphs down, that one candidate has adopted a "conservative" approach to these practices. In other words, said presidential candidate didn't cheat like so many of the others (who happen to be Republicans).
That honest politician, who spent her own money and didn't game the system, was Hillary Clinton. Now given the negative impression of her so often emphasized by Times correspondents and columnists, the fact that the paper's reporters could find no violation of federal spending rules by her campaign may have merited more than two short paragraphs buried in a lengthy article.
Still further down, the same story describes some of Jeb Bush's various campaign finance scams and prevarications, noting that his conduct has provoked the Campaign Legal Center, a nonpartisan organization that monitors campaign finance ethics, to file complaints against him with the Justice Department. Don't wait for any headlines about that "referral" in the paper of record.
Photo: U.S. Democratic presidential candidate Hillary Clinton speaks at the Iowa Democratic Party's Hall of Fame dinner in Cedar Rapids, Iowa, United States, July 17, 2015. REUTERS/Jim Young