How Will Christians Vote In The Presidential Election? It Depends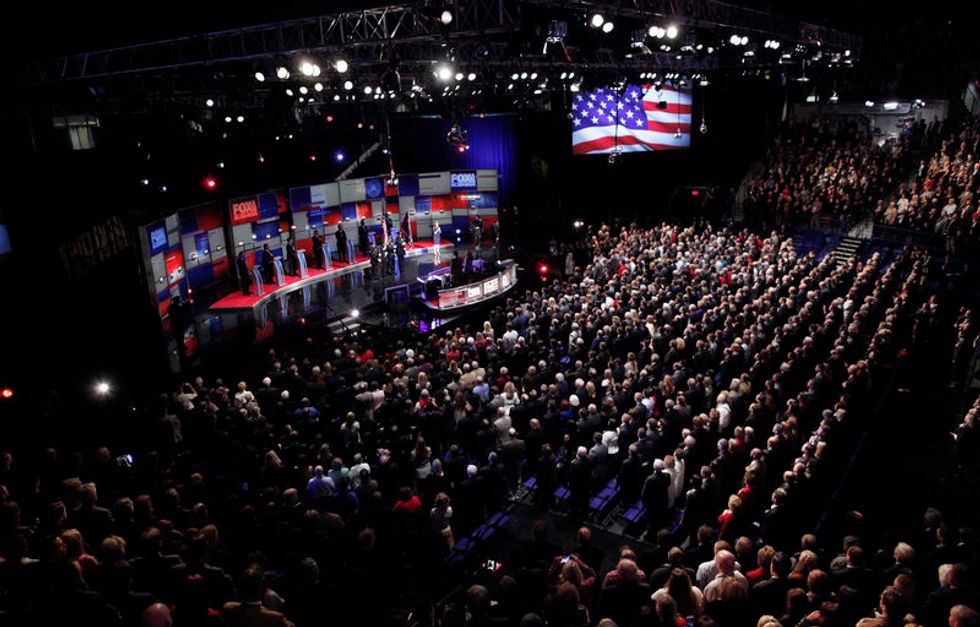 By Tim Funk, The Charlotte Observer (TNS)
CHARLOTTE, N.C. — Which presidential candidate is going to win the "Christian vote" this year?
Dumb question.
It may come as a surprise to many pundits and political reporters, but Christians in America are not a monolithic voting bloc.
They may all share a faith in Jesus Christ, but that doesn't mean they're passionate about the same issues or agree on who should lead the country.
Black Baptists are just as committed to the Bible, chapter and verse, as white Southern Baptists are. But the two groups tend to vote differently — African-American churchgoers are reliable Democrats and most white evangelicals are solid Republicans.
Conservative Catholics will vote for candidates who share their opposition to abortion and same-sex marriage, while liberal Catholics — who also show up for Mass on Sunday — are more likely to seek out those candidates who pledge to pursue social justice.
Some Christians are quick to insist that only those who agree with them on this or that deserve to be called true followers of Christ.
But the truth is that churchgoers on both the right and the left are notorious for emphasizing biblical passages they like and ignoring those they don't.
So who's going to get the "Christian vote" this year?
I'd say Ted Cruz, Hillary Clinton, Bernie Sanders, Donald Trump and maybe others. It all depends, in other words, on which Christian group you're talking about.
Think of the groups as teams and the primaries as playoff games, complete with media hoopla and aggressive hits on the field.
Christians on the right and left want their candidates of choice to be facing each other in that political Super Bowl that is the November election. The final score will determine which issues will be in the forefront at the White House for the next four to eight years.
Who wins could determine America's future direction — and what faith-based view of the country and the world prevails.
Here are six Christian groups that are likely to matter as the White House wannabes campaign across the country — including in a lot of churches.
Conservative Protestants
This mostly white, mostly evangelical group tends to get most of the attention from reporters on the campaign trail. That's partly because white evangelicals — especially those in Baptist and nondenominational churches — dominate the GOP side of the Iowa caucuses and, a few weeks later, the South Carolina primary. Wins in these early states can bless a candidate with momentum and get his or her smiling face on the cover of news-magazines. These conservative Protestants cite passages from the Bible to support their stands, including their support for traditional marriage between a man and a woman.
This group's spiritual hero: Evangelist Billy Graham.
Its political icon: Former President Ronald Reagan.
Big issues in 2016: Persecution of Christians, abortion, support of Israel and "religious liberty," aka opposition to same-sex marriage.
Early White House favorite: U.S. Sen. Ted Cruz, R-Texas.
African-American churchgoers
Black churches — especially Baptist, AME and AME Zion — have been politically active since the early days of the civil rights movement, which was powered by preachers and their marching flocks. Equal rights remains a central issue to these voters. Unlike working-class whites, black voters have remained loyal to the Democratic Party, and a high turnout from this community is especially key in Southern primaries and on Election Day in November.
Spiritual hero: The Rev. Martin Luther King, Jr.
Political icon: President Barack Obama.
Big issues: Jobs, poverty, voting rights, mass incarceration and "Black Lives Matter" (concerns about police shootings of African-Americans).
Early White House favorite: Former Secretary of State Hillary Clinton.
Liberal Protestants
Mostly members of mainline denominations (Presbyterian, Episcopalian, Lutheran, United Church of Christ), these Christians subscribe closely to Jesus' call to aid the poor and shun violence. Traditionally anti-war, they tend to live in urban areas and college towns. They vote Democratic, but their allegiance is more to ideology than party.
Spiritual hero: Dietrich Bonhoeffer, a dissident Lutheran minister and theologian who was executed by the Nazis for plotting to kill Hitler.
Political icon: U.S. Sen. Elizabeth Warren, D-Mass., an outspoken critic of Wall Street.
Big issues: Economic inequality, LGBT rights, war, climate change, women's rights, Wall Street greed.
Early White House favorite: U.S. Sen. Bernie Sanders of Vermont, who calls himself a democratic socialist.
Angry Christians on the right
This mad-as-hell group adheres to Christian beliefs, but is willing to excuse divorces, big egos and flip-flopping on issues if a candidate is charismatic and outspoken and has a plan — even a hazy one — to bulldoze the Washington establishment. Conservative but also populist, these Christians want a champion who will get tough with immigrants here illegally, out-negotiate other countries on trade deals, and even make it OK again to say Merry Christmas instead of Happy Holidays. In 2012, this group helped former House Speaker Newt Gingrich — opinionated and thrice-married — win the GOP primary in South Carolina.
Spiritual hero: Franklin Graham.
Political icon: Former Alaska Gov. Sarah Palin.
Big issues: Immigration, Muslims, guns, trade and "political correctness," which they define as pressure from liberal elites to muzzle the expression of honest opinion.
Early White House favorite: Businessman Donald Trump.
Liberal Catholics
This group has for years spent much of its energy trying to reform its 2,000-year-old church and promote the Catholic social teaching, which calls for a special emphasis on helping the poor. Now these Catholics have an ally in the Vatican. Pope Francis' agenda — eradicating poverty, welcoming the immigrant, protecting the environment — is also theirs as voters in this election year.
Spiritual hero: Pope Francis.
Political icons: The Kennedys.
Big issues: Social justice, poverty, death penalty, gun control, immigration, climate change.
Early White House favorite: Tossup between Clinton and Sanders.
Conservative Catholics
These Catholics are regular church attendees, delight in the ancient church's rituals and rules, and often participate in pro-life vigils outside abortion clinics. Their equally conservative U.S. bishops have stood tough against same-sex marriage and the birth control provisions in Obamacare. They are reliably Republican, but many are one-issue voters — abortion — who are open to backing the few anti-abortion Democrats left.
Spiritual hero: Pope John Paul II.
Political icon: U.S. Supreme Court Justice Antonin Scalia, a conservative Catholic and a strong dissenter in the high court's decisions to uphold Obamacare and legalize same-sex marriage.
Big issues: Abortion, the Affordable Care Act, same-sex marriage.
Early White House favorite: This group will vote for the GOP, but is up for grabs at a time when several Catholics are running in the Republican field, including U.S. Sen. Marco Rubio, R-Fla., New Jersey Gov. Chris Christie, former Florida Gov. Jeb Bush and former U.S. Sen. Rick Santorum, R-Pa. One non-Catholic candidate many of them also like: Dr. Ben Carson.
©2016 The Charlotte Observer (Charlotte, N.C.). Distributed by Tribune Content Agency, LLC.
Photo: Republican U.S. presidential candidates (L-R) Governor John Kasich, Governor Chris Christie, Senator Marco Rubio, businessman Donald Trump, Senator Ted Cruz, Dr. Ben Carson and former Governor Jeb Bush listen to the U.S. National Anthem before the start of the Fox Business Network Republican presidential candidates debate in North Charleston, South Carolina January 14, 2016. REUTERS/Randall Hill