Huckabee Launches Second Bid For White House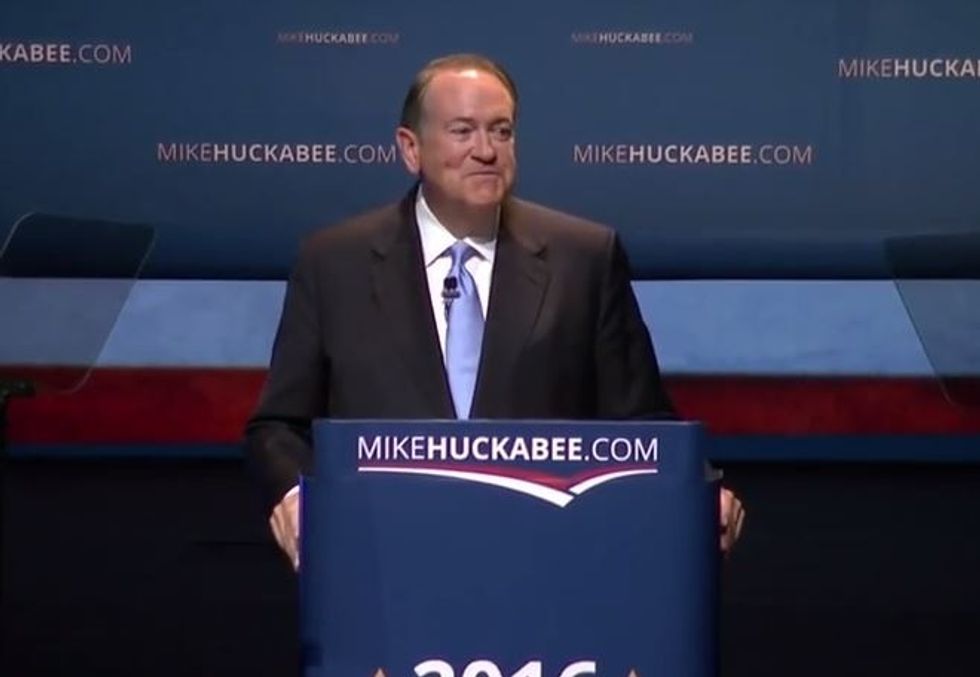 By David Lightman, McClatchy Washington Bureau (TNS)
WASHINGTON — Mike Huckabee's back, hoping to lead a determined army of evangelical conservatives and blue-collar Republicans en route to the Republican presidential nomination and then the White House.
The former Arkansas governor launched his candidacy Tuesday in Hope, a hometown he shares with former President Bill Clinton, pledging to bring America "from Hope to higher ground."
Huckabee, 59, portrayed himself as a humble man, different in background and philosophy from other candidates for president.
"I don't have a global foundation or a taxpayer-funded paycheck to live off," he said, a reference to the Clinton Foundation or the current senators and governors seeking the presidency.
He also took a veiled jab at former Florida Gov. Jeb Bush, whose brother and father were presidents. "I don't come from a family dynasty but a working family," Huckabee said. "I grew up blue collar, not blue blood."
Huckabee is likely to employ at least part of his strategy from 2008, when he last sought the White House. Huckabee, a Baptist minister with strong backing from the Christian right, won the Iowa caucus before fading fast elsewhere.
This time, he sees a more promising political landscape.
The Republican field is splintered, so it may not take big percentages to become a serious contender. Huckabee also sees his Arkansas roots — he and Bill Clinton each served 11 years as governor — as an edge in discussing the perils of electing Democratic front-runner Hillary Clinton.
Huckabee described his staunchly conservative philosophy, one that would mean a leaner government and a bond with God.
"The Supreme Court is not the supreme being and they cannot overturn the laws of nature or nature's God," Huckabee said. "We've lost our way morally."
The government is too intrusive, too bloated, he said. Veterans must be a top priority, and in his administration, they are "not going to be left on the streets or in waiting rooms to rot."
Education would be left to local officials, because "there is no constitutional authority to dictate education from the federal government."
And he would offer new strategies for poverty. "The war on poverty hasn't ended poverty," Huckabee said. "It's prolonged it."
Many conservatives remain wary of Huckabee, since he presided over a series of tax increases. Evangelicals cheer his outspokenness, but his views outraged more mainstream voters.
Huckabee plans to head to Iowa next, where the 2016 field could have as many as 20 prominent Republican candidates. If so, 15 percent or so of the total could be enough to win. In 2008, Huckabee got 34.4 percent.
It's possible that in a fractured field he also could survive the next stop, New Hampshire's primary, which is less welcoming to evangelical candidates.
Next would be South Carolina. Huckabee lost to Arizona Sen. John McCain by 4 percentage points in the state's 2008 primary.
"Huckabee would be in the hunt this year," said David Woodard, a Clemson, S.C.-based Republican consultant. "There's a lot of buyer's remorse toward McCain."
Huckabee faces at least four rivals for the evangelical vote. Retired neurosurgeon Ben Carson joined the race Monday. John Philip Sousa IV, chairman of the 2016 Committee, which supports Carson, said of Huckabee, "He's a real talker, but he raised taxes a lot."
Huckabee will also compete for the Christian right with Texas Sen. Ted Cruz, who launched his campaign at Liberty University, which stresses Christian theology, and possibly Louisiana Gov. Bobby Jindal and former Pennsylvania Sen. Rick Santorum, who won the 2012 Iowa caucus.
Huckabee retains a lot of goodwill and has shown a knack for relating to voters. He lost more than 100 pounds and wrote a book about healthy eating. He plays bass guitar in his own rock band. His followers like his ability to speak plainly.
As Craig Robinson, editor-in-chief of TheIowaRepublican.com, put it, people "still really like Huckabee."
___
Mike Huckabee
Born: August 24, 1955, Hope, Ark.
Family: Wife, Janet, three children.
Education: Ouachita Baptist University, Southwestern Baptist Theological Seminary.
Career: 1980-1992, church pastor. 1989-1991, president, Arkansas Baptist State Convention.
Political career: 1992, lost race for Senate; 1993-1996, lieutenant governor; 1996-2007, governor; 2008, seeks Republican presidential nomination, wins Iowa caucus, drops out in March.
Media career: 2008-2015, hosts Fox News Channel show; 2012-2013, hosts radio show.
(c)2015 McClatchy Washington Bureau, Distributed by Tribune Content Agency, LLC.
Screenshot via YouTube