The Staggering Human Cost Of Trump's Scott Atlas Debacle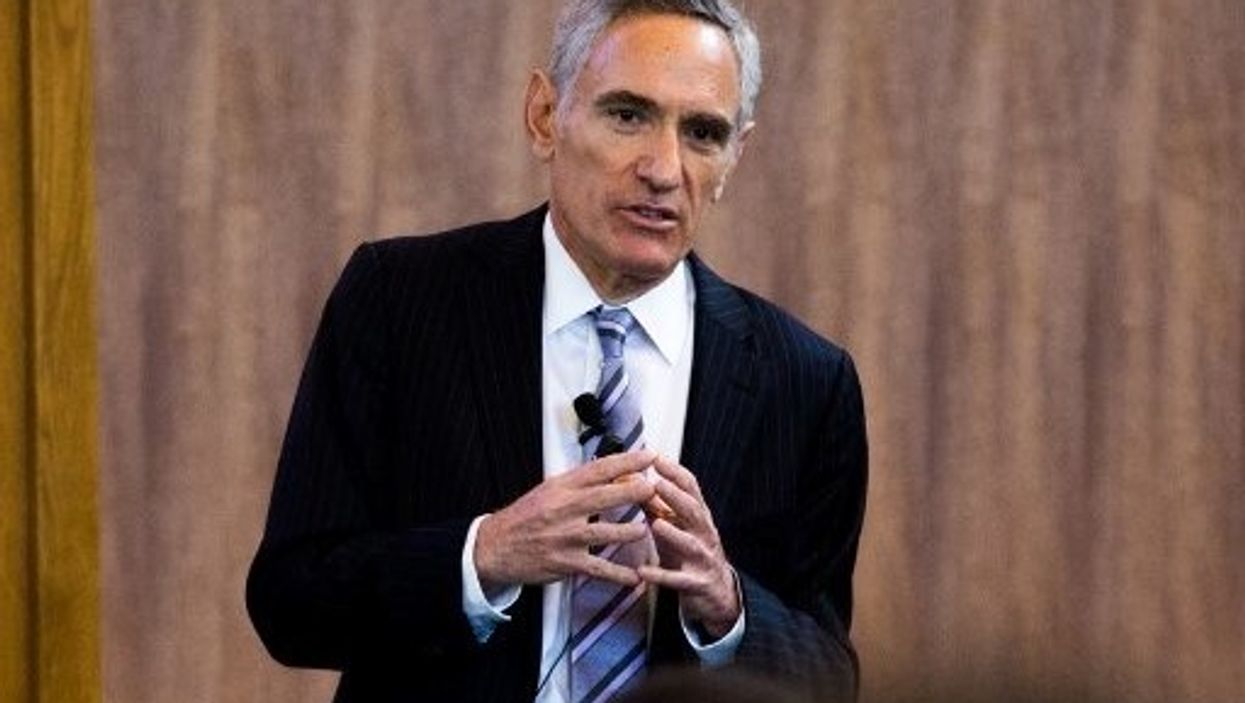 Photo from @SWAtlasHoover/ Twitter
Reprinted with permission from MediaMatters
Dr. Scott Atlas resigned from his post on the White House's coronavirus task force on Monday, ending an experiment in governance by Fox News that has caused skyrocketing COVID-19 cases, hospitalizations, and deaths, with even darker weeks ahead.
Atlas' appointment in August represented the purest example of the disastrous impact of the feedback loop between President Donald Trump and Fox's propaganda. An unqualified ideologue launched to power because the president liked his Fox hits, under his guidance Trump oversaw a predictable and horrifying surge in the virus that repeatedly reached the White House itself.
---
Shortly after Fox broke the news of Atlas' resignation, he appeared on the program of network star Tucker Carlson, who praised him for being "brave" and "right." "We see that objective journalism is nearly dead, and I think we now saw that science has been politicized, and it's very, very dangerous," Atlas told the host. "I think we should all be very concerned about it."
Atlas had no prior expertise in infectious diseases or pandemic response before joining the White House. His medical background is in diagnostic radiology, while his bio page at Stanford University's right-wing Hoover Institution, where he is a senior fellow, states that his focus is on "the impact of government and the private sector on access, quality, pricing, and innovation in health care."
Despite Atlas' lack of qualifications, he confidently adopted a contrarian view on the virus early in the pandemic. In April op-eds for The Hill, he argued that "unprecedented isolation policies and near-total economic lockdowns" were not sustainable and that the "appropriate policy" was to "protect the known vulnerable, self-isolate the mildly sick and open most workplaces and small businesses with some prudent large-group precautions."
This strategy has numerous flaws, not least of which is that there is no plausible way to "protect the known vulnerable" given the sizable percentage of elderly Americans living in multigenerational households.
But Fox hosts had begun pivoting to calls for the reopening of businesses by late March and were declaring victory over the pandemic by early April. Their bookers sought out guests who would contradict the consensus of public health experts to validate their conclusions and downplay the danger posed by the pandemic.
Atlas was a beneficiary of this practice, making 20 appearances on the network between late April and mid-August. He used the network's platform to spread misinformation about the coronavirus and minimize its risks, arguing that "the cure is bigger than the disease," falsely claiming that "there is really no risk to young people" from the virus, and absurdly stating that it was "fantastic news that we have a lot of cases." He also lavished praise on Trump's handling of the pandemic.
It was bad enough that Atlas' uninformed commentary was influencing Fox's viewers. But the situation was particularly dangerous because the president of the United States was one of those viewers. Atlas' Fox appearances, which validated Trump's impulse not to care about the virus, reportedly caught his eye, and the president began consulting him informally over the summer. Trump named him to the coronavirus task force in August, giving him a position alongside the nation's foremost public health experts.
The result proved nightmarish.
Now with the imprimatur of the White House behind him, Atlas continued to go on Fox to push misinformation about the virus, making at least 20 more appearances as a member of the task force according to Media Matters' internal database. Amid a November surge of new cases in the U.S. and internationally, he used the network's platform to encourage Thanksgiving gatherings and denounce "lockdowns," which he claimed "do not eliminate the virus" only "destroy families" and "kill people."
Scott Atlas, Oct. 30: "All lockdowns do are destroy families, really kill people... And it's amazing to me that pla… https://t.co/YoTIHkfVLM

— Matthew Gertz (@Matthew Gertz) 1606830741.0
But Atlas was also bringing his dangerously inaccurate view of the pandemic into the White House itself, turning his Fox-tested recommendations into federal policy while sidelining more credible experts like Drs. Anthony Fauci and Deborah Birx. As The Washington Post reported following his resignation:
Atlas embraced strategies that most public health experts warned were dangerous. He advocated allowing the virus to spread among young, healthy people to help the country reach "herd immunity" levels — a strategy experts warned would result in tens of thousands of needless deaths — and said the country should focus on protecting the vulnerable and the elderly, including those in nursing homes, even though millions of such people share households with young people.
He also shot down attempts by Birx and Fauci to expand testing; openly feuded with other doctors on the coronavirus task force and succeeded in largely sidelining them; and advanced fringe theories, such as that social distancing and mask-wearing were meaningless and would not have changed the course of the virus, according to three current and former senior administration officials.

Atlas' scientifically illiterate approach alarmed other members of the task force. In September, Dr. Robert Redfield, the director of the Centers for Disease Control and Prevention, was overheard telling a colleague that "everything he says is false."
Atlas' do-nothing happy talk nonetheless carried the day helping to ensure a lethargic federal response even as the long-predicted fall surge began. More than a quarter-million American deaths from COVID-19 had been recorded by the time he resigned, with a new record number of hospitalizations coming the day he stepped down and cases rising at a rate of more than 1 million per week -- and the worst is yet to come.
Hospitalizations have doubled since November 1 and tripled since October 1. We should see 100k hospitalizations in… https://t.co/t37jPKsnKh

— The COVID Tracking Project (@The COVID Tracking Project) 1606783904.0
Zooming out to the monthly view, November was a very bad month, even with the data wobbles at the end. All things c… https://t.co/TJNawGjmxx

— The COVID Tracking Project (@The COVID Tracking Project) 1606784007.0
That wave of hospitalizations will
inevitably trigger
a
drastic increase in deaths
and could stretch parts of the U.S. health system beyond their limits. And that's before the new cases caused by Thanksgiving gatherings are factored in. As Fauci
explained
during a Sunday interview, the next weeks will show "a surge superimposed on the surge we are already in." Some epidemiologists
predict that the nation
could see half a million COVID-19 deaths by March.
This didn't have to happen. But confronted by a deadly pandemic, the president turned to a pundit he saw on Fox. The likely result is a catastrophic death toll.