Humiliated By Viral Video, Massie Persists In Climate Denial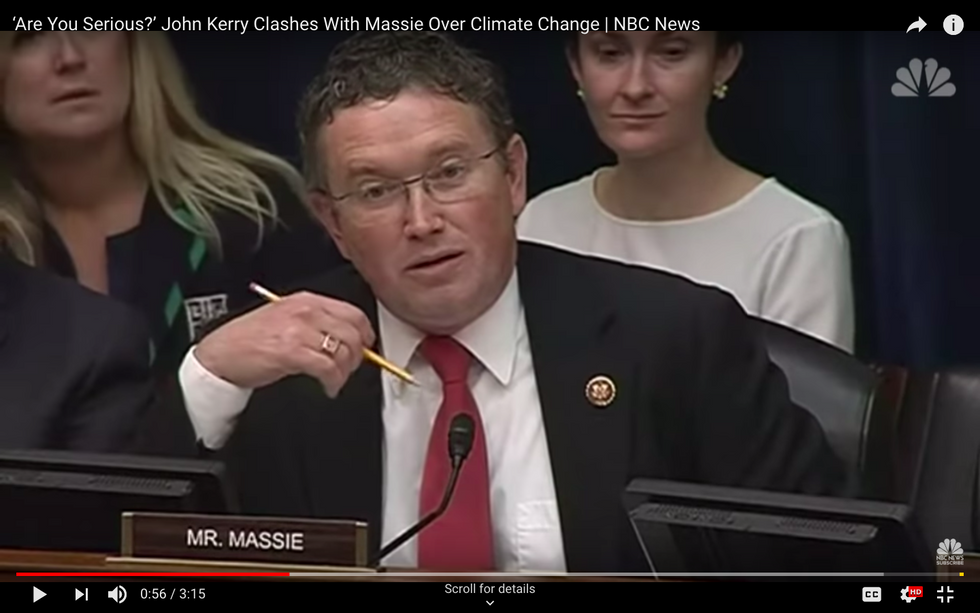 Days after an embarrassing exchange during a congressional hearing, Rep. Thomas Massie (R-KY) has continued to insist he was on the winning end of an argument with former Secretary of State John Kerry.
Loud laughter dominated the House Oversight Committee hearing on Tuesday after Massie tried to negate Kerry's testimony on climate change by attacking Kerry's college degree from Yale. Massie said the scientific consensus that humans are causing climate change is "pseudoscience," and insisted that Kerry is disqualified from expressing concern on the topic because his degree is in political science, which Massie called a "pseudoscience degree."
"Are you serious?" Kerry asked of the ridiculous Republican line of questioning. "I mean, this is really a serious happening here?"
Video of the exchange was widely circulated as an example of how Republicans continue to deny reality and science on such an important issue. Massie was also widely mocked for apparently believing he had somehow caught Kerry in a clever "gotcha" by getting him to confirm his bachelor of arts degree in political science was not a science degree. (Kerry never claimed otherwise.)
Despite the viral mockery, days after the encounter, Massie has continued to insist he had the upper hand in the exchange.
"When I asked Kerry if he had a science degree, he answered 'no' but forgot to turn his microphone on," Massie tweeted on Thursday, nearly 48 hours after first tripping over his own tongue. "The left has been using his flub to conceal what this exchange proved which is Kerry admitted he doesn't have a science degree, even though his degree says 'science'."
The congressman is refusing to take the loss, and even promoted a tweet from the right-wing propaganda group Freedomworks insisting that Massie took Kerry "to school." Not coincidentally, Freedomworks is funded by many of the polluters who want to deny climate science.
Kerry's testimony, alongside former Secretary of Defense Chuck Hagel, was an attempt to raise awareness of the security threat that climate change poses to America. Kerry never held himself out as a scientist, but instead relied on the work of climate scientists, among whom there is near-universal consensus that climate change is caused by human activity and is a serious danger to the country and the world.
Instead of taking those threats seriously, Massie tried to use juvenile insults as part of an effort to dismiss scientific reality, and it backfired on him.
Now, instead of moving on from his public humiliation, he's continuing to remind the world of how Kerry got an entire room of people to laugh at him.
Published with permission of The American Independent.